Friday Reads: Classical Music Month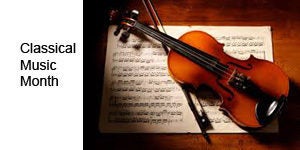 Let's send September out with literary strains on music…it's Classical Music Month and we have a concert of excellent titles on composers for your reading, and listening, pleasure. Classical Music Month was first proclaimed by President Clinton in 1994. The proclamation eloquently states:
"Classical music is a celebration of artistic excellence…This month we exalt the many talented composers, conductors, and musicians who bring classical music to our ears. Whether in new American works or in the masterpieces of the great composers of old, music is a unifying force in our world, bringing people together across vast cultural and geographical divisions. Classical music speaks both to the mind and to the heart, giving us something to think about as well as to experience."
Read the entire, rhapsodic, proclamation here.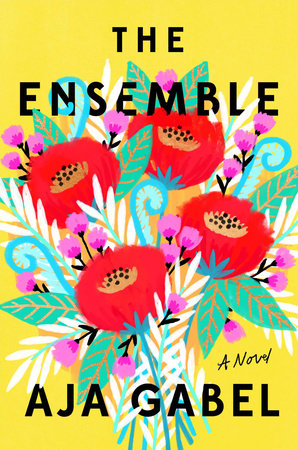 THE ENSEMBLE: A NOVEL by Aja Gabel
The addictive novel about four young friends navigating the cutthroat world of classical music and their complex relationships with each other, as ambition, passion, and love intertwine over the course of their lives. Also available on audio.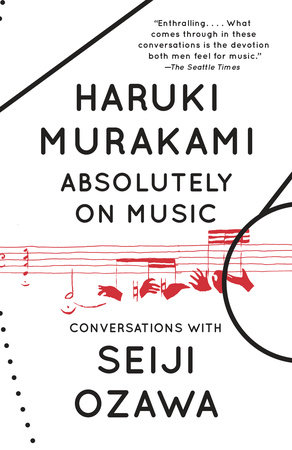 ABSOLUTELY ON MUSIC: CONVERSATIONS by Haruki Murakami, Seiji Ozawa, Jay Rubin
A deeply personal, intimate conversation about music and writing between the internationally acclaimed, bestselling author and his close friend, the former conductor of the Boston Symphony Orchestra.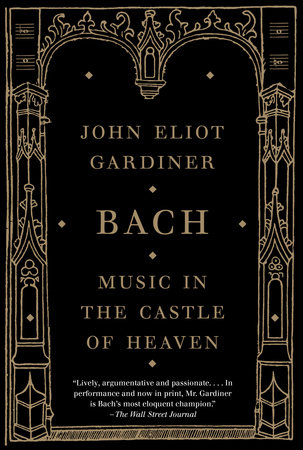 BACH: MUSIC IN THE CASTLE OF HEAVEN by John Eliot Gardiner
John Eliot Gardiner grew up passing one of the only two authentic portraits of Bach every day on the stairs of his parents' house, where it hung for safety during World War II. He has been studying and performing Bach ever since, and is now regarded as one of the composer's greatest living interpreters. The fruits of this lifetime's immersion are distilled in this remarkable book, grounded in the most recent Bach scholarship but moving far beyond it, and explaining in wonderful detail the ideas on which Bach drew, how he worked, how his music is constructed, how it achieves its effects—and what it can tell us about Bach the man.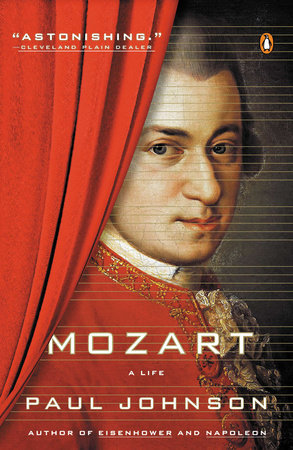 MOZART: A LIFE by Paul Johnson
Mozart's music has enthralled listeners for centuries. In this brilliant biography, acclaimed historian Paul Johnson draws upon his expert knowledge of the era and Mozart's own private letters to conjure Wolfgang Amadeus Mozart's life and times in rich detail. Johnson charts Mozart's life from age three through to his later years—when he penned The Marriage of Figaro and Don Giovanni. Along the way, Johnson challenges some of the popular myths that cloud Mozart's image: his allegedly tempestuous personal relationships and supposedly bitter rivalry with Salieri, as well as the notion that he was desperately impoverished when he died.
CONVERSATIONS WITH BEETHOVEN by Sanford Friedman, Richard Howard
Deaf as he was, Beethoven had to be addressed in writing, and he was always accompanied by a notebook in which people could scribble questions and comments. Conversations with Beethoven, in a tour de force of fictional invention, tells the story of the last year of Beethoven's life almost entirely through such notebook entries: Friends, family, students, doctors, and others attend to the volatile Maestro, whose sometimes unpredictable and often very loud replies we infer. A fully fleshed and often very funny portrait of Beethoven emerges.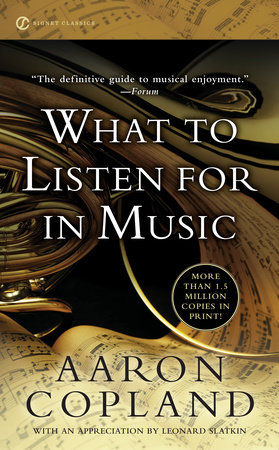 WHAT TO LISTEN FOR IN MUSIC by Aaron Copland
Whether they listen to Mozart or Duke Ellington, Aaron Copland invites readers to ask two basic questions: Are they hearing everything that is going on? Are they really being sensitive to it? With his provocative suggestions, Aaron Copland guides readers through a deeper appreciation of the most rewarding of all art forms.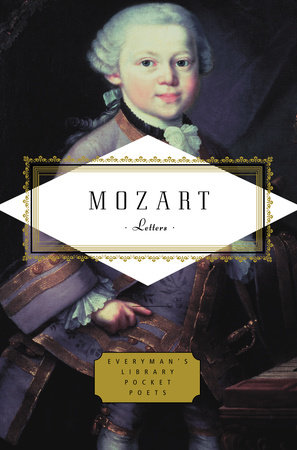 LETTERS by Wolfgang Amadeus Mozart
Mozart's correspondence is full of details that illuminate the quotidian aspects of his days, reveal the great joys and burdens of his musical genius, and provide us with a lively account of the musical politics in the courts and opera houses of eighteenth-century Europe. Finally, in a letter written by Mozart's sister-in-law, this splendid epistolary portrait of the great composer is completed with a deeply moving account of his last hours.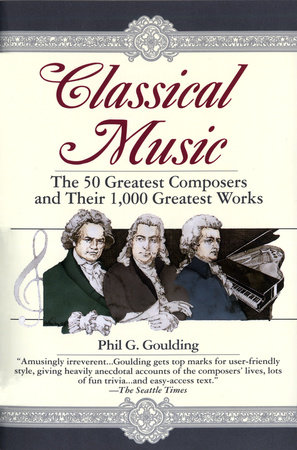 THE 50 GREATEST COMPOSERS AND THEIR 1,000 GREATEST WORKS by Phil G. Goulding
Who are the ten most important classical composers? Who in the world was Palestrina? Why did Stravinsky's "Rite of Spring" cause a riot? Which five of each important composer's works should you buy? What is a concerto and how does it differ from a sonata?
Maybe you don't know the answers to these questions; author Phil Goulding certainly didn't. When Goulding first tried to learn about classical music, he found himself buried in an avalanche of technical terms and complicated jargon–so he decided to write the book he couldn't find. The result is a complete classical music education in one volume. Comprehensive, discriminating, and delightfully irreverent.
FOR YOUNGER READERS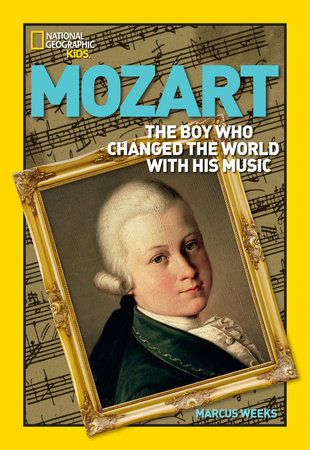 MOZART: THE BOY WHO CHANGED THE WORLD WITH HIS MUSIC by Marcus Weeks, Julian Rushton (National Geographic's World History Biographies)
At 5 years old, he composed a minuet. By six, he was performing for royalty. The compelling story of Wolfgang Amadeus Mozart is a timeless tale of musical genius, its rewards, and its pitfalls. Author and musician Marcus Weeks takes us around Mozart's world—from the Royal courts of 18th century Europe to the opera houses and balls where Mozart enjoyed triumph and fame. We meet the kings and queens of the age, learn of the young Mozart's favorite games, see the clothes he wore, and the new musical instruments of the time.
BEETHOVEN'S HEROIC SYMPHONY by Anna Harwell Celenza, Joann E. Kitchel
Beethoven's Third Symphony was written as Beethoven was struggling with his advancing deafness. Meant as a celebration of Napoleon's victories, the four movements reflected Bonaparte's courage and heroism. Soon after Beethoven completed the work, he discovered Napolean's treachery in declaring himself Emperor of France, and the composer considered destroying the composition. Instead, "The Bonaparte Symphony" was later renamed the "Eroica", or "Heroic Symphony."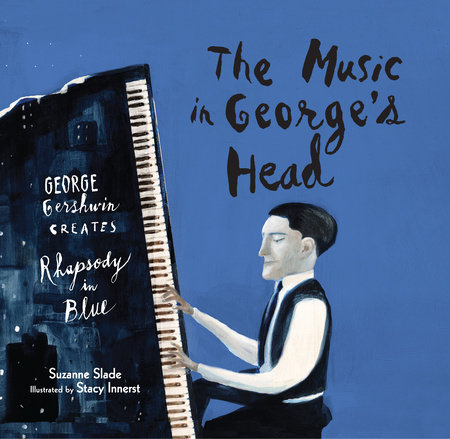 THE MUSIC IN GEORGE'S HEAD: GEORGE GERSHWIN CREATES RHAPSODY IN BLUE by Suzanne Slade; Illustrated by Stacy Innerst
George Gershwin heard music all the time—at home, at school, even on New York City's busy streets. Classical, ragtime, blues, and jazz—George's head was filled with a whole lot of razzmatazz! With rhythmic swirls of words and pictures, author Suzanne Slade and illustrator Stacy Innerst beautifully reveal just how brilliantly Gershwin combined various kinds of music to create his masterpiece, Rhapsody in Blue, a surprising and whirlwind composition of notes, sounds, and one long wail of a clarinet. Includes author's note, timeline, and bibliography.
COMING SOON: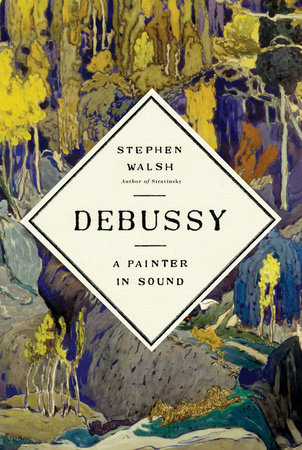 DEBUSSY: A PAINTER IN SOUND by Stephen Walsh (October)
As a central figure at the birth of modernism, Debussy's influence on French culture was profound. Yet at the same time his own life was complicated and often troubled by struggles over money, women, and ill-health. Walsh's engagingly original approach is to enrich a lively account of this life with brilliant analyses of Debussy's music: from his first daring breaks with the rules as a Conservatoire student to his mature achievements as the greatest French composer of his time. The Washington Post called Stephen Walsh's Stravinsky "one of the best books ever written about a composer." Debussy is a worthy successor.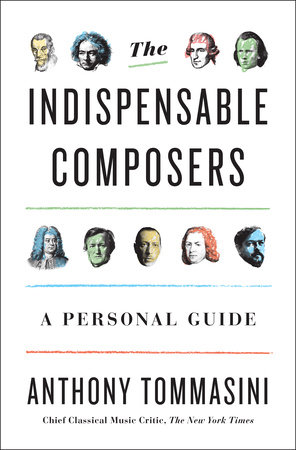 INDISPENSABLE COMPOSERS by Anthony Tommasini (November)
An exploration into the question of greatness from the Chief Classical Music Critic of the New York Times.
Anthony Tommasini offers his own personal guide to the canon–and what greatness really means in classical music. What does it mean to be canonical now? Who gets to say? And do we have enough perspective on the 20th century to even begin assessing it? To make his case, Tommasini draws on elements of biography, the anxiety of influence, the composer's relationships with colleagues, and shifting attitudes toward a composer's work over time. Because he has spent his life contemplating these titans, Tommasini shares impressions from performances he has heard or given or moments when his own biography proves revealing. Also available on audio.
For more on these titles visit the collection Classical Music Month
---
There's a Book for That! is brought to you by Penguin Random House's Sales department. Please follow our Tumblr by clicking here—and share this link with your accounts: theresabookforthat.tumblr.com. Thank you!
Did you see something on the news or read about something on your commute? Perhaps you noticed something trending on Twitter? Did you think: "There's a book for that!"? Then please, send it our way at theresabookforthat@penguinrandomhouse.com
Posted: September 28, 2018