Friday Reads: Comedian Memoirs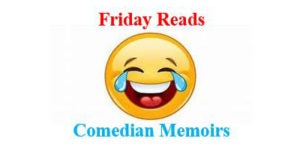 Comedy is tragedy plus time. – Carol Burnett
Do you need some comic relief in your weekend? We thought so! Culling through the comedian memoirs published by Penguin Random House one thing is apparent: humor is often born out of pain and vulnerability. The following books aren't just funny, they are poignant reflections told by beloved celebrities who make us laugh until we cry: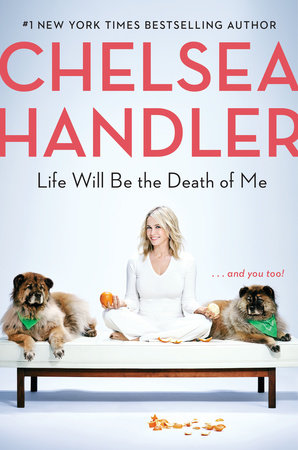 LIFE WILL BE THE DEATH OF ME . . . AND YOU TOO! by Chelsea Handler
The #1 New York Times bestselling author tells the funny, sad, super-honest, all-true story of her year of self-discovery—featuring Robert Mueller, a nerdily brilliant psychiatrist, a shaman, four Chow Chows, some well-placed security cameras, various family members (living and departed), friends, assistants, and a lot of edibles. Let's get this party started.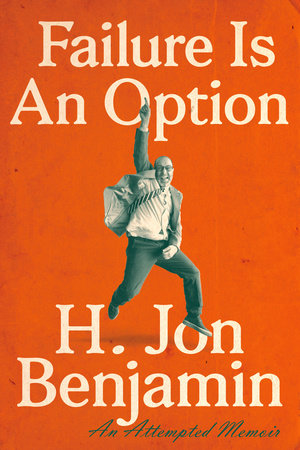 FAILURE IS AN OPTION: AN ATTEMPTED MEMOIR by H. Jon Benjamin
Jon Benjamin—the lead voice behind Archer and "Bob's Burgers"—helps us all feel a little better about our own failures by sharing his own in a hilarious memoir-ish chronicle of failure. With stories, examples of artistic and literary failure, and a powerful can't-do attitude, Failure Is an Option is the book the world doesn't need right now but will get regardless.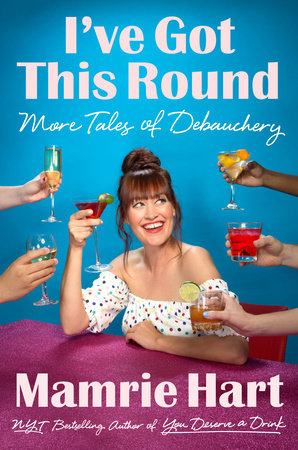 I'VE GOT THIS ROUND: MORE TALES OF DEBAUCHERY by Mamrie Hart
Hilarious, candid, and full of shenanigans: actress and comedian Mamrie Hart—the New York Times bestselling author of You Deserve a Drink—is back with more adventures. Mamrie doubles down on her strong female friendships, her willingness to engage in shenanigans, and her inimitable candor, taking the reader along for a wild and unforgettable journey through adulting.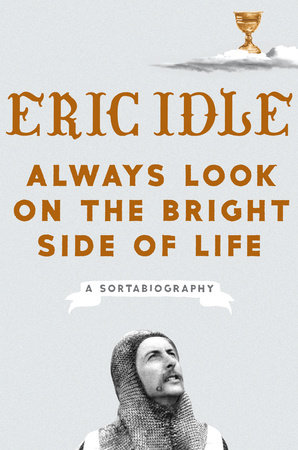 ALWAYS LOOK ON THE BRIGHT SIDE OF LIFE: A SORTABIOGRAPHY by Eric Idle
From the ingenious comic performer, founding member of Monty Python, and creator of "Spamalot", comes an absurdly funny memoir of unparalleled wit and heartfelt candor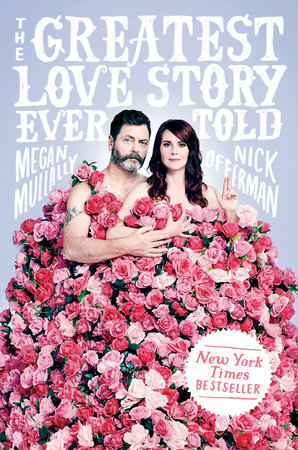 THE GREATEST LOVE STORY EVER TOLD: AN ORAL HISTORY by Megan Mullally, Nick Offerman
Megan Mullally and Nick Offerman reveal the full story behind their epic romance. Presented as an oral history in a series of conversations between the couple, the book features anecdotes, hijinks, photos, and a veritable grab bag of tomfoolery.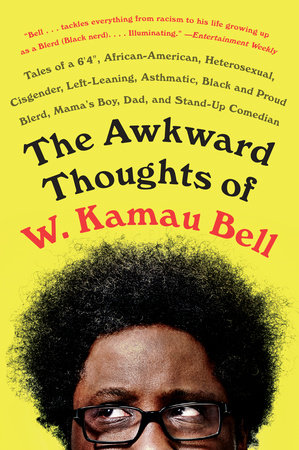 THE AWKWARD THOUGHTS OF W. KAMAU BELL: TALES OF A 6′ 4″, AFRICAN AMERICAN, HETEROSEXUAL, CISGENDER, LEFT-LEANING, ASTHMATIC, BLACK AND PROUD BLERD, MAMA'S BOY, DAD, AND STAND-UP COMEDIAN by W. Kamau Bell
You may know W. Kamau Bell from his critically acclaimed hit show on CNN "United Shades of America." Or maybe you've read about him in the New York Times, which called him "the most promising new talent in political comedy in many years." The Awkward Thoughts of W. Kamau Bell is a humorous, well-informed take on the world today, tackling a wide range of current and evergreen issues.
MAEVE IN AMERICA: ESSAYS BY A GIRL FROM SOMEWHERE ELSE by Maeve Higgins
"Maeve Higgins is hilarious. She is the true Irish voice of our American generation."—Amy Schumer
Maeve Higgins was a bestselling memoirist and comedian in her native Ireland when, at the grand old age of 31, she left the only home she'd ever known in search of something more. Like many women in their early thirties, she both was and was not the adult she wanted to be. At once smart, curious and humane, Maeve in America is the story of how Maeve found herself, literally and figuratively, in New York City.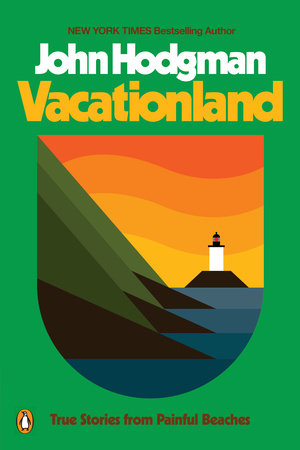 VACATIONLAND: TRUE STORIES FROM PAINFUL BEACHES by John Hodgman
Though wildly, Hodgmaniacally funny as usual, Vacationland is also a poignant and sincere account of one human facing his forties, those years when men in particular must stop pretending to be the children of bright potential they were and settle into the failing bodies of the wiser, weird dads that they are.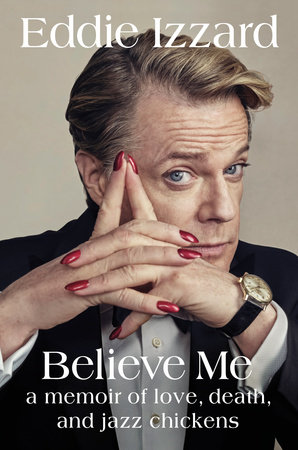 BELIEVE ME: A MEMOIR OF LOVE, DEATH, AND JAZZ CHICKENS by Eddie Izzard
With his brand of keenly intelligent humor that ranges from world history to historical politics, sexual politics, mad ancient kings, and chickens with guns, Eddie Izzard has built an extraordinary fan base that transcends age, gender, and race. Writing with the same candor and insight evident in his comedy, he reflects on a childhood marked by the loss of his mother, boarding school, and alternative sexuality, as well as a life in comedy, film, politics, running and philanthropy.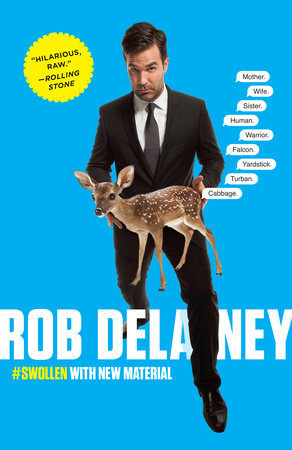 ROB DELANEY: MOTHER. WIFE. SISTER. HUMAN. WARRIOR. FALCON. YARDSTICK. TURBAN. CABBAGE. by Rob Delaney
From the star of "Catastrophe" and the comedian named The Funniest Man on Twitter comes "one of the most hilarious bundles of words we have ever read" (Vice.com)—a collection of his thoughts on youthful stupidity, romance, marriage, parenting, addiction, recovery, and a bunch of other things, too filthy to mention.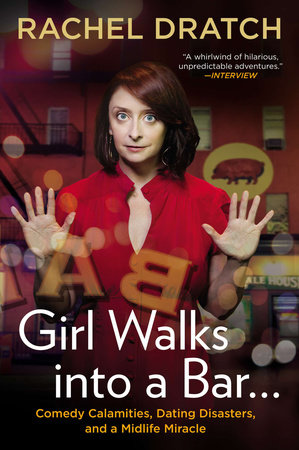 GIRL WALKS INTO A BAR . . . COMEDY CALAMITIES, DATING DISASTERS, AND A MIDLIFE MIRACLE by Rachel Dratch
The former SNL star recounts the adventures and unexpected joy of dating and becoming a mom when she least expected it—at the age of forty-four.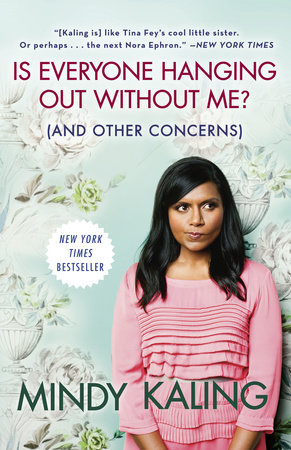 IS EVERYONE HANGING OUT WITHOUT ME? (AND OTHER CONCERNS)by Mindy Kaling
Mindy Kaling is an Emmy-nominated writer, the actress famous for playing the beloved Kelly Kapoor on The Office, and the author of one of Twitter's most popular feeds. In Is Everyone Hanging Out Without Me?, Mindy invites readers on a tour of her life and her unscientific observations on romance, friendship, and Hollywood—with several conveniently placed stopping points for running errands and making phone calls.
Available May 7th, 2019: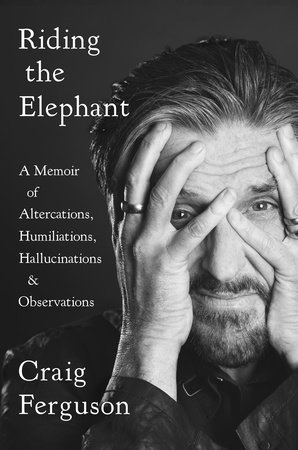 RIDING THE ELEPHANT: A MEMOIR OF ALTERCATIONS, HUMILIATIONS, HALLUCINATIONS, AND OBSERVATIONS by Craig Ferguson
From the comedian, actor, and former host of "The Late Late Show" comes an irreverent, lyrical memoir in essays featuring his signature wit.
For more on these and related titles visit: Comedian Memoirs
---
There's a Book for That! is brought to you by Penguin Random House's Sales department. Please follow our Tumblr by clicking here—and share this link with your accounts: theresabookforthat.tumblr.com. Thank you!
Did you see something on the news or read about something on your commute? Perhaps you noticed something trending on Twitter? Did you think: "There's a book for that!"? Then please, send it our way at theresabookforthat@penguinrandomhouse.com
Posted: April 26, 2019