Friday Reads: Dungeons & Dragons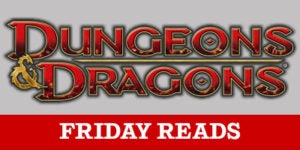 This week marks the 45th anniversary of DUNGEONS & DRAGONS, which launched the great tradition of role-playing games in 1974 with an unprecedented mix of adventure and strategy, dice-rolling, and storytelling. It became a phenomenon by tapping into the innate human need to gather with friends and tell an exciting story together. In honor of the occasion, we are highlighting the most popular and forthcoming D&D tie-in titles to escape into…
DUNGEONS AND DRAGONS ART AND ARCANA: A VISUAL HISTORY by Michael Witwer, Kyle Newman, Jon Peterson, Sam Wit…
Dungeons and Dragons is the most iconic and pervasive gaming franchise in the world. It is a seminal RPG (role-playing game) and the inspiration for video games like World of Warcraft and Zelda, fantasy art, and countless other facets of "geek culture." This officially licensed illustrated history provides an unprecedented look at the visual evolution of the game, showing its continued influence on the worlds of pop culture and fantasy. It features more than 700 pieces of artwork—from each edition of the game's core books, supplements, and modules; decades of Dragon and Dungeon magazines; classic advertisements and merchandise; and never-before-seen sketches, large-format canvases, rare photographs, one-of-a-kind drafts, and more from the now-famous designers and artists associated with the game. The superstar author team gained unparalleled access to the archives of Wizards of the Coast and the personal collections of top collectors, as well as the designers and illustrators who created the distinctive characters, concepts, and visuals that have defined fantasy art and gameplay for generations. This is the most comprehensive collection of D&D imagery ever assembled, making this theit the ultimate collectible for the game's millions of fans around the world.
DUNGEONS & DRAGONS PLAYER'S HANDBOOK (Core Rulebook, D&D Roleplaying Game) by Wizards RPG Team
Wall Street Journal #1 Best Seller in Hardcover Nonfiction
Create heroic characters for the world's greatest roleplaying game. The Player's Handbook is the essential reference for every Dungeons & Dragons roleplayer. It contains rules for character creation and advancement, backgrounds and skills, exploration and combat, equipment, spells, and much more. Use this book to create characters from among the most iconic D&D races and classes.
DUNGEONS & DRAGONS DUNGEON MASTER'S GUIDE (CORE RULEBOOK, D&D ROLEPLAYING GAME) BY Wizards RPG Team
Weave legendary stories in the world's greatest roleplaying game.
All you need to run a Dungeons & Dragons game is your imagination, some dice, and this book. The Dungeon Master's Guide teaches you how to how to run D&D adventures for your players— how to invent monsters for them to fight, mysteries for them to solve, and fantasy worlds for them to explore.
THE LEGEND OF DRIZZT 25TH ANNIVERSARY EDITION, BOOK I by R. A. Salvatore
The Legend of Drizzt® 25th Anniversary Edition, Book I collects the first three novels in this best-selling series: Homeland, Exile, and Sojourn in a new trade paperback edition. A great value for anyone who's ready to experience the Legend of Drizzt. Drizzt Do'Urden made his first mistake the moment he was born: he was a boy. In the rigid matriarchy of the dark elf city of Menzoberranzan, that makes his life forfeit. But when his own mother tries but fails to kill him, Drizzt's path is set. He must find a way to escape the treacherous Underdark, even if that means setting out alone into the no less dangerous World Above.
DUNGEONS & DRAGONS GUILDMASTERS' GUIDE TO RAVNICA (D&D/Magic: The Gathering Adventure Book and Campaign Setting) by Wizards RPG Team
Stand with your guild in the first Dungeons & Dragons book to explore the world of Magic: The Gathering.
In Guildmasters' Guide to Ravnica, the world's most popular roleplaying game meets the world's most popular trading card game. Released to coincide with the Magic set Guilds of Ravnica, it's the perfect blend of story from the creators of Magic: The Gathering, wrapped around the rules, monsters, and magic of fifth edition Dungeons & Dragons.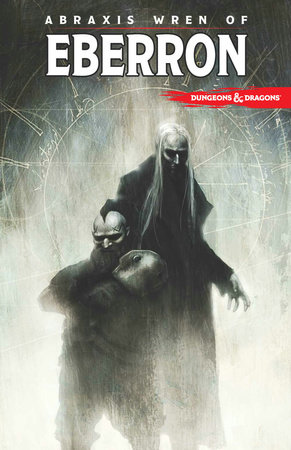 DUNGEONS & DRAGONS: ABRAXIS WREN OF EBERRON by Paul Crilley, Keith Baker, Valerio Schiti, Paco Di…
Welcome to a world of swashbuckling action and dark fantasy, a world ruled by great dynasties and tempered by war. Eberron holds many wonders, from dragonmarks to warforges, deadly dungeons to elemental airships. As the shadows of evil and conspiracy threaten to envelop the land, heroes of prophecy come forth to save the day. Collects the 2012 Annual, Infestation 2: Dungeons & Dragons, and Eye of the Wolf.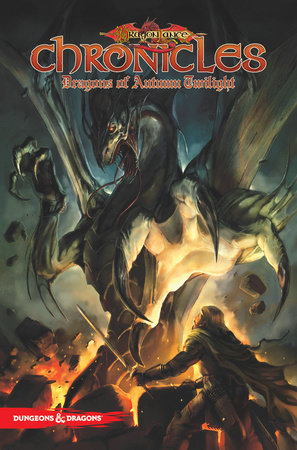 DRAGONLANCE CHRONICLES VOLUME 1: DRAGONS OF AUTUMN TWILIGHT by Andrew Dabb, Steve Kurth, Stefano Raffaele
Adapts the mega-popular first novel in the Dragonlance Chronicles Trilogy by Margaret Weiss & Tracy Hickman.
An age of despair has dawned for the world of Krynn. As dark forces marshal their growing strength, fear and religious fanaticism grips the land. With war on the horizon, a group of lifelong friends are reunited, all outcasts in their own way. It will fall to these eight Companions to prevent a cataclysm! Collects all 8-issues.
AVAILABLE MARCH 12, 2019: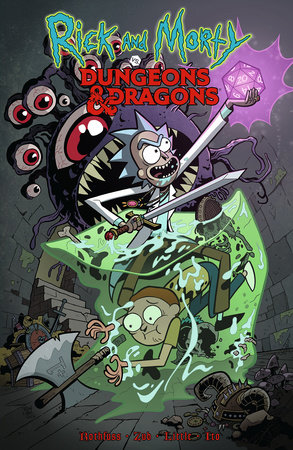 RICK AND MORTY VS. DUNGEONS & DRAGONS by Patrick Rothfuss, Jim Zub, Troy Little
Two pop-culture juggernauts are teaming up and neither multiverse is prepared for what comes next! #1 New York Times-bestselling fantasy author Patrick Rothfuss, acclaimed comics writer Jim Zub, and Eisner-nominated artist Troy Little bring you the comics crossover of the year! It's an irreverent, unexpected adventure sure to please fans of both franchises.
When Morty sees a cute girl at school playing Dungeons & Dragons, he asks Rick to show him the ropes, only to discover that his grandfather is a veteran gamer. Next thing he knows, the entire family has been pulled into a campaign that escalates from virtual D&D simulations to alternate universes governed by the rules of the game. And as it turns out, Rick isn't the only one who knows his way around a d20.
FOR YOUNGER READERS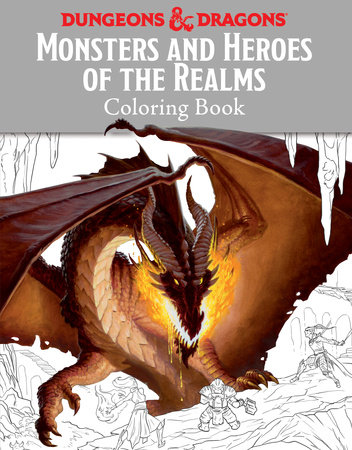 MONSTERS AND HEROES OF THE REALMS: A DUNGEONS & DRAGONS COLORING BOOK MONSTERS AND HEROES OF THE REALMS: A DUNGEONS & DRAGONS COLORING BOOK by Templar Books
The Monsters and Heroes of the Realms: A Dungeons & Dragons Coloring Book is a treasure trove of illustrations summoned from the pages of the official Dungeons & Dragons manuals. It features never-before-seen artwork and it includes 16 pages of inspirational full-color illustrations. In this book the pen IS mightier than the sword!
ABCS OF D&D (Dungeons & Dragons Children's Book) by Ivan Van Norman, Wizards RPG Team
A Dungeons & Dragons children's book that captures the wonder and whimsy that made you fall in love with the game. Written in the rhyming style of classic children's books and filled with adorable owlbears and darling beholders, it's the perfect book to share the joy of Dungeons & Dragons with a new generation as they learn the alphabet—a precursor to every new path in reading.
123S OF D&D by Ivan Van Norman, Wizards RPG Team
Start your little gamer on an adventure to last a lifetime with this numerical children's book and introduction to the greatest roleplaying game of all time, Dungeons & Dragons.
For more on these and related titles, visit D&D ANNIVERSARY
---
There's a Book for That! is brought to you by Penguin Random House's Sales department. Please follow our Tumblr by clicking here—and share this link with your accounts: theresabookforthat.tumblr.com. Thank you!
Posted: February 1, 2019