Friday Reads: Earth Week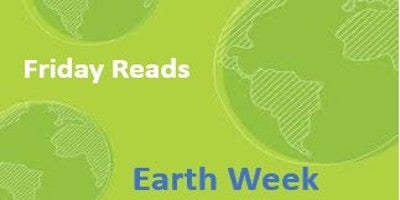 Welcome Earth Week! Earth Week inspires action worldwide from April 14th to April 22nd to "recognize our collective responsibility and to help accelerate the transition to an equitable, prosperous green economy for all." (EARTHDAY.ORG).
Let some of these best books on the environment and sustainability educate and motivate us to improve our planet's health: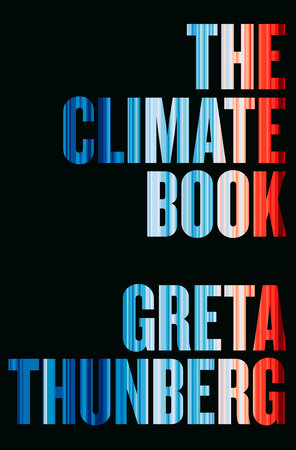 THE CLIMATE BOOK: THE FACTS AND THE SOLUTIONS edited by Greta Thunberg
In The Climate Book, Greta Thunberg has gathered the wisdom of over one hundred experts – geophysicists, oceanographers and meteorologists; engineers, economists and mathematicians; historians, philosophers and indigenous leaders – to equip us all with the knowledge we need to combat climate disaster. We are alive at the most decisive time in the history of humanity. Together, we can do the seemingly impossible. But it has to be us, and it has to be now.
Click here for the spanish edition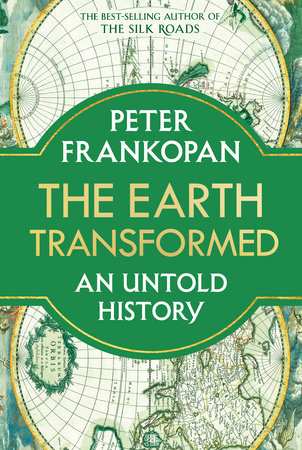 THE EARTH TRANSFORMED: AN UNTOLD HISTORY by Peter Frankopan
The Earth Transformed is a revolutionary new history that reveals how climate change has dramatically shaped the development—and demise—of civilizations across time. In a bold narrative that spans centuries and continents, Peter Frankopan argues that nature has always played a fundamental role in the writing of history.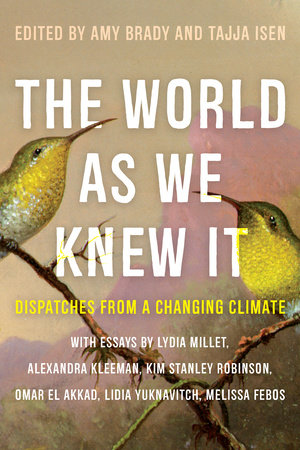 THE WORLD AS WE KNEW IT: DISPATCHES FROM A CHANGING CLIMATE by Amy Brady, Tajja Isen
Nineteen leading literary writers from around the globe offer timely, haunting first-person reflections on how climate change has altered their lives—including essays by Lydia Millet, Alexandra Kleeman, Kim Stanley Robinson, Omar El Akkad, Lidia Yuknavitch, Melissa Febos, and more. As the stories unfold—from Antarctica to Australia, New Hampshire to New York—an intimate portrait of a climate-changed world emerges, captured by writers whose lives jostle against incongruous memories of familiar places that have been transformed in startling ways.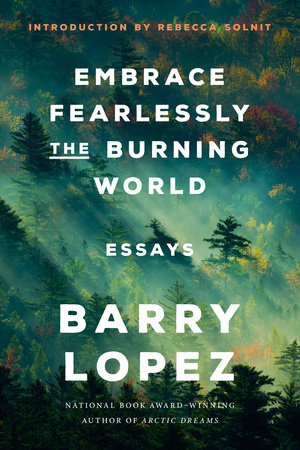 EMBRACE FEARLESSLY THE BURNING WORLD: ESSAYS by Barry Lopez; Foreword by Rebecca Solnit
This collection represents part of the enduring legacy of Barry Lopez, hailed as "a national treasure" (Outside) and "one of our finest writers" (Los Angeles Times Book Review) when he died in December 2020. An ardent steward of the land, fearless traveler, and unrivaled observer of nature and culture in all its forms, Lopez lost much of the Oregon property where he had lived for over fifty years when it was consumed by wildfire, likely caused by climate change. Fortunately, some of his papers survived, including five never-before published pieces that are gathered here, along with essays written in the final years of his life; these essays appear now for the first time in book form.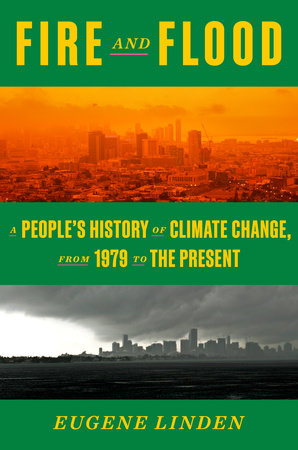 FIRE AND FLOOD: A PEOPLE'S HISTORY OF CLIMATE CHANGE, FROM 1979 TO THE PRESENT by Eugene Linden
From a writer and expert who has been at the center of the fight for more than thirty years, a brilliant, big-picture reckoning with our shocking failure to address climate change. Fire and Flood focuses on the malign power of key business interests, arguing that those same interests could flip the story very quickly—if they can get ahead of a looming economic catastrophe.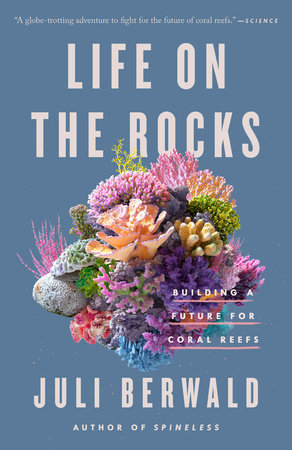 LIFE ON THE ROCKS: BUILDING A FUTURE FOR CORAL REEFS by Juli Berwald
Juli Berwald fell in love with coral reefs as a marine biology student, entranced by their beauty and complexity. Alarmed by their peril, she traveled the world to discover how to prevent their loss.  Life on the Rocks is an inspiring, lucid, meditative ode to the reefs and the undaunted scientists working to save them against almost impossible odds. As she also attempts to help her daughter in her struggle with mental illness, Berwald explores what it means to keep fighting a battle whose outcome is uncertain. She contemplates the inevitable grief of climate change and the beauty of small victories.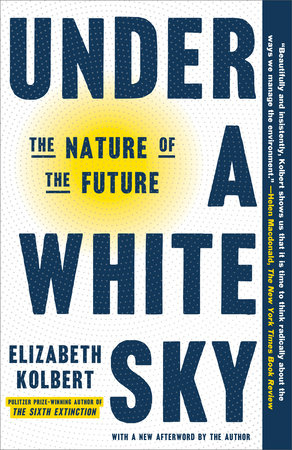 UNDER A WHITE SKY: THE NATURE OF THE FUTURE by Elizabeth Kolbert
The Pulitzer Prize–winning author of The Sixth Extinction returns to humanity's transformative impact on the environment, now asking: After doing so much damage, can we change nature, this time to save it?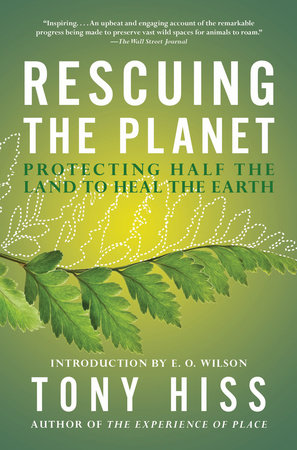 RESCUING THE PLANET: PROTECTING HALF THE LAND TO HEAL THE EARTH by Tony Hiss, Foreword by E. O. Wilson
A candid assessment of the health of our planet, and an urgent call to protect 50 percent of the earth's land by 2050—thereby saving millions of its species—from the award-winning author of The Experience of Place.  Beginning in the vast North American Boreal Forest that stretches through Canada, and roving across the continent, from the Northern Sierra to Alabama's Paint Rock Forest, from the Appalachian Trail to a ranch in Mexico, Tony Hiss sets out on a journey to take stock of the "superorganism" that is the earth: Tender, impassioned, curious, and above all else inspiring, Rescuing the Planet is a work that promises to make all of us better citizens of the earth.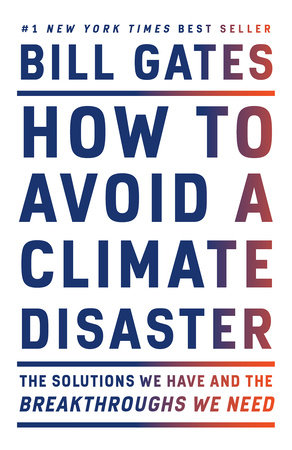 HOW TO AVOID A CLIMATE DISASTER: THE SOLUTIONS WE HAVE AND THE BREAKTHROUGHS WE NEED by Bill Gates
#1 NEW YORK TIMES BEST SELLER • In this urgent, authoritative book, Bill Gates sets out a wide-ranging, practical—and accessible—plan for how the world can get to zero greenhouse gas emissions in time to avoid a climate catastrophe.  As Bill Gates makes clear, achieving zero emissions will not be simple or easy to do, but if we follow the plan he sets out here, it is a goal firmly within our reach.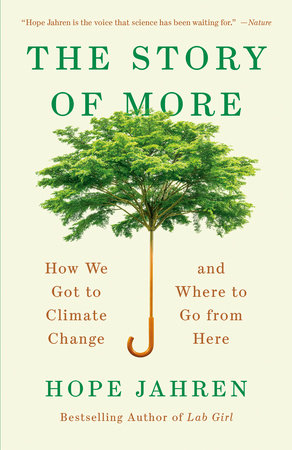 THE STORY OF MORE: HOW WE GOT TO CLIMATE CHANGE AND WHERE TO GO FROM HERE by Hope Jahren
Bestselling author of Lab Girl Hope Jahren is an award-winning geobiologist, a brilliant writer, and one of the seven billion people with whom we share this earth. The Story of More is her impassioned open letter to humanity as we stand at the crossroads of survival and extinction. At once an explainer on the mechanisms of warming and a capsule history of human development, The Story of More illuminates the link between our consumption habits and our endangered earth, showing us how we can use less and share more. It is the essential pocket primer on climate change that will leave an indelible impact on everyone who reads it.
FOR YOUNGER READERS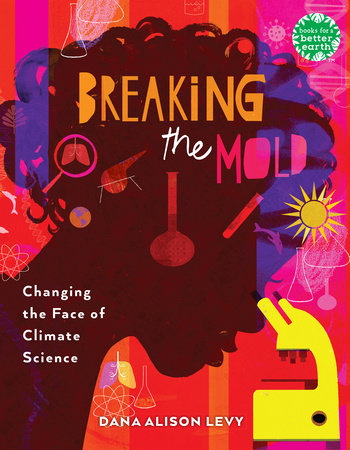 BREAKING THE MOLD: CHANGING THE FACE OF CLIMATE SCIENCE by Dana Alison Levy
Celebrated author Dana Alison Levy profiles 16 people, all studying different elements of the earth's landscape, animals, and climate, who defy stereotypes of who can be a scientist. From analytical chemists to volcanologists, from global experts to recent graduates, these scientists share what they were like as young people, how they got where they are now, and what they—and the rest of us—can do to help the planet.
ONE WORLD: 24 HOURS ON PLANET EARTH by Nicola Davies, Jenni Desmond
Take a magical ride around the globe to see the wonders of a single moment in a story illuminating our precious and fragile natural world.
THE LAST PLASTIC STRAW: A PLASTIC PROBLEM AND FINDING WAYS TO FIX IT by Dee Romito; Illustrated by Ziyue Chen
Learn how and why a useful, 5000-year-old invention has become a threat to our planet–and what you can do about it–in this history of the simple straw.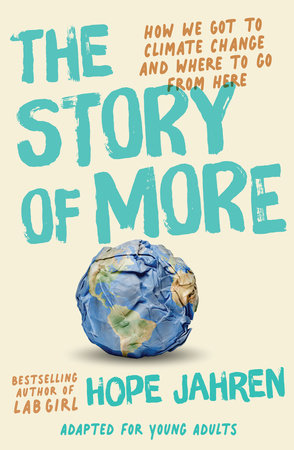 THE STORY OF MORE: HOW WE GOT TO CLIMATE CHANGE AND WHERE TO GO FROM HERE (ADAPTED FOR YOUNG ADULTS) by Hope Jahren
This young adult adaptation of acclaimed geochemist and geobiologist Hope Jahren's highly respected nonfiction work is the perfect book for those interested in learning about climate change and how they can contribute to creating a more sustainable future.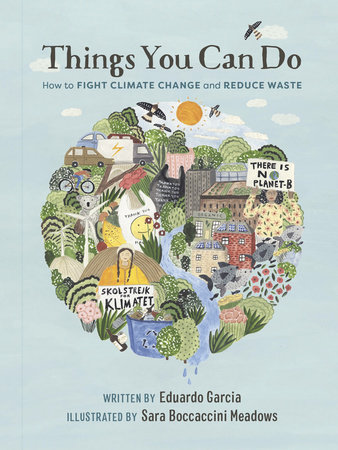 THINGS YOU CAN DO: HOW TO FIGHT CLIMATE CHANGE AND REDUCE WASTE by Eduardo Garcia; Illustrated by Sara Boccaccini Meadows
Learn what you can do right now to reduce your carbon footprint with this inspiring, accessible, stunningly illustrated book based on Eduardo Garcia's popular New York Times column. Printed on 100% recycled paper and delivering a decisive hit of knowledge with every turn of the page, Things You Can Do is the book for people who want to know more–and do more–to save the planet.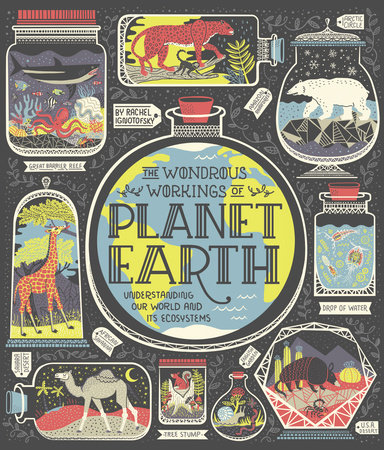 THE WONDROUS WORKINGS OF PLANET EARTH: UNDERSTANDING OUR WORLD AND ITS ECOSYSTEMS by Rachel Ignotofsky
Beautifully combining art and science, The Wondrous Workings of Planet Earth is an illustrated tour of the planet that reveals ecosystems large and small, from reefs, deserts, and rainforests to ponds, backyard gardens, and even a drop of water. Through exquisite drawings, maps, and infographics, New York Times best-selling author Rachel Ignotofsky makes earth science accessible and entertaining, explaining how our planet works.
For more on these and related titles visit the collection, Earth Week, 2023
---
There's a Book for That! is brought to you by Penguin Random House's Sales department. Please follow our Tumblr by clicking here—and share this link with your accounts: theresabookforthat.tumblr.com. Thank you!
Did you see something on the news or read about something on your commute? Perhaps you noticed something trending on Twitter? Did you think: "There's a book for that!"? Then please, send it our way at theresabookforthat@penguinrandomhouse.com
Posted: April 21, 2023