Friday Reads: Eudora Welty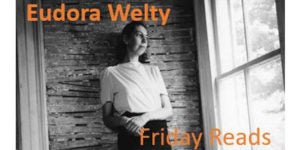 "People are mostly layers of violence and tenderness wrapped like bulbs, and it is difficult to say what makes them onions or hyacinths." ― Eudora Welty
For this week's Friday Reads we are casting our gaze on Pulitzer-prize winning Southern writer Eudora Welty who was born this day, April 13th, 1901 and passed away in 2001. Welty was an American short story writer and novelist who wrote about the American South and has inspired many writers. Her novel THE OPTIMIST'S DAUGHTER won the Pulitzer Prize in 1973. She was the first living author to have her works published by the Library of America. Welty's house in Jackson, Mississippi has been designated as a National Historic Landmark and is open to the public as a house museum.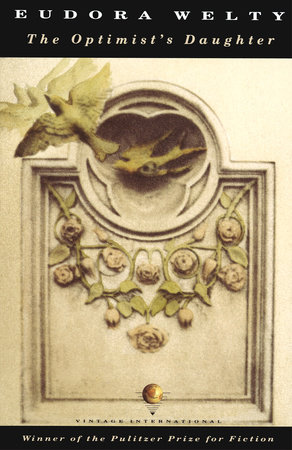 THE OPTIMIST'S DAUGHTER by Eudora Welty
This Pulitzer Prize–winning novel tells the story of Laurel McKelva Hand, a young woman who has left the South and returns, years later, to New Orleans, where her father is dying. After his death, she and her silly young stepmother go back still farther, to the small Mississippi town where she grew up. Along in the old house, Laurel finally comes to an understanding of the past, herself, and her parents.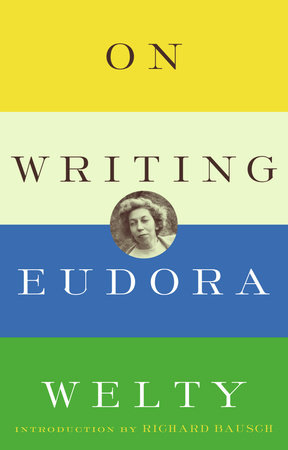 ON WRITING by Eudora Welty
Eudora Welty was one of the twentieth century's greatest literary figures. For as long as students have been studying her fiction as literature, writers have been looking to her to answer the profound questions of what makes a story good, a novel successful, a writer an artist. On Writing presents the answers in seven concise chapters discussing the subjects most important to the narrative craft, and which every fiction writer should know, such as place, voice, memory, and language. But even more important is what Welty calls "the mystery" of fiction writing—how the writer assembles language and ideas to create a work of art.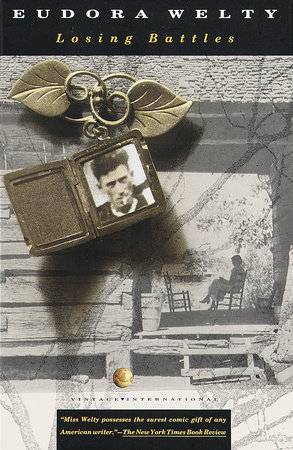 LOSING BATTLES by Eudora Welty
Three generations of Granny Vaughn's descendants gather at her Mississippi home to celebrate her 90th birthday. Possessed of the true storyteller's gift, the members of this clan cannot resist the temptation to swap tales.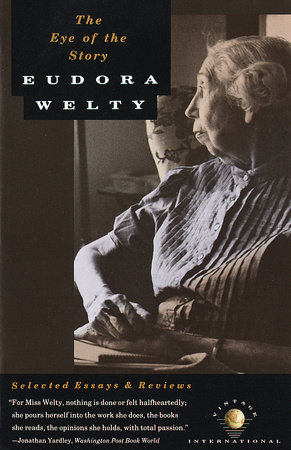 THE EYE OF THE STORY: SELECTED ESSAYS AND REVIEWS by Eudora Welty
Much like her highly acclaimed One Writer's Beginnings, The Eye of the Story offers Eudora Welty's invaluable meditations on the art of writing. In addition to seven essays on craft, this collection brings together her penetrating and instructive commentaries on a wide variety of individual writers, including Jane Austen, E. M. Forster, Willa Cather, Anton Chekhov, William Faulkner, and Virginia Woolf.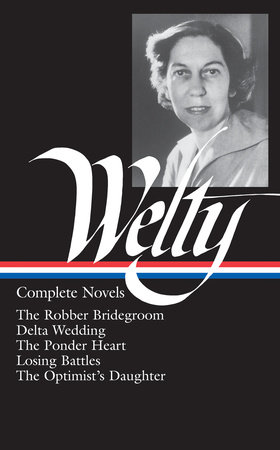 EUDORA WELTY: COMPLETE NOVELS (Library of America) by Eudora Welty, edited by Richard Ford and Michael Kreyling
Includes: The Robber Bridegroom / Delta Wedding / The Ponder Heart / Losing Battles / The Optimist's Daughter
One of the most influential writers of the twentieth century, Eudora Welty's novels and stories blend the storytelling tradition of the South with a modernist sensibility attuned to the mysteries and ambiguities of experience. In this Library of America volume and its companion, Welty explores the complex abundance of southern, and particularly Southern women's, lives with an artistry that Salman Rushdie has called "impossible to overpraise." In a career spanning five decades, she chronicled her own Mississippi with a depth and intensity matched only by William Faulkner.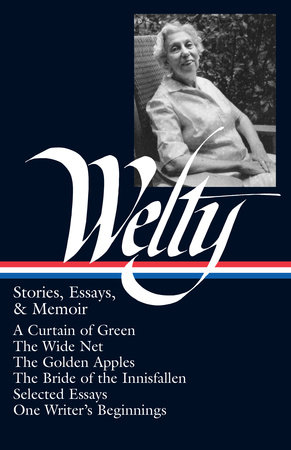 EUDORA WELTY: STORIES, ESSAYS, & MEMOIRS (Library of America) by Eudora Welty; edited by Richard Ford and Michael Kreyling
Stories, Essays and Memoir presents Welty's collected short stories, an astonishing body of work that has made her one of the most respected writers of short fiction. Also included are two stories from the 1960s, notably "Where Is the Voice Coming From?", based on the shooting of Medgar Evers.
EUDORA WELTY: A WRITER'S LIFE by Ann Waldron
Elegant and authoritative, this first biography to chart the life of a national treasure is a must-have for Welty fans and scholars everywhere.
Eudora Welty is a beloved institution of Southern fiction and American literature, whose closely guarded privacy has prevented a full-scale study of her life and work–until now. A significant contribution to the world of letters, Ann Waldron's biography chronicles the history and achievements of one of our greatest living authors, from a Mississippi childhood to the sale of her first short story, from her literary friendships with Katherine Anne Porter and Elizabeth Bowen to her rivalry with Carson McCullers.
Watch Penguin Random House author Chimamanda Ngozi Adichie give the 2017 Eudora Welty/Pen-Faulkner Lecture here
For more on featured Eudora Welty titles visit: Welty Friday Reads
---
There's a Book for That! is brought to you by Penguin Random House's Sales department. Please follow our Tumblr by clicking here—and share this link with your accounts: theresabookforthat.tumblr.com. Thank you!
Did you see something on the news or read about something on your commute? Perhaps you noticed something trending on Twitter? Did you think: "There's a book for that!"? Then please, send it our way at theresabookforthat@penguinrandomhouse.com
Posted: April 13, 2018