Friday Reads: Father's Day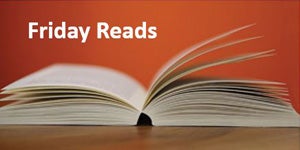 Sunday, June 18, is Father's Day. For this installment of Friday Reads we focus on dad and his myriad interests with some of our bestselling titles.
FEATURED TITLES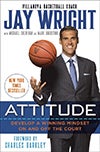 ATTITUDE: DEVELOP A WINNING MINDSET ON AND OFF THE COURT by Jay Wright, Michael Sheridan, Mark Dagostino
In this behind-the-scenes look at the making of a champion, the coach of the Villanova University men's basketball team shares his competitive and cooperative philosophy, along with lessons from his coaching career and the story of his personal road to success.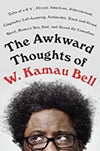 THE AWKWARD THOUGHTS OF KAMAU BELL: TALES OF A 6′ 4″, AFRICAN AMERICAN, HETEROSEXUAL, CISGENDER, LEFT-LEANING, ASTHMATIC, BLACK AND PROUD BLERD, MAMA'S BOY, DAD, AND STAND-UP COMEDIAN by W. Kamau Bell
A memoir and manifesto from the comedian, hit podcast host, and star of United Shades of America.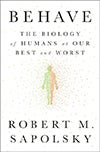 BEHAVE: THE BIOLOGY OF HUMANS AT OUR BEST AND WORST by Robert M. Sapolsky
From the great neurobiologist and primatologist, a landmark, genre-defining examination of the decisive factors that dictate the boundaries of human behavior, both good and bad.

LINCOLN IN THE BARDO: A NOVEL by George Saunders
The captivating first novel by the best-selling, National Book Award nominee George Saunders, about Abraham Lincoln and the death of his eleven year old son, Willie, at the dawn of the Civil War.

BETWEEN THE WORLD AND ME: NOTES ON THE FIRST 150 YEARS IN AMERICA by Ta-Nehisi Coates
A bold investigation into America's racial history and its contemporary echoes from "the single best writer on the subject of race in the United States" (New York Observer), told through the author's own evolving understanding of the subject over the course of his life.

THE 48 LAWS OF POWER by Robert Greene, Joost Elffers
Robert Greene and Joost Elffers have distilled three thousand years of the history of power into 48 essential laws by drawing from the philosophies of Machiavelli, Sun Tzu, and more.
Amoral, cunning, ruthless, and instructive, The 48 Laws of Power is the definitive manual for anyone interested in gaining, observing, or defending against ultimate control.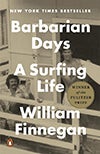 BARBARIAN DAYS: A SURFING LIFE by William Finnegan
Winner of the Pulitzer Prize: A deeply-rendered self-portrait of a life-long surfer by the acclaimed New Yorker journalist.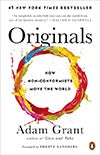 ORIGINALS: HOW NON-CONFORMISTS MOVE THE WORLD by Adam Grant, Sheryl Sandberg
The #1 national bestseller that examines how people can champion new ideas—and how leaders can fight groupthink
For more on these and other great books for dad, visit the collection: Fathers Friday Reads
Posted: June 15, 2017