Friday Reads: Graphic Novels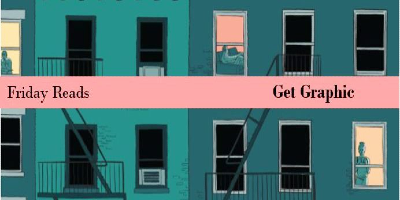 What's novel about graphic novels? For one, that two mediums tell the story: Writing and art combine to give readers a visual and visceral experience.  Below are some of the very best of the genre for a range of ages. We are sure they'll surprise you!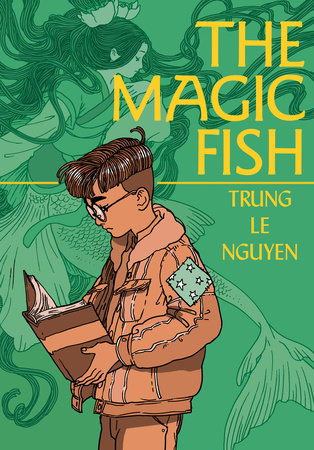 THE MAGIC FISH by Trung Le Nguyen
Tiến loves his family and his friends…but Tiến has a secret he's been keeping from them, and it might change everything. The Magic Fish is a beautifully illustrated story by Trung Le Nguyen that follows a young boy as he tries to navigate life through fairytales, an instant classic that shows us how we are all connected. It tackles tough subjects in a way that is accessible to readers of all ages, and teaches us that no matter what we can all have our own happy endings.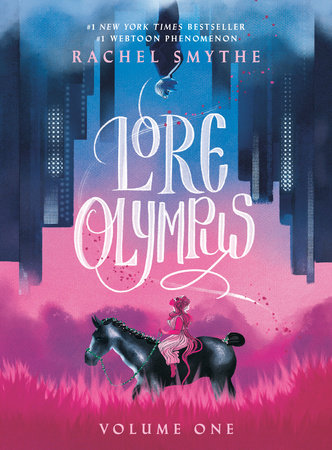 LORE OLYMPUS: VOLUME ONE by Rachel Smythe
Persephone, young goddess of spring, is new to Olympus. Her mother, Demeter, has raised her in the mortal realm, but after Persephone promises to train as a sacred virgin, she's allowed to live in the fast-moving, glamorous world of the gods. When her roommate, Artemis, takes her to a party, her entire life changes: she ends up meeting Hades and feels an immediate spark with the charming yet misunderstood ruler of the Underworld. Now Persephone must navigate the confusing politics and relationships that rule Olympus, while also figuring out her own place—and her own power.
This edition of Smythe's original Eisner-winning webcomic Lore Olympus brings Greek mythology into the modern age in a sharply perceptive and romantic graphic novel. This volume collects episodes 1–25 of the #1 WEBTOON comic Lore Olympus.
Spanish edition is available here.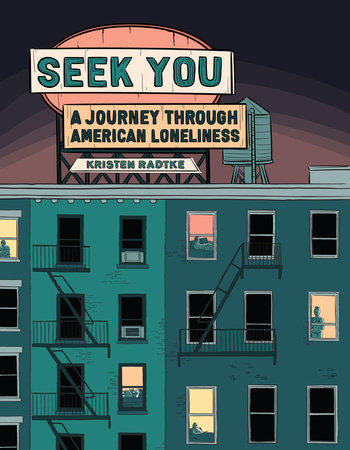 SEEK YOU: A JOURNEY THROUGH AMERICAN LONELINESS by Kristen Radtke
From the acclaimed author of Imagine Wanting Only This—a timely and moving meditation on isolation and longing, both as individuals and as a society. In Seek You, Kristen Radtke's wide-ranging exploration of our inner lives and public selves, Radtke digs into the ways in which we attempt to feel closer to one another, and the distance that remains. Through the lenses of gender and violence, technology and art, Radtke ushers us through a history of loneliness and longing, and shares what feels impossible to share.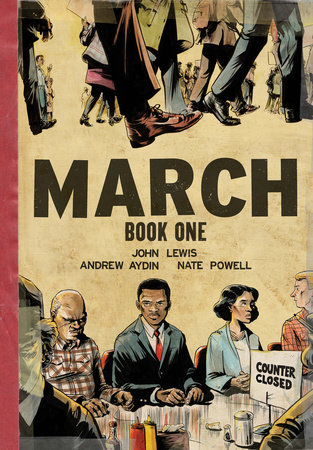 MARCH: BOOK ONE by John Lewis, Andrew Aydin, Nate Powell
Winner of the Robert F. Kennedy Book Award — Special Recognition
A Coretta Scott King Honor Book
March is a vivid first-hand account of John Lewis' lifelong struggle for civil and human rights, meditating in the modern age on the distance traveled since the days of Jim Crow and segregation. Rooted in Lewis' personal story, it also reflects on the highs and lows of the broader civil rights movement. Book One spans John Lewis' youth in rural Alabama, his life-changing meeting with Martin Luther King, Jr., the birth of the Nashville Student Movement, and their battle to tear down segregation through nonviolent lunch counter sit-ins, building to a stunning climax on the steps of City Hall.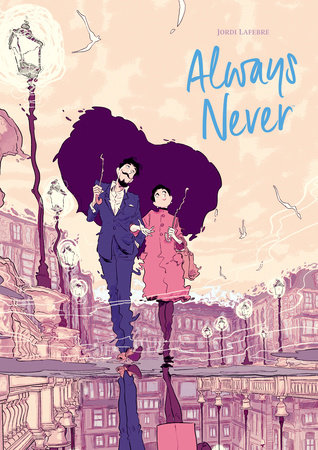 ALWAYS NEVER by Jordi Lafebre, Clémence Sapin
A luxuriously illustrated love story full of heart, comedy and universal truths, published in English for the first time. Written and illustrated by Spanish cartoonist Jordi Lefebre.
After forty years of being madly in love, Ana and Zeno are finally retiring and giving their romance a chance to bloom while they both still have time left. A unique but relatable love story told in reverse, with each chapter stepping further back through the decades of touch and go courting, showing both the heartbreaking moments that kept the two lovers apart and the beautiful moments that kept their flame alive. This isn't a tale of missed connections and regret but rather a story celebrating the complexities of family, responsibility, destiny, and how love persists across time with complete disregard for all of that.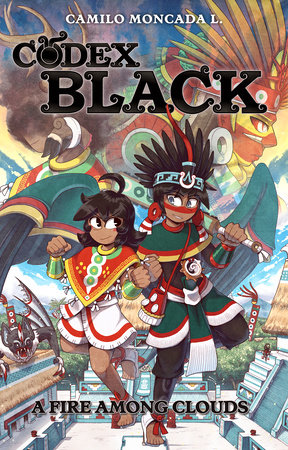 CODEX BLACK (BOOK ONE): A FIRE AMONG CLOUDS by Camilo Moncada Lozano
Navigate through monsters, mysteries, and the will of the gods with two young extraordinary adventurers in fifteenth-century Mesoamerica as they search for a missing father. In Codex Black, Donají sets out on an adventure–accompanied by the god that lives inside of her poncho–to find her missing father. Along the way, she meets a 17-year-old winged Mexica warrior named Itzcacalotl, and over time their temporary partnership blooms into an incredible friendship.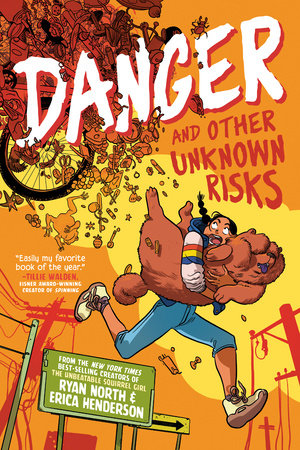 DANGER AND OTHER UNKNOWN RISKS: A GRAPHIC NOVEL by Ryan North, Erica Henderson
Ryan North and Erica Henderson, the bestselling masterminds behind Unbeatable Squirrel Girl, serve up a graphic novel that is equally laugh-out-loud adventure and emotional gut punch. A story about the search for truth, chosen family, and rebirth, the journey of Marguerite and Daisy seeks to ask one vital question: How far are you willing to go to save the world?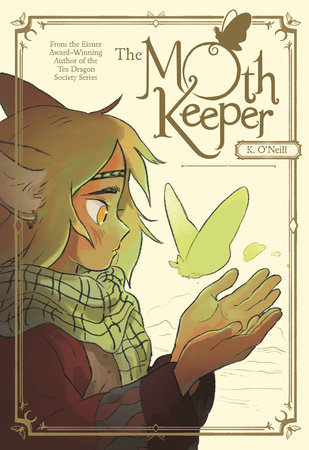 THE MOTH KEEPER by K. O'Neill
Being a Moth Keeper is a huge responsibility and a great honor, but what happens when the new Moth Keeper decides to take a break from the moon and see the sun for the first time? From the author of the beloved Tea Dragon Society comes a must-read for fans of the rich fantasies of Hayao Miyazaki and the magical adventures of Witch Hat Atelier. K. O'Neill brings to life a beautifully illustrated fantasy with lush, gorgeous art and intricate world-building. A story about coming of age and community, The Moth Keeper is filled with magic, hope, and friendship.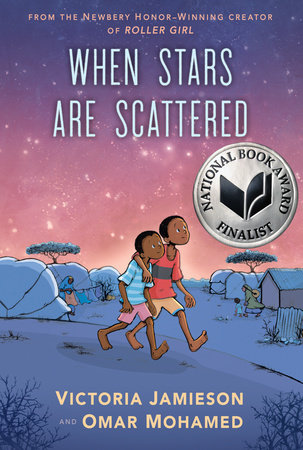 WHEN STARS ARE SCATTERED by Victoria Jamieson, Omar Mohamed, Iman Geddy
A National Book Award Finalist, this remarkable graphic novel is about growing up in a refugee camp, as told by a former Somali refugee to the Newbery Honor-winning creator of Roller Girl.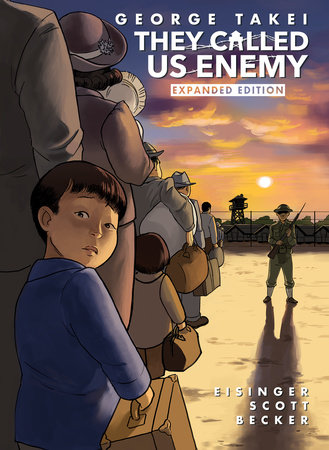 THEY CALLED US ENEMY (expanded edition) by George Takei, Justin Eisinger, Steven Scott, Harmony Becker
A stunning graphic memoir recounting actor/author/activist George Takei's childhood imprisoned within American concentration camps during World War II, They Called Us Enemy is Takei's firsthand account of those years behind barbed wire, the joys and terrors of growing up under legalized racism, his mother's hard choices, his father's faith in democracy, and the way those experiences planted the seeds for his astonishing future. Now with sixteen pages of bonus content from George Takei and his co-creators: a new afterword plus a behind-the-scenes tour of the process of researching, writing, drawing, and promoting They Called Us Enemy, featuring historical documents, scripts, sketches, photos, and more!
Spanish edition is available here.
WATCHMEN by Alan Moore, Dave Gibbons
Considered the greatest graphic novel in the history of the medium, the Hugo Award-winning story Watchmen chronicles the fall from grace of a group of superheroes plagued by all-too-human failings. Along the way, the concept of the superhero is dissected as an unknown assassin stalks the erstwhile heroes.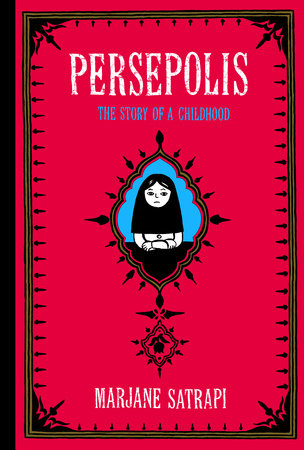 PERSEPOLIS: THE STORY OF A CHILDHOOD by Marjane Satrapi
Wise, funny, and heartbreaking, Persepolis is Marjane Satrapi's acclaimed graphic memoir of growing up in Iran during the Islamic Revolution.
"A wholly original achievement…. Satrapi evokes herself and her schoolmates coming of age in a world of protests and disappearances…. A stark, shocking impact." —The New York Times: "The 50 Best Memoirs of the Past 50 Years"
Spanish edition is available here.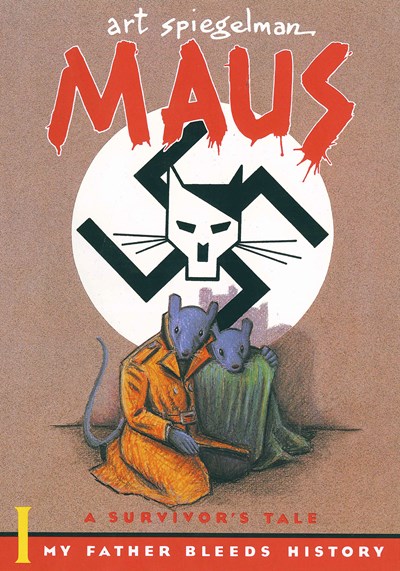 MAUS I: A SURVIVOR'S TALE: MY FATHER BLEEDS HISTORY by Art Spiegelman
The bestselling first installment of the graphic novel acclaimed as "the most affecting and successful narrative ever done about the Holocaust" (Wall Street Journal) and "the first masterpiece in comic book history" (The New Yorker) • PULITZER PRIZE WINNER • One of Variety's "Banned and Challenged Books Everyone Should Read"
Spanish edition is available here.
For more information on these and related titles visit Graphic Novels
---
There's a Book for That! is brought to you by Penguin Random House's Sales department. Please follow our Tumblr by clicking here—and share this link with your accounts: theresabookforthat.tumblr.com. Thank you!
Did you see something on the news or read about something on your commute? Perhaps you noticed something trending on Twitter? Did you think: "There's a book for that!"? Then please, send it our way at theresabookforthat@penguinrandomhouse.com
Posted: April 14, 2023