Friday Reads: International Peace Day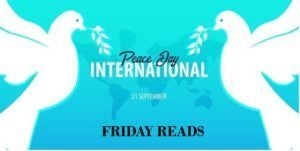 "I have lost my smile,
but don't worry.
The dandelion has it."
― Thich Nhat Hanh
Today, September 21st, is International Peace Day and so we are highlighting books for all ages about peace and from some revered peace workers including Thich Nhat Hanh. Celebrated each year around the world, International Peace Day was declared by The United Nations as a day devoted to strengthening the ideals of peace, both within and among all nations and peoples. For more information visit http://www.un.org/en/events/peaceday/.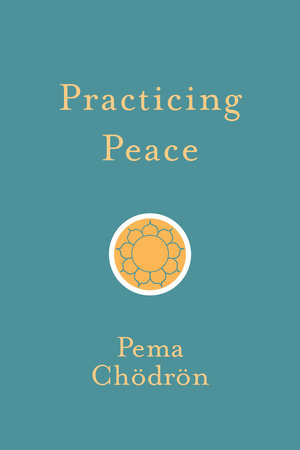 PRACTICING PEACE by Pema Chodron
Can there be hope for a peaceful future in times like these? How can we overcome our sense of helplessness when problems seem so big and tensions so strong? Pema Chödrön here shows us how to look deeply at the underlying causes of these tensions and how we really can create a more peaceful world—by starting right where we are and learning to see the seeds of hostility in our hearts. She draws on Buddhist teachings to explore the origins of anger, aggression, hatred, and war, and offers practical techniques all of us can use to work for genuine, lasting peace in our own lives and in whatever circumstances we find ourselves.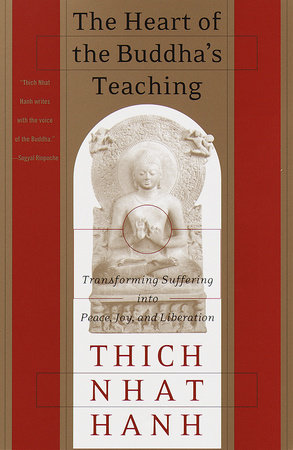 THE HEART OF THE BUDDHA'S TEACHING: TRANSFORMING SUFFERING INTO PEACE, JOY, AND LIBERATION by Thich Nhat Hanh
With poetry and clarity, Thich Nhat Hanh imparts comforting wisdom about the nature of suffering and its role in creating compassion, love, and joy – all qualities of enlightenment.
Covering such significant teachings as the Four Noble Truths, the Noble Eightfold Path, the Three Doors of Liberation, the Three Dharma Seals, and the Seven Factors of Awakening, The Heart of the Buddha's Teaching is a radiant beacon on Buddhist thought for the initiated and uninitiated alike.
"Thich Nhat Hanh shows us the connection between personal, inner peace, and peace on earth." – His Holiness the Dalai Lama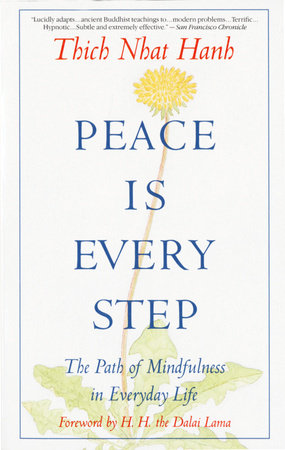 PEACE IS EVERY STEP: THE PATH OF MINDFULNESS IN EVERYDAY LIFE by Thich Nhat Hanh
In the rush of modern life, we tend to lose touch with the peace that is available in each moment. World-renowned Zen master, spiritual leader, and author Thich Nhat Hanh shows us how to make positive use of the very situations that usually pressure and antagonize us. For him a ringing telephone can be a signal to call us back to our true selves. Lucidly and beautifully written, Peace Is Every Step contains commentaries and meditations, personal anecdotes and stories from Nhat Hanh's experiences as a peace activist, teacher, and community leader.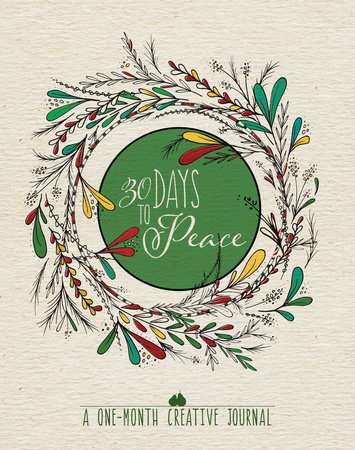 30 DAYS TO PEACE: A ONE-MONTH CREATIVE JOURNAL
This interactive book pairs daily inspirational quotes together with creative writing or drawing prompts that inspire users to reflect on peace in their daily lives. Quotes are derived from the Bible and from inspirational contemporary and historical figures. Featuring lovely hand-drawn illustrations throughout, this journal makes a perfect impulse gift to give to others—or to buy for oneself.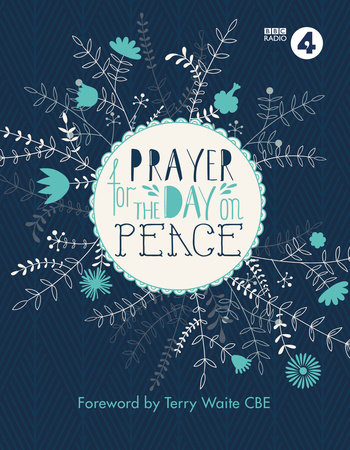 PRAYER FOR THE DAY ON PEACE by Terry Waite/BBC Radio 4
This stunningly designed volume contains 40 moving and comforting prayers of peace, each with its own introduction that expands on the prayer's themes. All these prayers and reflections were broadcast on BBC Radio 4's much-loved, early-morning spiritual slot, Prayer for the Day, and each one is introduced by a well-known member of the faith communities. The book takes a multi-faith approach, with meditations on peace from the different Christian denominations, as well as from Muslim, Jewish, Hindu, Sikh and Buddhist contributors.
THE ANATOMY OF PEACE: RESOLVING THE HEART OF CONFLICT from The Arbinger Institute
From the authors of Leadership and Self-Deception comes an international bestseller that instills hope and inspires reconciliation. Through a moving story of parents who are struggling with their own children and with problems that have come to consume their lives, we learn from once-bitter enemies the way to transform personal, professional, and global conflicts, even when war is upon us.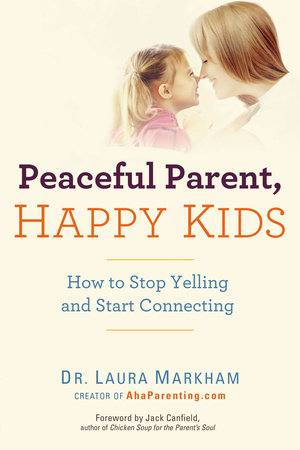 PEACEFUL PARENT, HAPPY KIDS: HOW TO STOP YELLING AND START CONNECTING by Laura Markham
Based on the latest research on brain development and extensive clinical experience with parents, Dr. Laura Markham's approach is as simple as it is effective. Her message: Fostering emotional connection with your child creates real and lasting change. When you have that vital connection, you don't need to threaten, nag, plead, bribe—or even punish.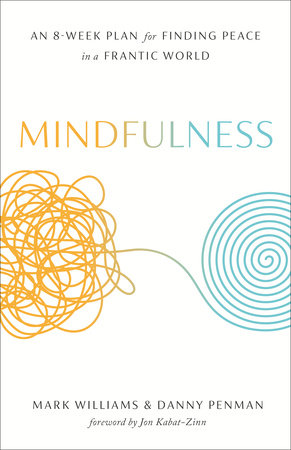 MINDFULNESS: AN EIGHT-WEEK PLAN FOR FINDING PEACE IN A FRANTIC WORLD by Mark Williams, Danny Penman, Jon Kabat-Zinn
This life-changing bestseller is based on Mindfulness-Based Cognitive Therapy (MBCT). MBCT revolves around a straightforward form of mindfulness meditation which takes just a few minutes a day for the full benefits to be revealed. MBCT has been clinically proven to be at least as effective as drugs for depression and is widely recommended by US physicians and the UK's National Institute for Health and Clinical Excellence—in other words, it works. More importantly it also works for people who are not depressed but who are struggling to keep up with the constant demands of the modern world.
FOR YOUNGER READERS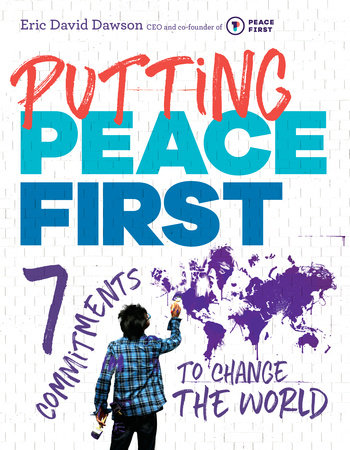 PUTTING PEACE FIRST: 7 COMMITMENTS TO CHANGE THE WORLD by Eric Dawson
When he was just eighteen, Eric David Dawson co-founded the non-profit Peace First based on the idea that young people can change the world for the better—not someday, but right now. Twenty-five years later, Peace First has reached millions worldwide, teaching young people how to become peacemakers and create real change. Now, Dawson has written PUTTING PEACE FIRST, the handbook every aspiring peacemaker needs.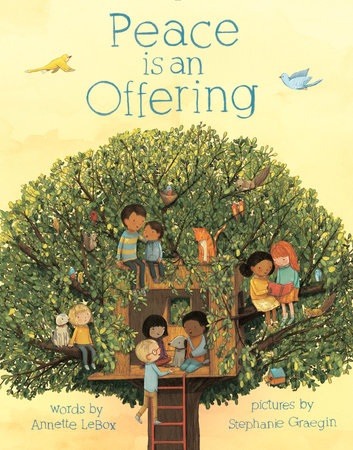 PEACE IS AN OFFERING by Annette Lebox; Illustrated by Stephanie Graegin
A warm, comforting poem about finding peace in a community of neighbors
Peace is an offering.
A muffin or a peach.
A birthday invitation.
A trip to the beach.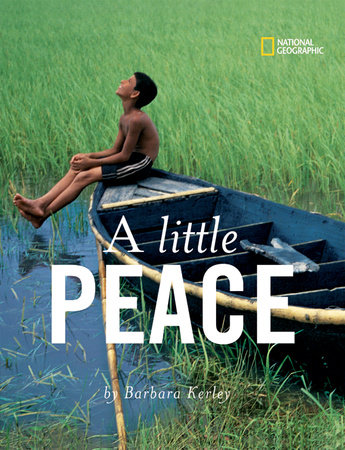 A LITTLE PEACE by Barbara Kerley, National Geographic Kids
The latest National Geographic Children's Books title by Barbara Kerley, A Little Peace, gives a richly evocative and thought-provoking view of the world our children will inherit. Wise words and moving images offer a unique and enriching experience for every young reader. According to author Barbara Kerley, "I believe that peace doesn't just rest in the hands of politicians and world leaders. We all have the power to make the world more peaceful."
For more on these titles visit the collection International Peace Day
---
There's a Book for That! is brought to you by Penguin Random House's Sales department. Please follow our Tumblr by clicking here—and share this link with your accounts: theresabookforthat.tumblr.com. Thank you!
Did you see something on the news or read about something on your commute? Perhaps you noticed something trending on Twitter? Did you think: "There's a book for that!"? Then please, send it our way at theresabookforthat@penguinrandomhouse.com
Posted: September 21, 2018