Friday Reads: Joan Didion Revisited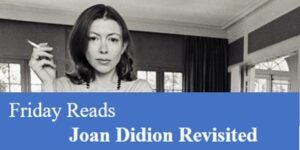 "Character – the willingness to accept responsibility for one's own life – is the source from which self-respect springs."
—Joan Didion, "On Self-Respect"
As we mourn Joan Didion's recent passing, what she meant to her fans is a resounding chorus of praise and respect. As a journalist, essayist, novelist and memoirist she's a writer's writer, a Californian's writer, a New Yorker's writer, and finally a reader's writer: Consider her keen observations and lack of sentimentality, whether addressing social movements or personal grief, in the following books by Joan Didion, national treasure.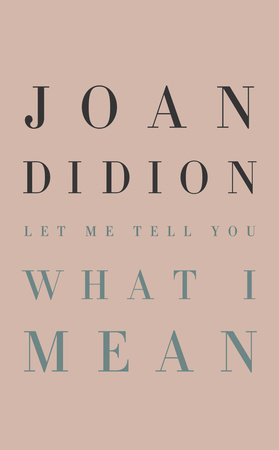 LET ME TELL YOU WHAT I MEAN by Joan Didion
From one of our most iconic and influential writers: a timeless collection of mostly early pieces that reveal what would become Joan Didion's subjects, including the press, politics, California robber barons, women, and her own self-doubt. From her admiration for Hemingway's sentences to her acknowledgment that Martha Stewart's story is one "that has historically encouraged women in this country, even as it has threatened men," these essays are acutely and brilliantly observed. Each piece is classic Didion: incisive, bemused, and stunningly prescient.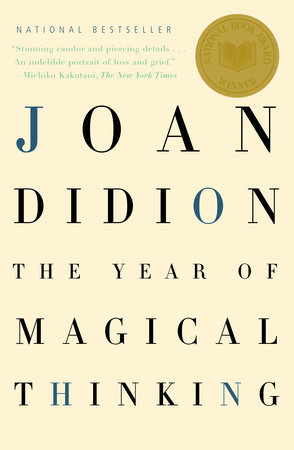 THE YEAR OF MAGICAL THINKING by Joan Didion
NATIONAL BOOK AWARD WINNER
Joan Didion's intensely personal, brilliantly and movingly reported account of one death—her husband's—and two near-deaths—those of their daughter—leaving her alone to navigate her grief, her memories, and her daughter's recovery.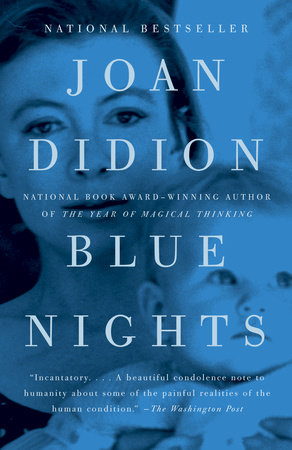 BLUE NIGHTS by Joan Didion
Following the acclaimed and bestselling The Year of Magical Thinking, Blue Nights is Joan Didion's intensely personal and moving account of the death of her daughter, Quintana, and her thoughts, fears, and doubts about motherhood, illness, and aging. The book opens on July 26, 2010, as Didion thinks back to Quintana's wedding exactly seven years before. "Today would be her wedding anniversary." As she reflects on her daughter and her role as a parent, Didion candidly and bravely confronts the subjects of having children, of feeling like we have failed as a parent, of missing or misinterpreting our childrens' cries for help.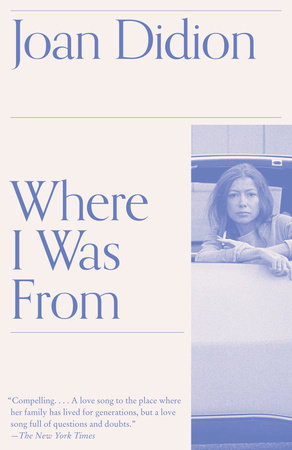 WHERE I WAS FROM by Joan Didion
The master American essayist takes a look at the California of her youth, and reflects on the current condition of it as she dispels many of the misconceptions that have plagued people's perception of California over the years.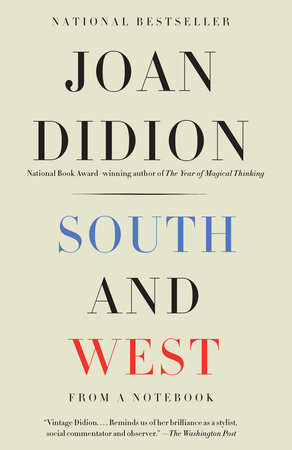 SOUTH AND WEST: FROM A NOTEBOOK by Joan Didion; Foreword by Nathaniel Rich
Joan Didion always kept notebooks: of overheard dialogue, observations, interviews, drafts of essays and articles—and here is one such draft that traces a road trip she took with her husband, John Gregory Dunne, in June 1970 through Louisiana, Mississippi, and Alabama. She interviews prominent local figures, describes motels, diners, a deserted reptile farm, a visit with Walker Percy, a ladies' brunch at the Mississippi Broadcasters' Convention. She writes about the stifling heat, the almost viscous pace of life, the sulfurous light, and the preoccupation with race, class, and heritage she finds in the small towns they pass through. And from a different notebook: the "California Notes" that began as an assignment from Rolling Stone on the Patty Hearst trial of 1976. Though Didion never wrote the piece, watching the trial and being in San Francisco triggered thoughts about the city, its social hierarchy, the Hearsts, and her own upbringing in Sacramento. Here, too, is the beginning of her thinking about the West, its landscape, the western women who were heroic for her, and her own lineage.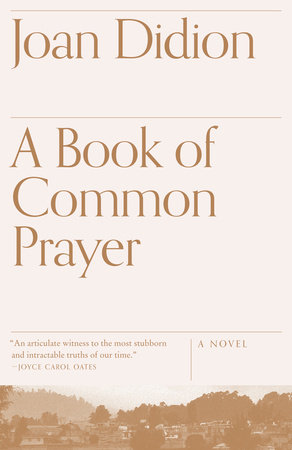 A BOOK OF COMMON PRAYER by Joan Didion
A shimmering novel of innocence and evil: the gripping story of two American women in a failing Central American nation
Grace Strasser-Mendana controls much of Boca Grande's wealth and knows virtually all of its secrets; Charlotte Douglas knows far too little. "Immaculate of history, innocent of politics," Charlotte has come to Boca Grande vaguely and vainly hoping to be reunited with her fugitive daughter. As imagined by Didion, her fate is at once utterly particular and fearfully emblematic of an age of conscienceless authority and unfathomable violence.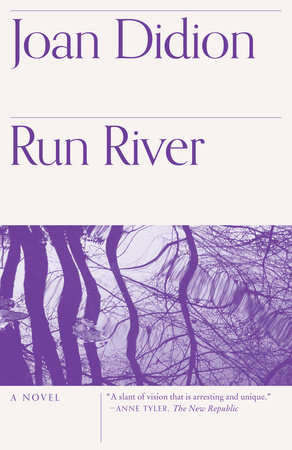 RUN RIVER by Joan Didion
The iconic writer's electrifying first novel is a story of marriage, murder and betrayal that only she could tell with such nuance, sympathy, and suspense. Everett McClellan and his wife, Lily, are the great-grandchildren of pioneers, and what happens to them is a tragic epilogue to the pioneer experience—a haunting portrait of a marriage whose wrong turns and betrayals are at once absolutely idiosyncratic and a razor-sharp commentary on the history of California.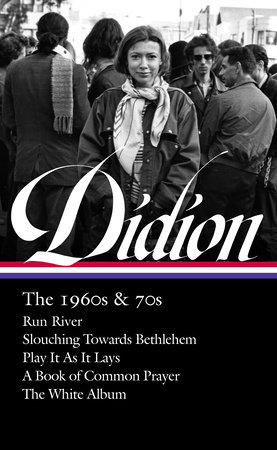 JOAN DIDION: THE 1960S & 70S (LOA #325: Run River / Slouching Towards Bethlehem / Play It As It Lays / A Book of Common Prayer / The White Album) by Joan Didion; Edited by David L. Ulin
Whether writing about countercultural San Francisco, the Las Vegas wedding industry, Lucille Miller, Charles Manson, or the shopping mall, Didion achieves a wonderful negative sublimity without condemning her subjects or condescending to her readers. Chiefly about California, these books display Didion's genius for finding exactly the right language and tone to capture America's broken twilight landscape at a moment of headlong conflict and change.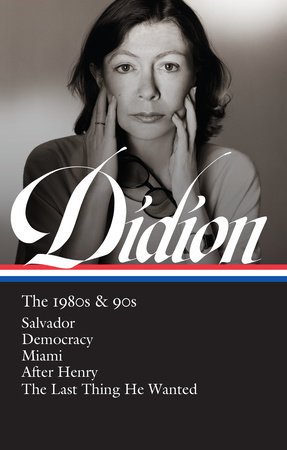 JOAN DIDION: THE 1980S & 90S (LOA #341: Salvador / Democracy / Miami / After Henry / The Last Thing He Wanted) by Joan Didion; Edited by David L. Ulin
This second volume in Library of America's definitive Didion edition includes two novels and three remarkable essay collections with which she extended the compass of the extraordinary journalistic eye first developed in the celebrated books Slouching Towards Bethlehem and The White Album. Gather here are Salvador, a searing look at terror and Cold War politics in the Central American civil war of the early 1980s; Miami, a portrait not just of a city but of immigration, exile, the cocaine trade, and political violence; and After Henry, in which she reports on Patty Hearst, Nancy Reagan, the case of the Central Park Five, and the Los Angeles she once called home. The novels Democracy and The Last Thing He Wanted, the latter recently adapted for film by Netflix, are fast-paced, deftly observed narratives of power, conspiracy, and corruption in American political life. Taken together, these five books mark the remarkable mid-career evolution of one of the most dynamic writers of our time.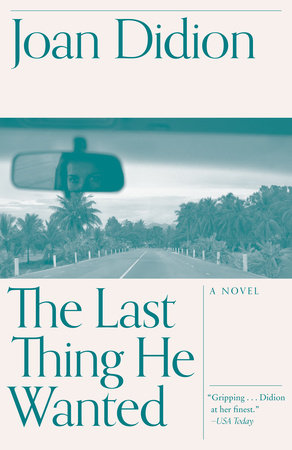 THE LAST THING HE WANTED by Joan Didion
In this intricate, fast-paced novel about trying to create a context for democracy, the narrator introduces Elena McMahon, estranged from a life of celebrity fundraisers and from her powerful West Coast husband, Wynn Janklow, whom she has left, taking Catherine, her daughter, to become a reporter for The Washington Post. She finds herself boarding a plane for Florida to see her father. She becomes embroiled in her his business even though "she had trained herself since childhood not to have any interest in what he was doing." It is from this moment that she is caught up in something much larger than she could have imagined.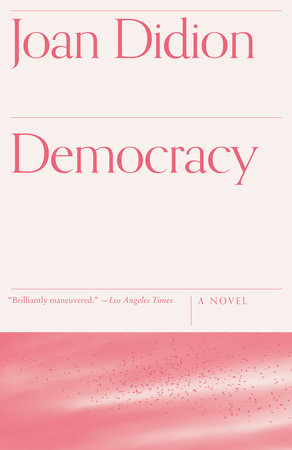 DEMOCRACY by Joan Didion
This gorgeously written, bitterly funny look at the relationship between politics and personal life moves deftly between romance, farce, and tragedy, from 1970s America to Vietnam to Jakarta: Democracy is a tour de force from a writer who can dissect an entire society with a single phrase.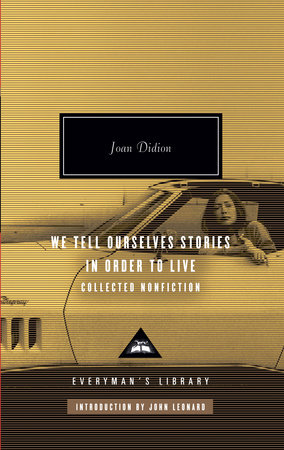 WE TELL OURSELVES STORIES IN ORDER TO LIVE: COLLECTED NONFICTION by Joan Didion
From the bestselling, award-winning author of The Year of Magical Thinking and Let Me Tell You What I Mean, this collection includes seven books in one volume: the full texts of Slouching Towards Bethlehem; The White Album; Salvador; Miami; After Henry; Political Fictions; and Where I Was From.
As featured in the Netflix documentary Joan Didion: The Center Will Not Hold.
For more about these and other books by Joan Didion visit Joan Didion
---
There's a Book for That! is brought to you by Penguin Random House's Sales department. Please follow our Tumblr by clicking here—and share this link with your accounts: theresabookforthat.tumblr.com. Thank you!
Did you see something on the news or read about something on your commute? Perhaps you noticed something trending on Twitter? Did you think: "There's a book for that!"? Then please, send it our way at theresabookforthat@penguinrandomhouse.com
Posted: January 7, 2022