Friday Reads: Maira Kalman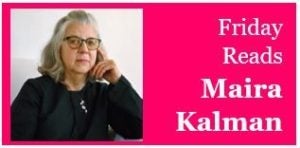 "The book. Calming object. Held in the hand." ― Maira Kalman
Maira Kalman has done it again! With her latest illustrated edition, THE AUTOBIOGRAPHY OF ALICE B. TOKLAS by Gertrude Stein, fans and newcomers are invited into a literary classic via the brilliant artistry of Maira Kalman! Kalman's palette, wit and whimsy are on full display in the books published by Penguin Random House. She has created books for all ages about artists, suffragists, American presidents, philosophy, dogs…even cake! THE AUTOBIOGRAPHY OF ALICE B. TOKLAS joins the library of Kalman's other illustrated classics such as those by Michael Pollan and Strunk and White. Find out more about her here and treat yourself to this absolutely delightful video of Maira Kalman as Alice B. Toklas.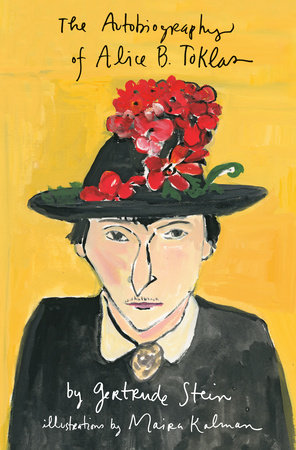 THE AUTOBIOGRAPHY OF ALICE B. TOKLAS by Gertrude Stein; Illustrated by Maira Kalman
An illustrated edition of Gertrude Stein's most well-known work, The Autobiography of Alice B. Toklas, bursting with the bright, sophisticated, and fanciful images of artist Maira Kalman. Considered one of the richest and most irreverent biographies in history, The Autobiography of Alice B. Toklas was written by Gertrude Stein in the style and voice of her life partner, Alice B. Toklas. Published in 1933 and narrated by Alice, this autobiography begins with her initial move to France in 1907, the day after which she meets Gertrude, sparking a relationship that lasts for nearly four decades. Recounting the vibrant and literary life the two make for themselves among the Parisian avant-garde, Alice opens the doors to the prominent salons they held in their home at rue de Fleurus, hosting fellow expatriate American writers such as Ernest Hemingway, T. S. Eliot, and Ezra Pound as well as artists Pablo Picasso, Henri Matisse, and Man Ray, and speaks of the twilight of the Paris belle epoque.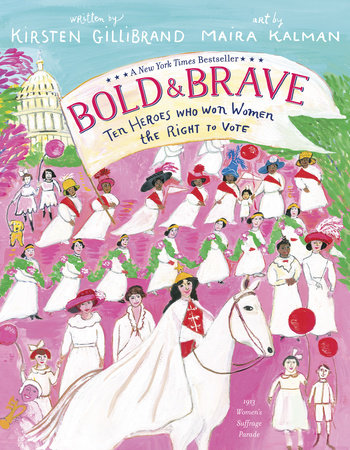 BOLD & BRAVE : TEN HEROES WHO WON WOMEN THE RIGHT TO VOTE by Kirsten Gillibrand; Illustrated by Maira Kalman
From United States Senator Kirsten Gillibrand comes an inspiring picture book about ten suffragists who fought for women's right to vote. With gorgeous illustrations by renowned artist Maira Kalman, this is a book that will inspire and uplift, a book to be cherished and shared. The suffragists included are: Elizabeth Cady Stanton, Susan B. Anthony, Sojourner Truth, Harriet Tubman, Jovita Idár, Alice Paul, Inez Milholland, Ida B. Wells, Lucy Burns, and Mary Church Terrell.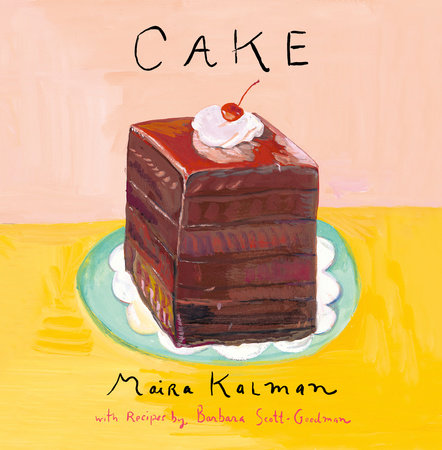 CAKE by Maira Kalman, Barbara Scott-Goodman
In Cake, renowned artist and author Maira Kalman and food writer Barbara Scott-Goodman bring us a beautifully illustrated book dedicated to their mutual love of cakes. Kalman's enchanting illustrations, in her inimitable style, and Scott-Goodman's mouthwatering recipes complement each other perfectly, making Cake a joyful whimsical celebration of a timeless dessert.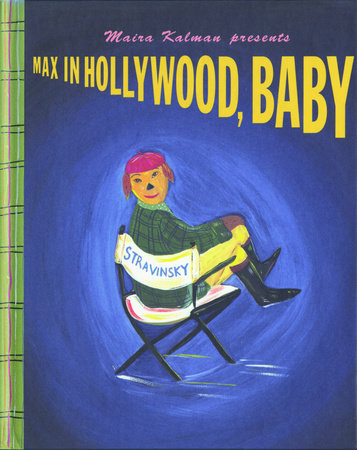 MAX IN HOLLYWOOD, BABY
Beloved dog-poet Max is back and he's taking on Hollywood in this funny, jazzy tale, brought to life by Kalman's bright illustrations. Enter Max. Dreamer. Poet. Dog. In this rollicking madcap tale, Max and his dazzling Dalmation bride take off to direct a movie in Hollywood.
BELOVED DOG
In Beloved Dog, Maira Kalman brings us the dogs in her life, as only she can, and the lessons they have for us all. From the dogs lovingly illustrated in her acclaimed children's books to the real-life pets who inspire her still, Kalman's Beloved Dog is a joyful and beautifully illustrated read and, as always, deeply philosophical. Filled with hundreds of gorgeous illustrations rendered uniquely in Kalman's illimitable style, Beloved Dog is a tribute to the canines that fill our days.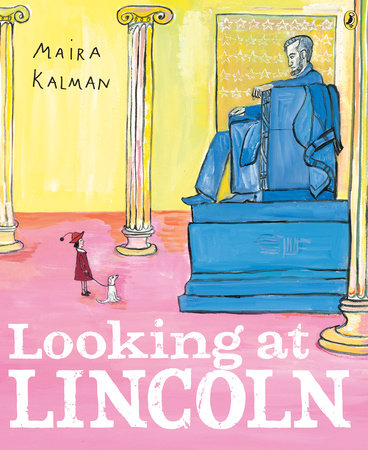 LOOKING AT LINCOLN
Who was Lincoln really? This little girl wants to find out. She discovers, among other things, that our sixteenth president was a man who believed in freedom for all; had a dog named Fido; loved Mozart, apples, and his wife's vanilla cake; and kept his notes in his hat. From his boyhood in a log cabin to his famous presidency and untimely death, Maira Kalman shares Lincoln's remarkable life with young readers in a fresh and exciting way.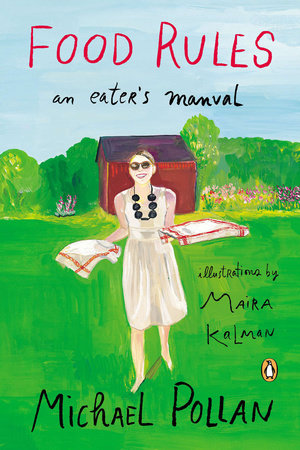 FOOD RULES: AN EATER'S MANUAL by Michael Pollan; Illustrated by Maira Kalman
Michael Pollan's Food Rules prompted a national discussion helping to change the way Americans approach eating. This new edition illustrated by celebrated artist Maira Kalman—and expanded with a new introduction and nineteen additional food rules—marks an advance in the national dialogue that Food Rules inspired. Many of the new rules, suggested by readers, underscore the central teachings of the original Food Rules, which are that eating doesn't have to be so complicated and that food is as much about pleasure and community as it is about nutrition and health. A beautiful book to cherish and share, Food Rules guides us with humor, joy, and common sense toward a happier, healthier relationship to food.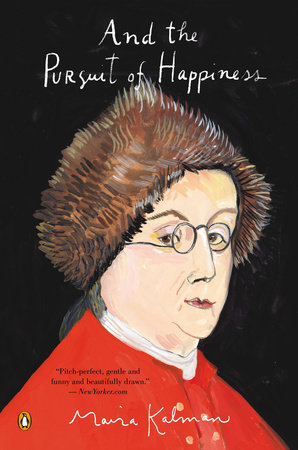 AND THE PURSUIT OF HAPPINESS
Whether returning to America's historical roots at the Lincoln archive and Jefferson's Monticello, or taking the pulse of the present day at a town hall meeting in Vermont, an Army base in Kentucky, and the inner chambers of the Supreme Court, Kalman finds evidence of democracy at work all around us. Her route is always one of fascinating indirection, but one that captures and shares in hundreds of beautiful, colorful reasons why we are proud to be Americans.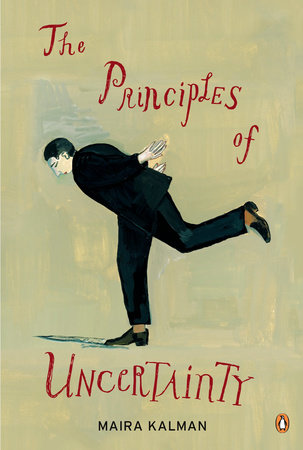 THE PRINCIPLES OF UNCERTAINTY
An irresistible invitation to experience life through a beloved artist's psyche, The Principles of Uncertainty is a compilation of Maira Kalman's New York Times columns. Part personal narrative, part documentary, part travelogue, part chapbook, and all Kalman, these brilliant, whimsical paintings, ideas, and images – which initially appear random – ultimately form an intricately interconnected worldview, an idiosyncratic inner monologue.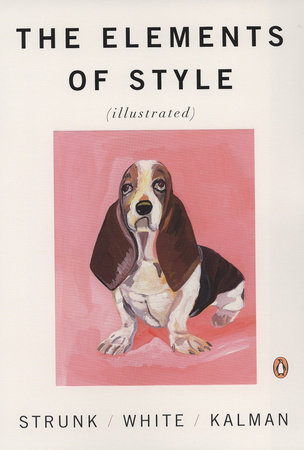 ELEMENTS OF STYLE, ILLUSTRATED
The only style manual to ever appear on bestseller lists has explained to millions of readers the basic principles of plain English, and Maira Kalman's fifty-seven exquisite illustrations give the revered work a jolt of new energy, making the learning experience more colorful and clear.
For more on these titles and other books by Maira Kalman visit: Maira Kalman
Posted: March 6, 2020