Friday Reads: Mister Rogers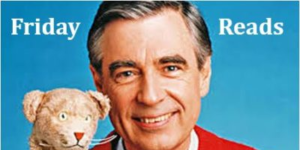 Our society is much more interested in information than wonder, in noise rather than silence…And I feel that we need a lot more wonder and a lot more silence in our lives
– Fred Rogers
What the world needs now is Mister Rogers! Fred Rogers was a musician, puppeteer, writer, producer, and Presbyterian minister. He was also the creator, showrunner and host of the preschool television series, Mister Rogers' Neighborhood, which ran from 1968 to 2001. Although he passed away in 2003, Fred Rogers' legacy is thriving as is evident by the popularity of last year's documentary Won't You Be My Neighbor? and this Fall's hit movie A Beautiful Day in the Neighborhood, starring Tom Hanks as Fred Rogers. Mister Rogers' kindness, wisdom and respect for children's feelings transcend time and generations. Here are some books that celebrate life and help us cope during difficult times: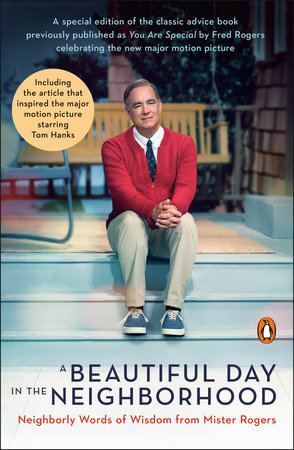 A BEAUTIFUL DAY IN THE NEIGHBORHOOD (MOVIE TIE-IN): NEIGHBORLY WORDS OF WISDOM FROM MISTER ROGERS by Fred Rogers, Tom Junod
Tom Junod's 1998 profile of Fred Rogers, "Can You Say…Hero", has been hailed as a classic of magazine writing. Now, his moving story of meeting and observing the beloved host of Mister Rogers' Neighborhood is the inspiration for the 2019 feature film, "A Beautiful Day in the Neighborhood." In this book, Junod's classic essay appears alongside a cornucopia of warm words of advice and encouragement from Mister Rogers himself (previously published in You Are Special). Pairing the definitive portrait of America's favorite neighbor with his own instructions for living your best, kindest life, this book offers a perfect companion to the upcoming film and a timeless treasure for Mister Rogers fans.
MISTER ROGERS' NEIGHBORHOOD: A VISUAL HISTORY by Fred Rogers Productions, Tim Lybarger, Melissa Wagner
Go behind the scenes of Mister Rogers' Neighborhood with this unprecedented dive into its storied history. Featuring exclusive photographs; a guide to the characters, puppets, and episodes; original interviews with Yo-Yo Ma, Winton Marsalis, and cast and crew; and rare ephemera, this extraordinary book reveals the inner workings of the show, making it the ultimate fan guide.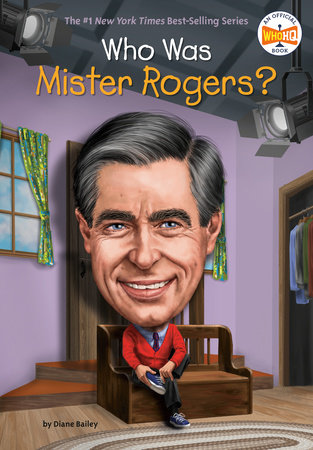 WHO WAS MISTER ROGERS? By Diane Bailey, Who HQ, Dede Putra
Even though he's best known for his successful PBS series Mister Rogers' Neighborhood, Fred Rogers never dreamed of working in television. In fact, he hated the very first program that he ever watched! Join author Diane Bailey as she takes readers through the journey that brought Mister Rogers into our living rooms. From his childhood interest in puppet-making and music, to his courageous visit to Russia during the Cold War, this book details Mister Rogers's quest for kindness and his gentle appeal to be more neighborly.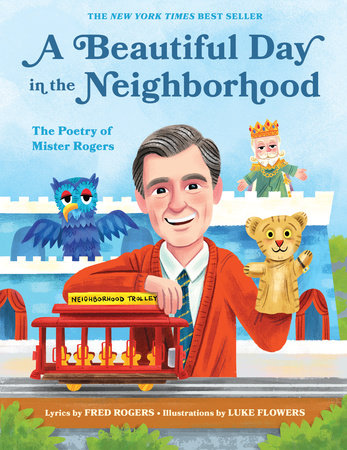 A BEAUTIFUL DAY IN THE NEIGHBORHOOD: THE POETRY OF MISTER ROGERS by Fred Rogers, Luke Flowers
For the first time ever, 75 beloved songs from Mister Rogers' Neighborhood and The Children's Corner are collected in this charmingly illustrated treasury, sure to be cherished by generations of children as well as the millions of adults who grew up with Mister Rogers. Perfect for bedtime, sing-along, or quiet time alone, this beautiful book of meaningful poetry is for every child—including the child inside of every one of us.
EVERYTHING I NEED TO KNOW I LEARNED FROM MISTER ROGERS' NEIGHBORHOOD: WONDERFUL WISDOM FROM EVERYONE'S FAVORITE NEIGHBOR by Melissa Wagner, Fred Rogers Productions
With colorful illustrations of Mister Rogers and the Neighborhood of Make-Believe, including Daniel Tiger, King Friday XIII, X the Owl, Henrietta Pussycat, and more, this little guide to life from the world of Mister Rogers will inspire and delight both adults and children.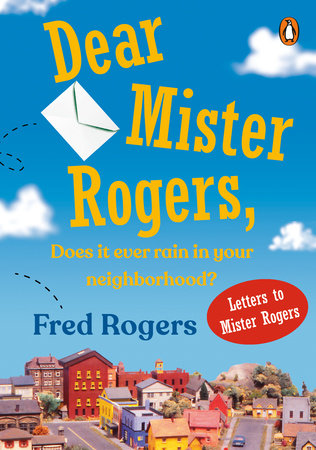 DEAR MISTER ROGERS, DOES IT EVER RAIN IN YOUR NEIGHBORHOOD?: LETTERS TO MISTER ROGERS by Fred Rogers
With deep sensitivity and sincerity, Fred Rogers addresses real-life issues in chapters arranged by theme: his life, Mister Rogers' Neighborhood, feelings and fears, family relationships, and even grief. Drawing on a lifetime of studying and considering healthy child development, this unique gathering of correspondence offers a timeless guide to childhood as well as parenting.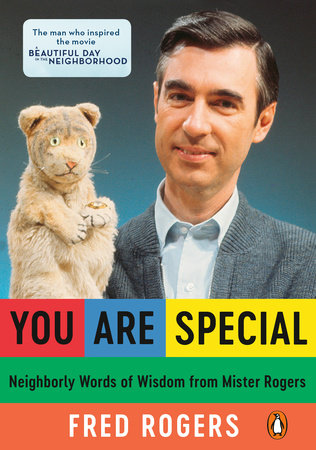 YOU ARE SPECIAL: NEIGHBORLY WORDS OF WISDOM FROM MISTER ROGERS by Fred Rogers
The beloved host of PBS's Mister Rogers' Neighborhood, subject of the acclaimed documentary "Won't You Be My Neighbor?" and the new film "A Beautiful Day in the Neighborhood" starring Tom Hanks, offers warm words of advice and encouragement, along with reflections on his own childhood. Organized by themes—relationships, childhood, communication, parenthood, and more—this touching collection gathers his signature sayings and wise thoughts, all of which he enriches with his own memories of being a child and growing up.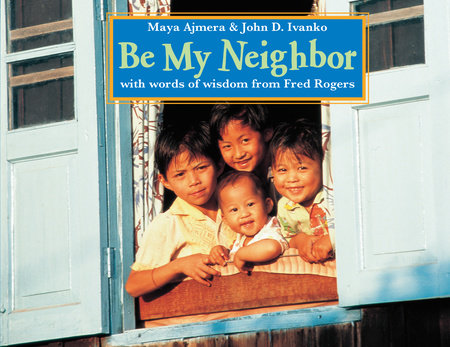 BE MY NEIGHBOR by Maya Ajmera, John D. Ivanko, Fred Rogers
Complete with a foreword and words of wisdom by Fred Rogers, readers will celebrate diversity as they travel around the world to learn what it means to be a good neighbor in communities across the globe. Through vibrant photographs and simple text, readers will see neighborhoods from Vietnam to the United States, Austria to Kenya and everywhere in between and learn what it means to be part of a community.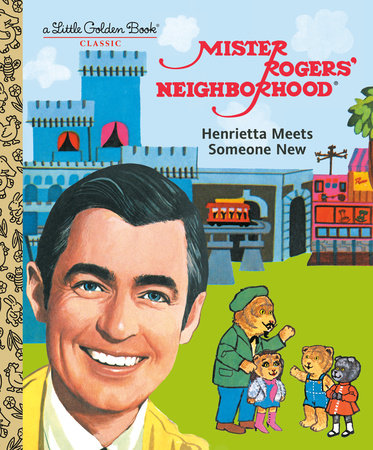 MISTER ROGERS' NEIGHBORHOOD: HENRIETTA MEETS SOMEONE NEW by Fred Rogers (Golden Books)
Fred Rogers takes young readers to the "Neighborhood of Make-Believe" to learn an important lesson about change and acceptance. When Henrietta Pussycat is unhappy about a tiger coming to visit from Paris, Lady Elaine shows her that meeting new people can be fun. This classic Little Golden Book, originally published in 1974, will delight children ages 2 to 5, as well as Mister Rogers' fans of all ages.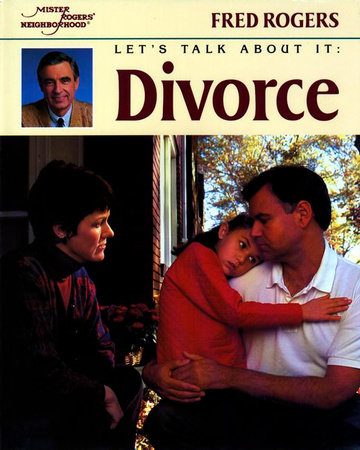 LET'S TALK ABOUT IT: DIVORCE by Fred Rogers
"Mister Rogers's talent for calmly explaining scary emotional upheaval to young children shines in this latest volume….Rogers offers caring support and validation for readers working through such trauma, and he supplies concrete examples of ways kids can deal with the stress….Books that offer such honest reassurance are rare." — Publishers Weekly (starred review); "Excellent." — American Bookseller; "This book fills a gaping hole on library shelves." — School Library Journal
For more information on these and related titles visit Mister Rogers
---
There's a Book for That! is brought to you by Penguin Random House's Sales department. Please follow our Tumblr by clicking here—and share this link with your accounts: theresabookforthat.tumblr.com. Thank you!
Did you see something on the news or read about something on your commute? Perhaps you noticed something trending on Twitter? Did you think: "There's a book for that!"? Then please, send it our way at theresabookforthat@penguinrandomhouse.com
Posted: December 6, 2019