Friday Reads: Novels of the American West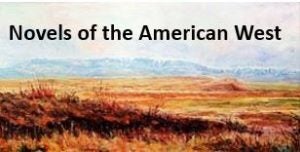 This week saw the publication of the much-anticipated novel, WHISKEY WHEN WE'RE DRY by John Larison. In honor of its American West setting, strong characters, family themes and gorgeous writing we've rounded-up others of its ilk for your weekend reading adventures:
WHISKEY WHEN WE'RE DRY by John Larison
In the spring of 1885, seventeen-year-old Jessilyn Harney finds herself orphaned and alone on her family's homestead. Desperate to fend off starvation and predatory neighbors, she cuts off her hair, binds her chest, saddles her beloved mare, and sets off across the mountains to find her outlaw brother Noah and bring him home. A talented sharpshooter herself, Jess's quest lands her in the employ of the territory's violent, capricious Governor, whose militia is also hunting Noah—dead or alive. Wrestling with her brother's outlaw identity, and haunted by questions about her own, Jess must outmaneuver those who underestimate her, ultimately rising to become a hero in her own right.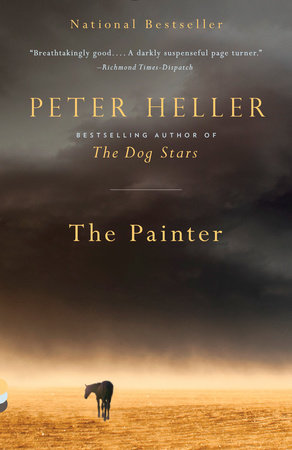 THE PAINTER by Peter Heller
An Oprah.com "Must-Read" Book
After having shot a man in a Santa Fe bar, the famous artist Jim Stegner served his time and has since struggled to manage the dark impulses that sometimes overtake him. Now he lives a quiet life. . . until the day that he comes across a hunting guide beating a small horse, and a brutal act of new violence rips his quiet life right open. Pursued by men dead set on retribution, Jim is left with no choice but to return to New Mexico and the high-profile life he left behind, where he'll reckon with past deeds and the dark shadows in his own heart.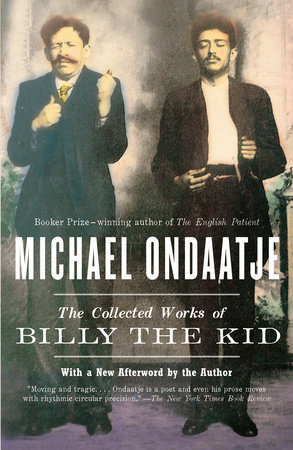 THE COLLECTED WORKS OF BILLY THE KID by Michael Ondaatje
Drawing on contemporary accounts, period photographs, dime novels, and his own prodigious fund of empathy and imagination, Michael Ondaatje's visionary novel traces the legendary outlaw's passage across the blasted landscape of 1880 New Mexico and the collective unconscious of his country. The Collected Works of Billy the Kid is a virtuoso synthesis of storytelling, history, and myth by a writer who brings us back to our familiar legends with a renewed sense of wonder.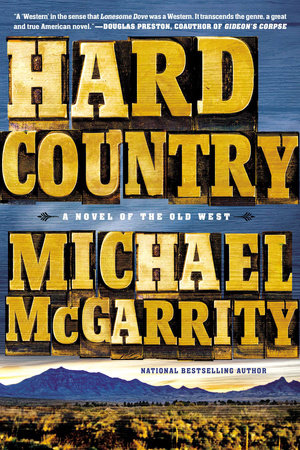 HARD COUNTRY by Michael McGarrity
In the wake of the death of his wife as she gives birth to his son, and the killing of his brother on the West Texas plains, John Kerney is forced to give up his ranch, leave his son behind, and strike out in search of the murderous outlaws and a place where he can start over. He drifts south until he meets a man who offers him work trailing cattle to the New Mexico Territory and forever changes his life.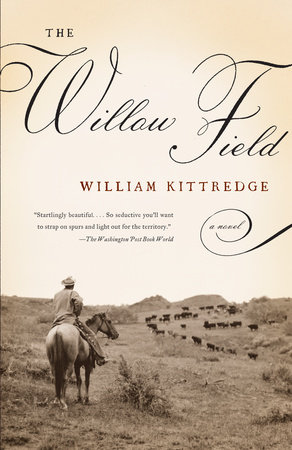 THE WILLOW FIELD by William Kittredge
Rossie Benasco's horseback existence begins at age 15 and culminates in a thousand-mile drive of more than 200 head of horses through the Rockies into Calgary. It's a journey that leads him, ultimately, to Eliza Stevenson and a passion so powerful, his previously unfocused life gains clarity and purpose. From the settlers, cowboys, and gamblers who opened up this country to the landholders and politicians who ran it, this is an epic tale of love and wide open spaces that stretches over the grand canvas of the twentieth-century West.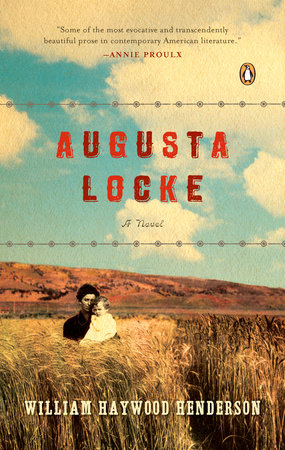 AUGUSTA LOCKE by William Haywood Henderson
An indelible portrait of a woman who through great toughness of character blazes her own trail.
Redolent with myth, humor, strange landscapes, and stark reality, Henderson's new novel tells the story of Augusta Locke, a troubled yet spirited woman, as she raises her daughter in the deserts of Wyoming. Spanning the twentieth century, Augusta's extraordinary challenges play out themes of love and loss, home and family, redemption and reconciliation.
For more on these titles visit the collection Novels of the American West
---
There's a Book for That! is brought to you by Penguin Random House's Sales department. Please follow our Tumblr by clicking here—and share this link with your accounts: theresabookforthat.tumblr.com. Thank you!
Did you see something on the news or read about something on your commute? Perhaps you noticed something trending on Twitter? Did you think: "There's a book for that!"? Then please, send it our way at theresabookforthat@penguinrandomhouse.com
Posted: August 24, 2018