Friday Reads: Option B by Sheryl Sandberg and Adam Grant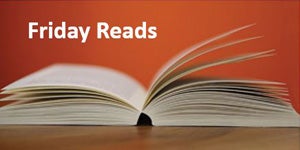 This week saw the publication of Sheryl Sandberg and Adam Grant's eagerly anticipated book, Option B. The book, and its authors, are getting a lot of media attention appearing on Good Morning America and NPR's Morning Edition, to name a couple. Sandberg is COO of Facebook and the author of the phenomenal bestseller, LEAN IN. In 2015, Sandberg suffered the unexpected death of her husband, Survey Monkey CEO Dave Goldberg, leaving her, their children and wide circle of family and friends bereft. Option B is a personal, yet prescriptive book about grief and recovery. Its topic brings to mind other profound books that have helped readers through difficult times. We recommend the following titles to help build one's resiliency muscle: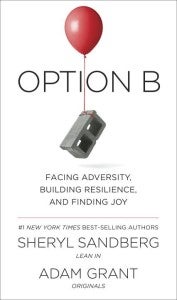 OPTION B: FACING ADVERSITY, BUILDING RESILIENCE, AND FINDING JOY by Sheryl Sandberg, Adam Grant
From Facebook's COO and Wharton's top-rated professor, the #1 New York Times best-selling authors of Lean In and Originals: a powerful, inspiring, and practical book about building resilience and moving forward after life's inevitable setbacks.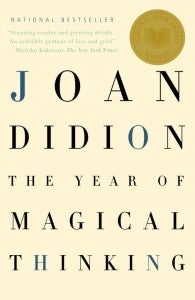 THE YEAR OF MAGICAL THINKING by Joan Didion
From one of America's iconic writers, a stunning book of electric honesty and passion. Joan Didion explores an intensely personal yet universal experience: a portrait of a marriage–and a life, in good times and bad–that will speak to anyone who has ever loved a husband or wife or child.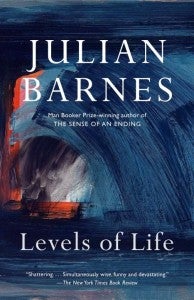 LEVELS OF LIFE by Julian Barnes
In this elegant triptych of history, fiction, and memoir, Julian Barnes has written about ballooning and photography, love and grief; about putting two things, and two people, together, and tearing them apart; and enduring after the incomprehensible loss of a loved one.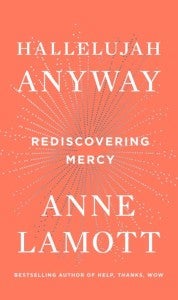 HALLELUJAH ANYWAY: REDISCOVERING MERCY by Anne Lamott
From the bestselling author of Help, Thanks, Wow and Bird by Bird comes a passionate exploration of mercy, its limitless (if sometimes hidden) presence, and how to embrace it. "Mercy is radical kindness," Anne Lamott writes. "It's the permission you give others—and yourself—to forgive a debt, to absolve the un-absolvable, to let go of the judgment and pain that make life so difficult."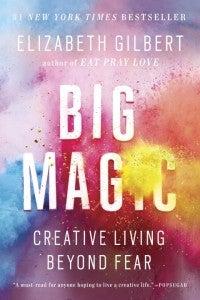 BIG MAGIC: CREATIVE LIVING BEYOND FEAR by Elizabeth Gilbert
The beloved author digs deep into her own generative process to share her wisdom and unique perspective about creativity. With profound empathy and radiant generosity, Gilbert offers potent insights into the mysterious nature of inspiration. She asks us to embrace our curiosity and let go of needless suffering. She shows us how to tackle what we most love, and how to face down what we most fear.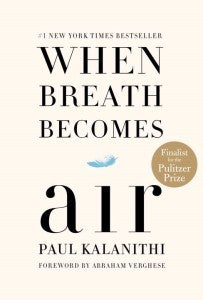 WHEN BREATH BECOMES AIR by Paul Kalanithi
A deeply humane, inspiring memoir by a young neurosurgeon faced with a terminal diagnosis that attempts to answer the questions: given that all organisms die, what makes a meaningful life? And, as a doctor, what does it mean to hold mortal—and moral—responsibility for another person's identity?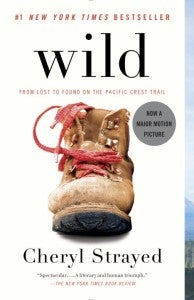 WILD: FROM LOST TO FOUND ON THE PACIFIC CREST TRAIL by Cheryl Strayed
A powerful, blazingly honest, and inspiring memoir (and basis for the feature film starring Reese Witherspoon) of a young woman, reeling from catastrophe, who hikes more than a thousand miles of the Pacific Crest trail to break herself down—and build herself back up again.
For more on these and related titles visit the collection Option B Friday Reads
Posted: April 28, 2017