Friday Reads: Tennis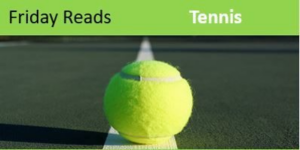 Tennis anyone? The U.S. Open Tennis Tournament is in full swing at Billie Jean King National Tennis Center in New York City. The USTA Billie Jean King National Tennis Center has been home to the tournament since 1978. With all eyes on the ball this weekend, we've decided to serve some court-side reading to fans… aces all!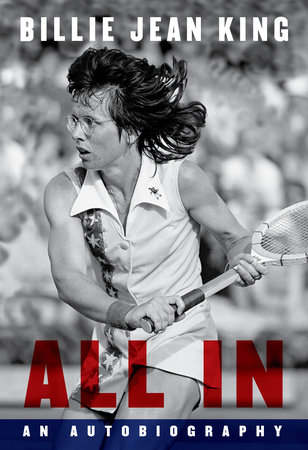 ALL IN: AN AUTOBIOGRAPHY by Billie Jean King, Johnette Howard, Maryanne Vollers
NEW YORK TIMES BEST SELLER • An inspiring and intimate self-portrait of the champion of equality that encompasses her brilliant tennis career, unwavering activism, and an ongoing commitment to fairness and social justice.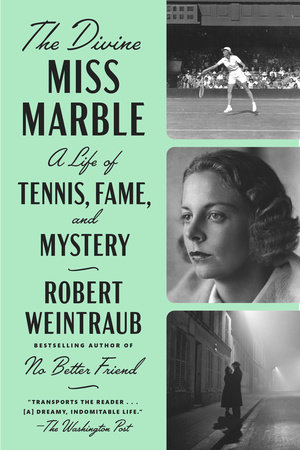 THE DIVINE MISS MARBLE: A LIFE OF TENNIS, FAME, AND MYSTERY by Robert Weintraub
Now in paperback, the story of 1930s tennis icon Alice Marble and her life of sports, celebrity, and incredible mystery. In The Divine Miss Marble, bestselling author Robert Weintraub traveled the country to uncover her fascinating story. And the more he learned about her, the more her mysteries and contradictions deepened. Alice was a powerful woman who knew her worth, demanding equal pay to men decades earlier than other female athletes; yet she was held in sway by a domineering, highly successful coach with whom she had a volatile relationship. She was renowned for her California style, and had a brilliant mind and the guts to overcome a lifetime of physical trauma.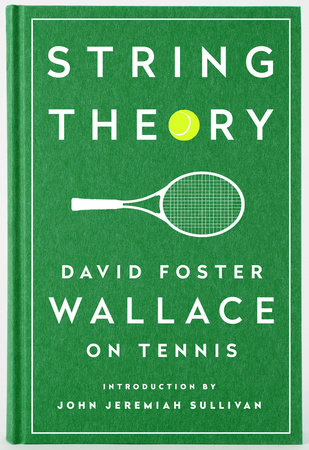 STRING THEORY: DAVID FOSTER WALLACE ON TENNIS by David Foster Wallace, John Jeremiah Sullivan
An instant classic of American sports writing—the tennis essays of David Foster Wallace, "the best mind of his generation" (A. O. Scott) and "the best tennis-writer of all time" (New York Times)
Gathered for the first time in a deluxe collector's edition from Library of America, here are David Foster Wallace's legendary writings on tennis, five tour-de-force pieces written with a competitor's insight and a fan's obsessive enthusiasm. Wallace brings his dazzling literary magic to the game he loved as he celebrates the other-worldly genius of Roger Federer; offers a wickedly witty dissection of Tracy Austin's memoir; considers the artistry of Michael Joyce, a supremely disciplined athlete on the threshold of fame; resists the crush of commerce at the U.S. Open; and recalls his own career as a "near-great" junior player. Whiting Award-winning writer John Jeremiah Sullivan provides an introduction.
THE HISTORY OF TENNIS: LEGENDARY CHAMPIONS. MAGICAL MOMENTS by Richard Evans
All the passion, drama, and beauty of tennis is captured in this most up-to-date comprehensive history—from its early beginnings as a sport, the greatest matches ever played, to its global star players and personalities of present day. This volume is a must-read for tennis aficionados.
FOR YOUNGER READERS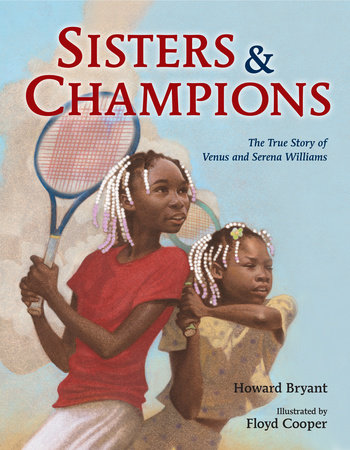 SISTERS AND CHAMPIONS: THE TRUE STORY OF VENUS AND SERENA WILLIAMS by Howard Bryant, Floyd Cooper
Everyone knows the names Venus & Serena Williams. They've become synonymous with championships, hard work, and with shaking up the tennis world. This inspirational true story, written by award-winning sports journalist, Howard Bryant, and brought to beautiful life by Coretta Scott Kind Award and Honor winner, Floyd Cooper, details the sisters' journey from a barely-there tennis court in Compton, CA, to Olympic gold medals and becoming the #1 ranked women in the sport of tennis. Here is a worthy ode to Venus and Serena Williams, the incredible sister duo who will go down in history as two of the greatest athletes of all time.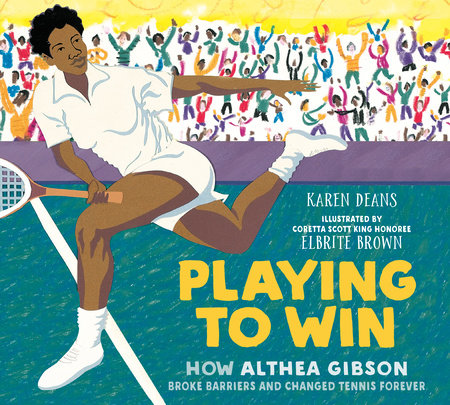 PLAYING TO WIN: HOW ALTHEA GIBSON BROKE BARRIERS AND CHANGED TENNIS FOREVER by Karen Deans; Illustrated by Elbrite Brown
Although stars like Serena Williams cite Althea Gibson as an inspiration, Gibson's story is not well-known to many young people today. Growing up tough and rebellious in Harlem, Althea took that fighting attitude and used it to go after her goals of being a tennis champion, and a time when tennis was a game played mostly by wealthy white people in country clubs that excluded African Americans. In 1956, she became the first Black American to win a major championship when she won at The French Open. When she won the celebrated Wimbledon tournament the following year, Gibson shook hands with the Queen of England. Not bad for a kid from the streets of Harlem.
This new and updated edition of this inspirational biography contains recent information on the impact of Gibson's legacy.
For more on these titles visit the collection Tennis Reading
There's a Book for That! is brought to you by Penguin Random House's Sales department. Please follow our Tumblr by clicking here—and share this link with your accounts: theresabookforthat.tumblr.com. Thank you!
Did you see something on the news or read about something on your commute? Perhaps you noticed something trending on Twitter? Did you think: "There's a book for that!"? Then please, send it our way at theresabookforthat@penguinrandomhouse.com
Posted: September 10, 2021