Friday Reads: Thurber Prize for American Humor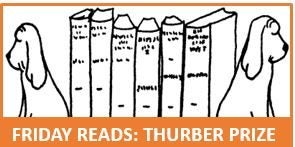 Humor is emotional chaos remembered in tranquility. – James Thurber
Let's all resolve to laugh more! Thurber House (the home of humorist, author, and New Yorker cartoonist James Thurber) has unveiled the finalists for the $5,000 Thurber Prize for American Humor. The winner will be announced December 5 in Columbus, Ohio. Among this year's finalists are two Penguin Random House titles which we've paired with books by James Thurber himself and previous Thurber Prize winners. It's their world and welcome to it…
2018 Finalists: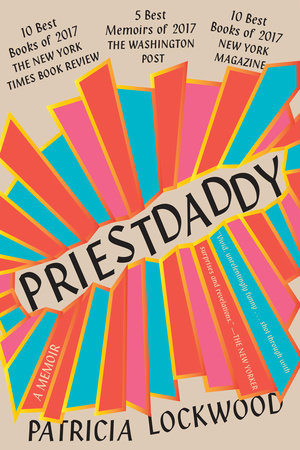 PRIESTDADDY: A MEMOIR by Patricia Lockwood
Greg Lockwood is unlike any Catholic priest you have ever met—a man who lounges in boxer shorts, loves action movies, and whose constant jamming on the guitar reverberates "like a whole band dying in a plane crash in 1972." His daughter is an irreverent poet who long ago left the Church's country. When an unexpected crisis leads her and her husband to move back into her parents' rectory, their two worlds collide. In her beautifully written prose debut, Lockwood effortlessly pivots from the raunchy to the sublime, from the comic to the deeply serious, exploring issues of belief, belonging, and personhood. Priestdaddy is an entertaining, unforgettable portrait of a deeply odd religious upbringing, and how one balances a hard-won identity with the weight of family and tradition.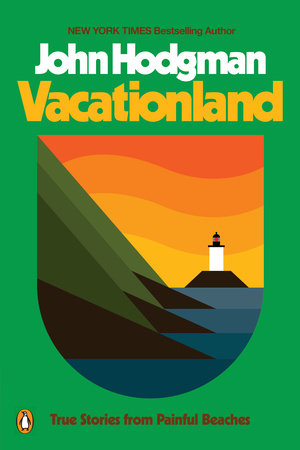 VACATIONLAND: TRUE STORIES FROM PAINFUL BEACHES by John Hodgman
Although his career, as a bestselling author and on The Daily Show With Jon Stewart, was founded on fake news and invented facts, in 2016 that routine didn't seem as funny to John Hodgman anymore. Everyone is doing it now. Vacationland collects his real-life wanderings, and through them you learn of the horror of freshwater clams, the evolutionary purpose of the mustache, and which animals to keep as pets and which to kill with traps and poison. Though wildly, Hodgmaniacally funny as usual, it is also a poignant and sincere account of one human facing his forties, those years when men in particular must stop pretending to be the children of bright potential they were and settle into the failing bodies of the wiser, weird dads that they are.
---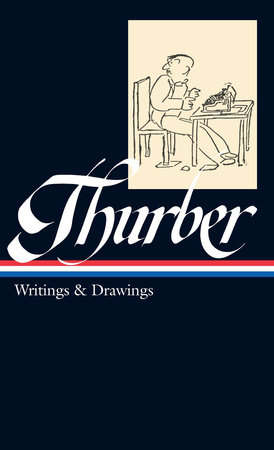 JAMES THURBER: WRITINGS & DRAWINGS by James Thurber, Garrison Keillor (Editor)
James Thurber, whimsical fantasist and deadpan chronicler of everyday absurdities, brought American humor into the 20th century. His comic persona, a modern city dweller whose zaniest flights of free association are tinged with anxiety, remains hilarious, subtly disturbing, and instantly recognizable. Here, in over 1000 pages, Editor Garrison Keillor presents over 100 pieces including "The Secret Life of Walter Mitty" and "The Catbird Seat," the brilliantly satirical Fables for Our Time, the classic My Life and Hard Times, and the best of The Owl in the Attic, My World—And Welcome to It, and more novels; plus 500 wonderful drawings. Rounding out the volume is a selection from The Years with Ross, a memoir of the New Yorker publisher, and a number of wonderful early pieces never collected by Thurber.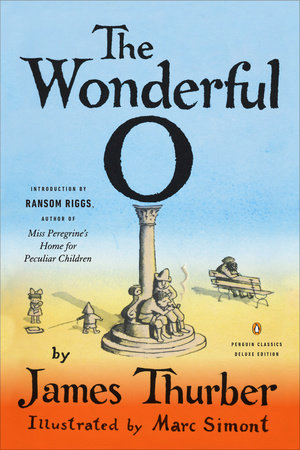 THE WONDERFUL O by James Thurber, Ransom Riggs (introduction), Marc Simont (illustrator)
Great American humorist James Thurber's beloved, madcap, and eerily timely fairy tale about an island society robbed of the wonders of the letter O—in a stunning Deluxe Edition featuring flaps, deckle-edged paper, and the original, full-color illustrations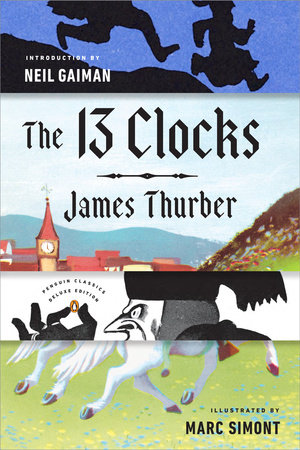 THE 13 CLOCKS by James Thurber, Neil Gaiman (introduction), Marc Simont (illustrator)
A giant of American humor makes his Penguin Classics debut with "probably the best book in the world" (Neil Gaiman, from the Introduction). Since it was first published in 1950, James Thurber's sublimely whimsical fairy tale of love forestalled but ultimately fulfilled has delighted readers of all ages. It is published here with Marc Simont's enchanting, full-color illustrations from the first edition.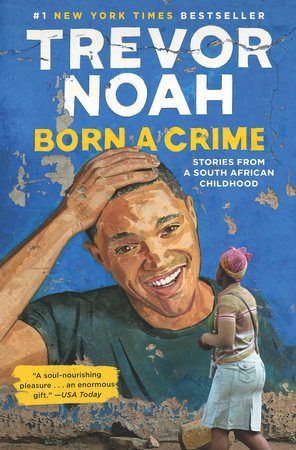 BORN A CRIME: STORIES FROM A SOUTH AFRICAN CHILDHOOD by Trevor Noah
2017 Thurber Prize Winner
Trevor Noah's unlikely path from apartheid South Africa to the desk of The Daily Show began with a criminal act: his birth. Trevor was born to a white Swiss father and a black Xhosa mother at a time when such a union was punishable by five years in prison. Living proof of his parents' indiscretion, Trevor was kept mostly indoors for the earliest years of his life, bound by the extreme and often absurd measures his mother took to hide him from a government that could, at any moment, steal him away. Finally liberated by the end of South Africa's tyrannical white rule, Trevor and his mother set forth on a grand adventure, living openly and freely and embracing the opportunities won by a centuries-long struggle. The stories collected here are by turns hilarious, dramatic, and deeply affecting.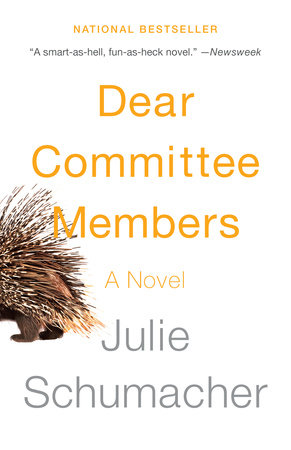 DEAR COMMITTEE MEMBERS by Julie Schumacher
2015 Thurber Prize Winner
Finally a novel that puts the "pissed" back into "epistolary."
Jason Fitger is a beleaguered professor of creative writing and literature at Payne University, a small and not very distinguished liberal arts college in the Midwest. His department is facing draconian cuts and squalid quarters, while one floor above them the Economics Department is getting lavishly remodeled offices. His once-promising writing career is in the doldrums, as is his romantic life, in part as the result of his unwise use of his private affairs for his novels. In short, his life is a tale of woe, and the vehicle this droll and inventive novel uses to tell that tale is a series of hilarious letters of recommendation that Fitger is endlessly called upon by his students and colleagues to produce, each one of which is a small masterpiece of high dudgeon, low spirits, and passive-aggressive strategies.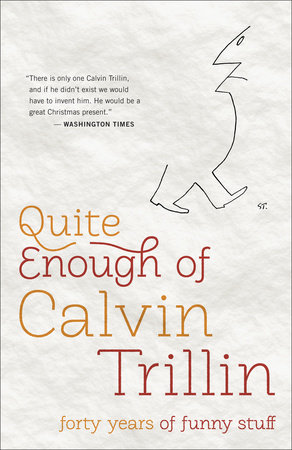 QUITE ENOUGH OF CALVIN TRILLIN: FORTY YEARS OF FUNNY STUFF by Calvin Trillin
2012 Thurber Prize Winner
In this, the definitive collection of his humor, Calvin Trillin is prescient, insightful, and invariably hilarious.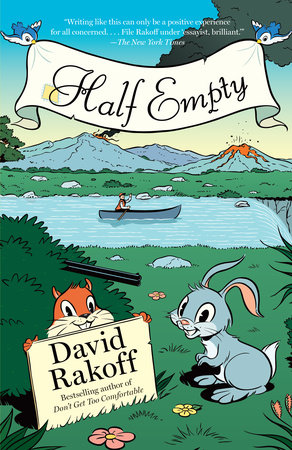 HALF EMPTY by David Rakoff
2011 Thurber Prize Winner
Whether he's taking on pop culture phenomena with Oscar Wilde-worthy wit or dealing with personal tragedy, Rakoff's sharp observations and humorist's flair for the absurd will have you positively reveling in the untapped power of negativity.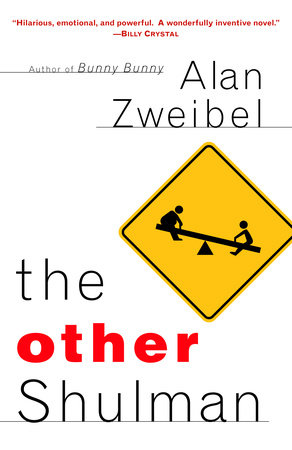 THE OTHER SHULMAN: A NOVEL by Alan Zweibel
2006 Thurber Prize Winner
Shulman, a chubby, middle-aged stationery-store owner from New Jersey, has always claimed that he's been gaining and losing the same thirty-five pounds since junior high–and that if you added all of that discarded weight together, he had lost an entire person. Another Shulman. A Shulman he never really cared for. A Shulman he'd always tried to lose by dieting and exercising. A Shulman he'd cover by wearing extra-large shirts in an attempt to hide his existence. This has been just a joke until, at a crossroads marked by overwhelming marital and business stress, he actually encounters this Other Shulman–an incredibly successful man who's made life and career choices that Shulman has spurned.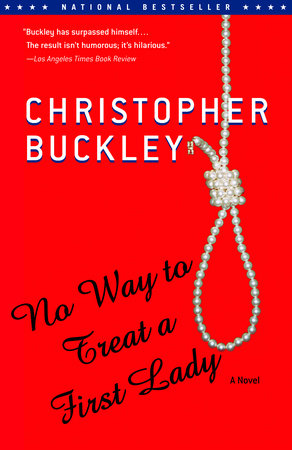 NO WAY TO TREAT A FIRST LADY: A NOVEL by Christopher Buckley
2004 Thurber Prize Winner
Elizabeth Tyler MacMann, the ambitious First Lady of the United States (and known in the tabloids as "Lady Bethmac"), is on trial for the death of her philandering husband, and the only man who can save her is the boyfriend she jilted in law school—now the most shameless defense attorney in America. Published to rave reviews, No Way to Treat a First Lady is a hilariously warped love story for our time set in the funniest place in America: Washington, D.C.
For more on these and related humor titles visit the collection Thurber Award
---
There's a Book for That! is brought to you by Penguin Random House's Sales department. Please follow our Tumblr by clicking here—and share this link with your accounts: theresabookforthat.tumblr.com. Thank you!
Did you see something on the news or read about something on your commute? Perhaps you noticed something trending on Twitter? Did you think: "There's a book for that!"? Then please, send it our way at theresabookforthat@penguinrandomhouse.com
Posted: October 19, 2018