Friday Reads: Truman Capote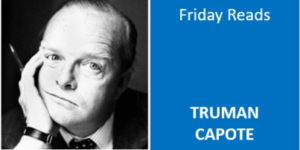 With the publication of CAPOTE'S WOMEN this week, we are reminded of Truman Capote's enduring legacy among the great American writers and literary figures of the twentieth century. In the following collection of books, by and about Truman Capote, it's clear why his life and writing remain so much a part of popular culture as well as academia.
Dip in and let Capote captivate you!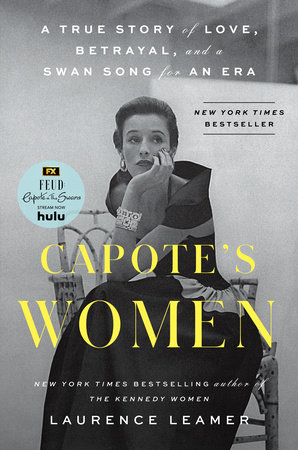 CAPOTE'S WOMEN: A TRUE STORY OF LOVE, BETRAYAL, AND A SWAN SONG FOR AN ERA by Laurence Leamer
New York Times bestselling author Laurence Leamer reveals the complex web of relationships and scandalous true stories behind Truman Capote's never-published final novel, Answered Prayers—the dark secrets, tragic glamour, and Capote's ultimate betrayal of the group of female friends he called his "swans."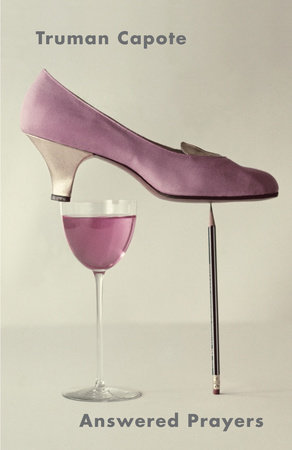 ANSWERED PRAYERS by Truman Capote
Although Truman Capote's last novel was unfinished at the time of his death, its surviving portions offer a devastating group portrait of the high and low society of his time.
Tracing the career of a writer of uncertain parentage and omnivorous erotic tastes, Answered Prayers careens from a louche bar in Tangiers to a banquette at La Côte Basque, from literary salons to high-priced whorehouses. It takes in calculating beauties and sadistic husbands along with such real-life supporting characters as Colette, the Duchess of Windsor, Montgomery Clift, and Tallulah Bankhead. Above all, this malevolently funny book displays Capote at his most relentlessly observant and murderously witty.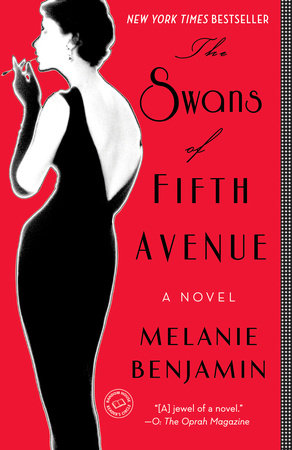 THE SWANS OF FIFTH AVENUE: A NOVEL by Melanie Benjamin
The New York Times-bestselling, triumphant novel about New York's "Swans" of the 1950s—and the scandalous, headline-making, and enthralling friendship between literary legend Truman Capote and peerless socialite Babe Paley.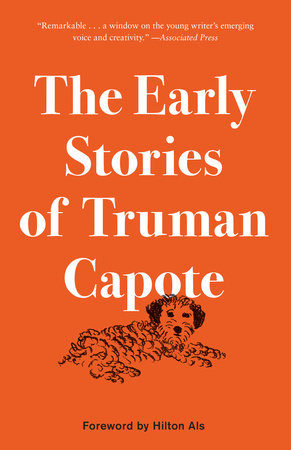 THE EARLY STORIES OF TRUMAN CAPOTE by Truman Capote; Foreword by Hilton Als
In these early stories, written by Truman Capote when he was an adolescent and young man, Capote-the-Writer is already recognizable. His prose: witty, poignant, and crystal-clear. His characters: solitary, observant young children; charming and naïve young women whom you could imagine befriending Holly Golightly; aging urban sophisticates worn down by cynicism. His settings: the rural South of his childhood and the cosmopolitan New York of the 1940s.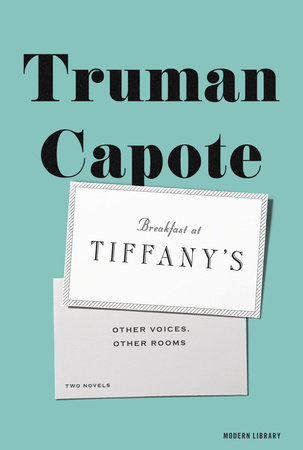 BREAKFAST AT TIFFANY'S & OTHER VOICES, OTHER ROOMS: TWO NOVELS by Truman Capote
Together in one volume, here are a pair of literary touchstones from Truman Capote's extraordinary early career: the transcendently popular novella Breakfast at Tiffany's and Other Voices, Other Rooms, the debut novel he published as a twenty-three-year-old prodigy. Of all his characters, Capote once said, Holly Golightly was his favorite. The hillbilly-turned-Manhattanite at the center of Breakfast at Tiffany's shares not only the author's philosophy of freedom but also his fears and anxieties. Other Voices, Other Rooms begins as thirteen-year-old Joel Knox, after losing his mother, is sent from New Orleans to rural Alabama to live with his estranged father—who is nowhere to be found. Instead, Joel meets his eccentric family and finds a kindred spirit in a defiant little girl. Despite its themes of waylaid hopes and lost innocence, this semiautobiographical coming-of-age novel revels in small pleasures and the colorful language of its time and place.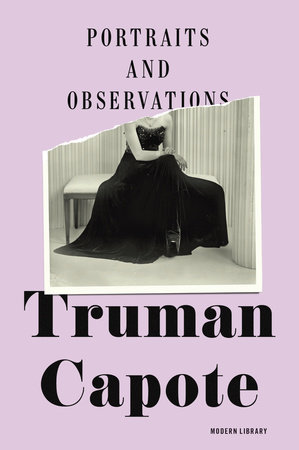 PORTRAITS AND OBSERVATIONS: THE ESSAYS OF TRUMAN CAPOTE by Truman Capote
The first stand-alone volume of Capote's complete essays, including the recently discovered "Remembering Willa Cather".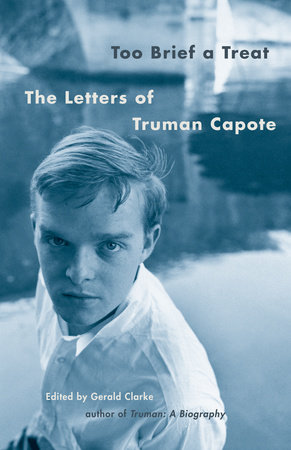 TOO BRIEF A TREAT: THE LETTERS OF TRUMAN CAPOTE by Truman Capote; Edited by Gerald Clarke
Capote was an inveterate letter writer. He wrote letters as he spoke: emphatically, spontaneously, and passionately. Spanning more than four decades, his letters are the closest thing we have to a Capote autobiography, showing us the uncannily self-possessed naïf who jumped headlong into the post–World War II New York literary scene; the more mature Capote of the 1950s; the Capote of the early 1960s, immersed in the research and writing of In Cold Blood; and Capote later in life, as things seem to be unraveling. With cameos by a veritable who's who of twentieth-century glitterati, Too Brief a Treat shines a spotlight on the life and times of an incomparable American writer.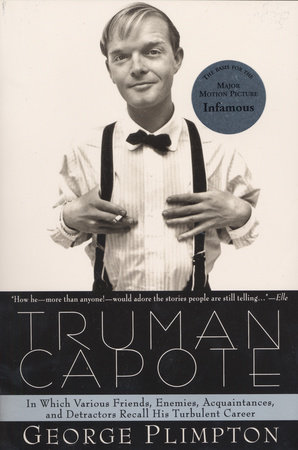 TRUMAN CAPOTE: IN WHICH VARIOUS FRIENDS, ENEMIES, ACQUAINTENCES AND DETRACTORS RECALL HIS TURBULENT CAREER by George Plimpton
He was the most social of writers, and at the height of his career, he was the very nexus of the glamorous worlds of the arts, politics and society, a position best exemplified by his still legendary Black and White Ball. Truman truly knew everyone, and here the people who knew him best tell his remarkable story to bestselling author and literary lion, George Plimpton.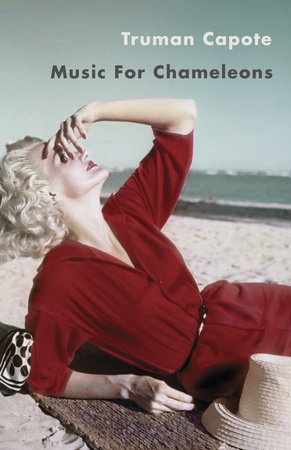 MUSIC FOR CHAMELEONS by Truman Capote
In these gems of reportage Truman Capote takes true stories and real people and renders them with the stylistic brio we expect from great fiction. And we meet Capote himself, who, whether he is smoking with his cleaning lady or trading sexual gossip with Marilyn Monroe, remains one of the most elegant, malicious, yet compassionate writers to train his eye on the social fauna of his time.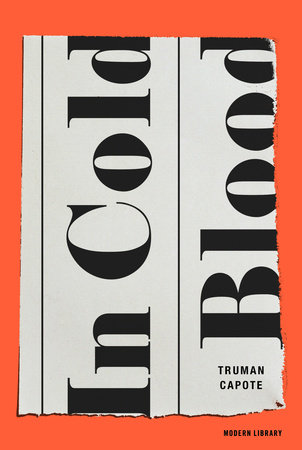 IN COLD BLOOD by Truman Capote
On November 15, 1959, in the small town of Holcomb, Kansas, four members of the Clutter family were savagely murdered by blasts from a shotgun held a few inches from their faces. There was no apparent motive for the crime, and there were almost no clues. In one of the first non-fiction novels ever written, Truman Capote reconstructs the murder and the investigation that led to the capture, trial, and execution of the killers, generating both mesmerizing suspense and astonishing empathy. In Cold Blood is a work that transcends its moment, yielding poignant insights into the nature of American violence.
For more about these and related titles visit Capote
---
There's a Book for That! is brought to you by Penguin Random House's Sales department. Please follow our Tumblr by clicking here—and share this link with your accounts: theresabookforthat.tumblr.com. Thank you!
Did you see something on the news or read about something on your commute? Perhaps you noticed something trending on Twitter? Did you think: "There's a book for that!"? Then please, send it our way at theresabookforthat@penguinrandomhouse.com
Posted: October 15, 2021