Friday Reads: Walden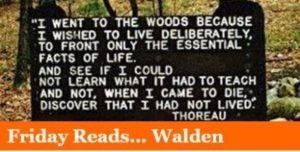 Today marks the 165th anniversary of the publication of Henry David Thoreau's seminal memoir WALDEN, OR A LIFE IN THE WOODS. Published by Ticknor and Fields in 1854, WALDEN details Thoreau's experiences over the course of two years, two months, and two days in a cabin he built near Walden Pond amidst woodland owned by his friend and mentor Ralph Waldo Emerson, near Concord, Massachusetts. It's been noted that Thoreau spent almost four times as long on the WALDEN manuscript as he spent at the cabin. This summer is a fine time to find yourself some solitude to read, or revisit, this classic treatise on living off the grid as well as others inspired by it and the transcendental life of Henry David Thoreau: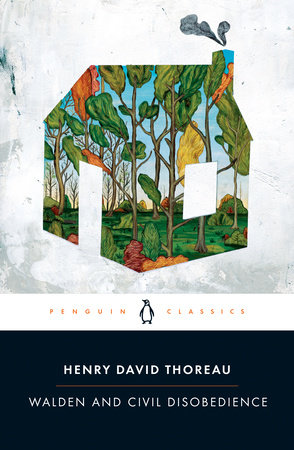 WALDEN AND CIVIL DISOBEDIENCE
A transcendentalist classic on social responsibility and a manifesto that inspired modern protest movements
Critical of 19th-century America's booming commercialism and industrialism, Henry David Thoreau moved to a small cabin in the woods of Concord, Massachusetts in 1845. Walden, the account of his stay near Walden Pond, conveys at once a naturalist's wonder at the commonplace and a transcendentalist's yearning for spiritual truth and self-reliance. But Thoreau's embrace of solitude and simplicity did not entail a withdrawal from social and political matters. Civil Disobedience, also included in this volume, expresses his antislavery and antiwar sentiments, and has influenced resistance movements worldwide. Both give rewarding insight into a free-minded, principled and idiosyncratic life.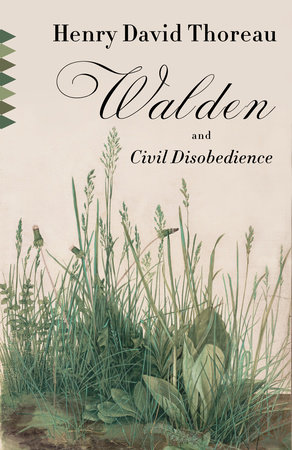 WALDEN & CIVIL DISOBEDIENCE
By virtue of its casual, offhandedly brilliant wisdom and the easy splendor of its nature writing, Thoreau's account of his immersion in solitude has become a signpost for the modern mind in an increasingly bewildering world.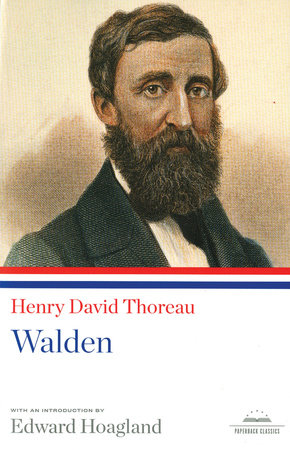 WALDEN (A Library of America Paperback Classic) Foreword by Edward Hoagland
The contents of this Paperback Classic are drawn from Henry David Thoreau: A Week, Walden, The Maine Woods, Cape Cod, volume number 28 in the Library of America series. That volume is joined in the series by a companion volume, number 124, Henry David Thoreau: Collected Essays and Poems.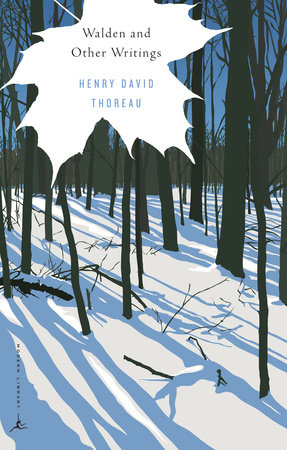 WALDEN AND OTHER WRITINGS by Henry David Thoreau; Introduction by Ralph Waldo Emerson
With commentary by Van Wyck Brooks and E. B. White
Naturalist, philosopher, champion of self-reliance and moral independence, Henry David Thoreau remains not only one of our most influential writers but also one of our most contemporary. This unique and comprehensive edition gathers all of Thoreau's most significant works, including his masterpiece, Walden (reproduced in its entirety); A Week on the Concord and Merrimack Rivers; selections from Cape Cod and The Maine Woods; as well as "Walking," "Civil Disobedience," "Slavery in Massachusetts," "A Plea for Captain John Brown," and "Life Without Principle." Taken together, they reveal the astounding range, subtlety, artistry, and depth of thought of this true American original. Includes a Modern Library Reading Group Guide.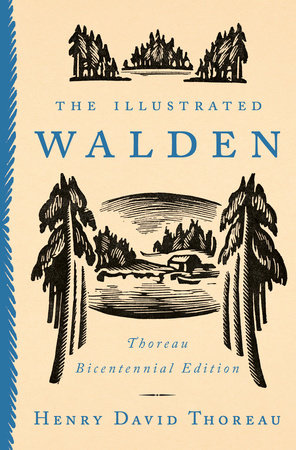 THE ILLUSTRATED WALDEN (Thoreau Bicentennial Edition)
In 1897, thirty-five years after Thoreau's death, Houghton Mifflin issued a two-volume "Holiday Edition" of Walden illustrated with thirty remarkable engravings, daguerreotypes, and period photographs. In 1902 the publisher collected the work into a single volume. Now, to mark the bicentennial of Thoreau's birth in 1817, this timeless landmark is reproduced with all of the original illustrations and the complete text of his mystical, practical, magisterial record of a life in the woods.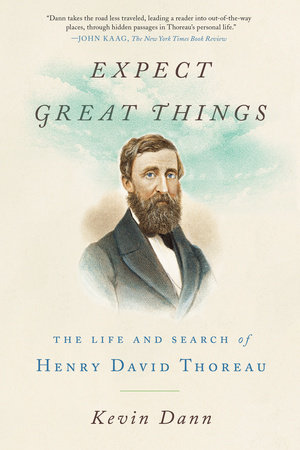 EXPECT GREAT THINGS: THE LIFE AND SEARCH OF HENRY DAVID THOREAU by Kevin Dann
This critically acclaimed biography of Thoreau finally fills a gap in our understanding of one of modern history's most important spiritual visionaries by capturing the full arc of Thoreau's life as a mystic, spiritual seeker, and explorer in transcendental realms. Where other historians have skipped past or undervalued these aspects of Thoreau's life in this groundbreaking work, historian and naturalist Kevin Dann restores Thoreau's esoteric visions and explorations to their rightful place as keystones of the man himself.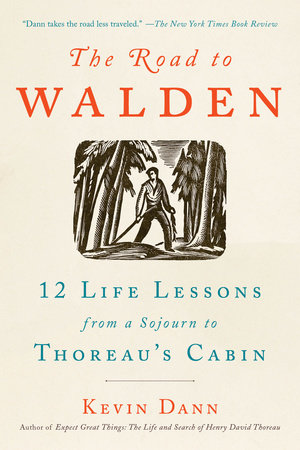 THE ROAD TO WALDEN: 12 LIFE LESSONS FROM A SOJOURN TO THOREAU'S CABIN by Kevin Dann
The acclaimed author of Expect Great Things: The Life and Search of Henry David Thoreau traverses on foot from Manhattan to Walden Pond, retracing Thoreau's steps and unlocking the practical principles of the mystic's life in the woods. When Henry David Thoreau launched his experiment in living at Walden Pond, he began by walking beyond the narrow limits of his neighbors, simply by putting himself at a mile remove from Concord's bourgeois epicenter – and a thousand-mile remove from stasis, complacency, and conformity. Kevin Dann emulates and extends Thoreau's experiment in radical self-education. Alternating between personal anecdotes from his spring 2017 walking pilgrimage and other "traveler" encounters and episodes told by Thoreau, Dann structures his book around 12 "injunctions"—distillations of seminal stories about overcoming convention and stasis. In this essential reading for every Thoreau enthusiast, naturalist and historian Kevin Dann brings to life an essential American icon in refreshing and modern way.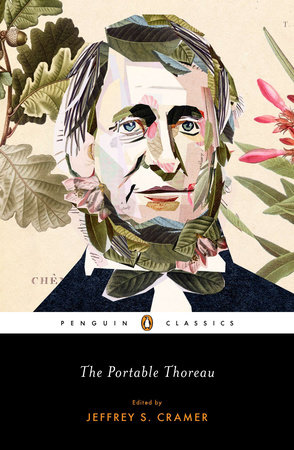 THE PORTABLE THOREAU by Henry Thoreau
Self-described as "a mystic, a transcendentalist, and a natural philosopher to boot," Henry David Thoreau dedicated his life to preserving his freedom as a man and as an artist. Nature was the fountainhead of his inspiration and his refuge from what he considered the follies of society. Heedless of his friends' advice to live in a more orthodox manner, he determinedly pursued his own inner bent-that of a poet-philosopher-in prose and verse. Edited by noted Thoreau scholar Jeffrey S. Cramer, this edition promises to be the new standard for those interested in discovering the great thinker's influential ideas about everything from environmentalism to limited government.
FOR YOUNGER READERS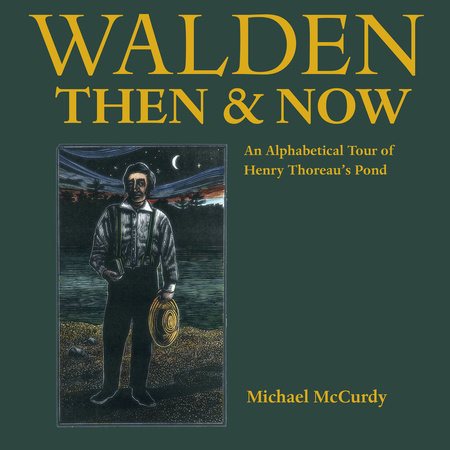 WALDEN THEN & NOW AN ALPHABETICAL TOUR OF HENRY THOREAU'S POND by Michael McCurdy
"I hear a song sparrow singing from the bushes on the shore." –Henry David Thoreau, Walden
Over one hundred and fifty years later, Michael McCurdy pays tribute to this influential figure and the historic place that inspired Thoreau during his lifetime. In Walden Then & Now, readers take an alphabetical journey around Walden Pond. McCurdy explores Thoreau's simple life in his cabin surrounded by nature, and highlights what has changed and what has stayed the same from Thoreau's time to our own. Readers discover the animals, plants, seasons, and thoughts that Thoreau recorded during his life on the pond as they gain an appreciation for nature and environmentalism. McCurdy's beautiful wood engravings illustrate this celebration of the joy, solitude, and drama of the natural life of Walden Pond—then and now.
For more on these and related titles visit Walden
---
There's a Book for That! is brought to you by Penguin Random House's Sales department. Please follow our Tumblr by clicking here—and share this link with your accounts: theresabookforthat.tumblr.com. Thank you!
Did you see something on the news or read about something on your commute? Perhaps you noticed something trending on Twitter? Did you think: "There's a book for that!"? Then please, send it our way at theresabookforthat@penguinrandomhouse.com
Posted: August 9, 2019