Friday Reads: #WearOrange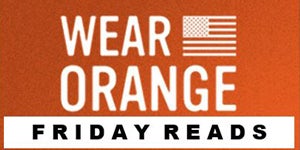 National Gun Violence Awareness Day is Friday, June 2, and Penguin Publishing Group will be a social media partner with #WearOrange to recognize the date and to help send a powerful message to end gun violence.
In further support of this cause, we're highlighting the following books that can inform the discussion: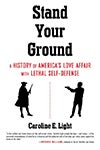 STAND YOUR GROUND: A HISTORY OF AMERICA'S LOVE AFFAIR WITH LETHAL SELF-DEFENSE by Caroline Light
A history of America's Stand Your Ground gun laws, from Reconstruction to Trayvon Martin
Stand Your Ground explores the development of the American right to self-defense and reveals how the original "duty to retreat" from threat was transformed into a selective right to kill. In her rigorous genealogy, Light traces white America's attachment to racialized, lethal self-defense by unearthing its complex legal and social histories.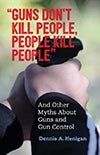 "GUNS DON'T KILL PEOPLE, PEOPLE KILL PEOPLE: AND OTHER MYTHS ABOUT GUNS AND GUN CONTROL" by Dennis A. Henigan
The gun lobby's remarkable success in using engaging slogans to frame the gun control debate has allowed it to block lifesaving gun legislation for decades. But is there any truth to this bumper-sticker logic? Dennis Henigan exposes the mythology and misguided thinking at the core of these pro-gun catchphrases, which continue to have an outsized influence on public attitudes toward guns and gun control.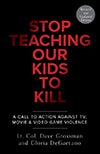 STOP TEACHING OUR KIDS TO KILL, REVISED AND UPDATED EDITION: A CALL TO ACTION AGAINST TV, MOVIE & VIDEO GAME VIOLENCE by Lt. Col. Dave Grossman, Gloria Degaetano
Newtown, Aurora, Virginia Tech, Columbine. There is no bigger or more important issue in America than youth violence. Kids, some as young as ten years old, take up arms with the intention to murder. Why is this happening? Lt. Col. Dave Grossman and Gloria DeGaetano believe the root cause is the steady diet of violent entertainment kids see on TV, in movies, and in the video games they play—witnessing hundreds of violent images a day. Offering incontrovertible evidence based on recent scientific studies and research, they posit that this media is not just conditioning children to be violent and see killing as acceptable but teaching them the mechanics of killing as well.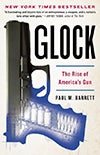 THE GLOCK: THE RISE OF AMERICA'S GUN by Paul M. Barrett
The Glock pistol is America's Gun. It has been rhapsodized by hip-hop artists and coveted by cops and crooks alike. Created in 1982 by Gaston Glock, the pistol arrived in America at a fortuitous time. Law enforcement agencies had concluded that their agents and officers, armed with standard six-round revolvers, were getting "outgunned" by drug dealers with semi-automatic pistols; they needed a new gun. With its lightweight plastic frame and large-capacity spring-action magazine, the Glock was the gun of the future.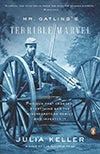 MR. GATLING'S TERRIBLE MARVEL: THE GUN THAT CHANGED EVERYTHING AND THE MISUNDERSTOOD GENIUS WHO INVENTED IT by Julia Keller
Drawing on her investigative and literary talents, Julia Keller offers a riveting account of the invention of the world's first working machine gun. Drawing on her investigative and literary talents, Julia Keller offers a riveting account of the invention of the world's first working machine gun.
For more information on these and related titles, visit the collection: Gun Violence Titles
Posted: June 1, 2017