Friday Reads: Wonder Woman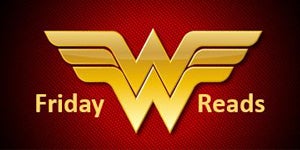 The "Wonder Woman" movie is a hit and promises to entertain audiences in theatres throughout summer. Gal Gadot as Wonder Woman has captured the imaginations of young women and girls new to the genre, transcending the usual superhero movie crowd. Wonder Woman's creator, William Moulton Marston, was influenced by early suffragists and feminists including his wife, Sadie Elizabeth Holloway, who was an inspiration for the character. DC Comics and Penguin Random House publish an array of Wonder Woman titles which we've highlighted alongside nonfiction about some amazing real women.
"It's about what you believe. And I believe in love. Only love will truly save the world." – Diana Prince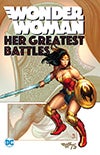 WONDER WOMAN: HER GREATEST BATTLES by various authors; Ages 13 to 16
The perfect companion piece to the film Wonder Woman is here. With the powers of a god and the fighting spirit of an Amazon, Wonder Woman is Earth's fiercest defender. On Themyscira, Diana was trained from birth to be a warrior. Her skills in battle are unmatched, as are her bullet-stopping bracelets and Lasso of Truth. Now, relive her greatest triumphs!

WONDER WOMAN: AN AMAZING HERO (DC Super Friends; Golden Books) by Mary Tillworth, Erik Doescher; Ages 3 to 7
This DC Super Friends Big Golden Book reveals Wonder Woman's™ origin story! Girls and boys ages 3 to 7 will enjoy this full-color, hardcover storybook featuring the most iconic female super hero of all time!

WONDER WOMAN: A CELEBRATION OF 75 YEARS by various authors; Ages 13 to 16
The most recognizable superheroine of all time, Wonder Woman has been an essential part of the DC Universe and an icon for female empowerment for more than 75 years. Armed with her lasso of truth and her bullet-stopping bracelets, the Amazon Princess journeys into Man's World again and again, spreading her mission of peace and goodwill and fiercely battling injustice where she finds it. She's a princess, a warrior and an ambassador. Beautiful as Aphrodite, wise as Athena, stronger than Hercules, swifter than Mercury…she is … Wonder Woman!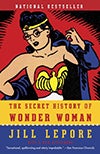 THE SECRET HISTORY OF WONDER WOMAN by Jill Lepore
A riveting work of historical detection revealing that the origin of Wonder Woman, one of the world's most iconic superheroes, hides within it a fascinating family story—and a crucial history of twentieth-century feminism. Harvard historian and New Yorker staff writer Jill Lepore has uncovered an astonishing trove of documents, including the never-before-seen private papers of William Moulton Marston, Wonder Woman's creator.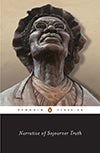 NARRATIVE OF SOJOURNER TRUTH by Sojourner Truth
Narrative of Sojourner Truth is one of the most important documents of slavery ever written, as well as being a partial autobiography of the woman who became a pioneer in the struggles for racial and sexual equality. With an eloquence that resonates more than a century after its original publication in 1850, the narrative bears witness to Sojourner Truth's thirty years of bondage in upstate New York and to the mystical revelations that turned her into a passionate and indefatigable abolitionist.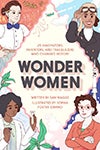 WONDER WOMEN: 25 INNOVATORS, INVENTORS, AND TRAILBLAZERS WHO CHANGED HISTORY by Sam Maggs
A fun and feminist look at forgotten women in science, technology, and beyond, from the bestselling author of The Fangirl's Guide to the Galaxy.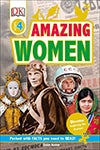 AMAZING WOMEN (DK Children); Ages 9 to 12, Grades 4 to 7
From world leaders to explorers to writers, artists, and performers, discover more than 40 women who changed the world in Amazing Women.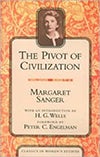 THE PIVOT OF CIVILIZATION by Margaret Sanger
Arguably her most important and influential book, this controversial work, first published in 1922 by pioneering birth-control advocate Margaret Sanger, attempted to broaden the still-radical idea of birth control beyond its socialist and feminist roots.
For more on these and related titles visit the collection Wonder Woman Friday Reads
Posted: June 9, 2017