#FridayReads: Bee Happy!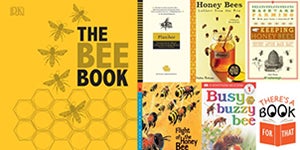 Bee happy it's Friday! In honor of National Honeybee Day on August 20th, here are a few books on bees to enjoy.
Bee population decline has been in the news for years now, but the good news is that, according to a report issued this week by Friends of the Earth, nurseries are selling fewer harmful, pesticide-treated "bee-friendly" plants.
FEATURED TITLES
THE BEE BOOK by DK Publishing
BACKYARD FARMING: Keeping Honey Bees by Kim Pezza
PLAN BEE: Everything You Ever Wanted to Know About the Hardest-Working Creature on the Planet by Susan Brackney
LETTERS FROM THE HIVE: An Intimate History of Bees, Honey, and Humankind by Stephen Buchmann and Banning Repplier
FOR YOUNGER READERS
HONEY BEES: Letters from the Hive by Stephen Buchmann
FLIGHT OF THE HONEY BEE by Raymond Huber and Brian Lovelock
DK Readers L1: BUSY BUZZY BEE by Karen Wallace
DK Readers L2: AMAZING BEES by  Sue Unstead 
For more information on these and related titles visit the collection: Bees
Posted: August 19, 2016