#FridayReads: Corseted Covers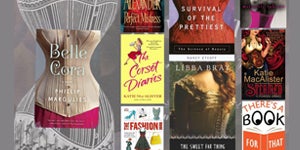 Your weekend reading is clinched, literally. Here are a handful of our favorite books with corsets on the cover, perfect for accompanying you during the end of carefree summer days, preparing you for a return to tight schedules and unyielding school and work demands, and leading into NYC Fashion Week.
FEATURED TITLES
BELLE CORA by Phillip Margulies
"Margulies strikes gold. . . . Belle's remarkable story mirrors that of her young country, on the verge of civil war, and her sharp, engaging voice brings her tale to vivid life." —Publishers Weekly (starred review)
SURVIVAL OF THE PRETTIEST by Nancy Etcoff; Ages
In this provocative, witty, and thoroughly researched inquiry into what we find beautiful and why, Nancy Etcoff, a faculty member at Harvard Medical School and a practicing psychologist at Massachusetts General Hospital, skewers the enduring myth that the pursuit of beauty is a learned behavior.
THE CORSET DIARIES by Katie Macalister
No woman in her right mind would consent to wearing a corset for a month. Especially a "skinny-challenged" woman like Tessa. But dreams of being debt-free dance in her head at the offer of appearing in a reality TV show. "A Month in the Life of a Victorian Duke" is about real people pretending to live on an English estate, circa 1879. And Tessa's leading man – a real-life Duke – is so handsome she can barely breathe, with or without the corset…
Here are three beautiful, daring women who find themselves succumbing to the forbidden, overpowering passion ignited by their arch enemies. Set in three different worlds-the past, the present, and the future-these stories will take readers way beyond their wildest imagination and into their most sensuous fantasies.
STEAMED: A STEAMPUNK ROMANCE by Katie Macalister
When one of Jack Fletcher's nanoelectromechanical system experiments is jostled in his lab, the resulting explosion sends him into the world of his favorite novel-a seemingly Victorian-era world of steampower, aether guns, corsets, and goggles.
THE PERFECT MISTRESS by Victoria Alexander
Harrison Landingham, Earl of Mountdale, can't let the obstinate Julia release the shameless memoir that could ruin his family's name. But the only way to stop her may be equally sordid–if far more pleasurable. For his rivals are intent on seducing the captivating woman to acquire the book.
THE SWEET FAR THING by Libba Bray; Ages 12 and up
"A rare treat that offers a bit of everything—romance, magic, history, Gothic intrigue—and delivers on all of it in 819 beautifully crafted pages."—People Magazine
THE FASHION BOOK by DK; Ages 13 to 17
From corsets and camis to tailoring and textiles, The Fashion Book is a sassy style guide for teenage girls who want to discover the stories behind their favorite looks, find their own style, and learn what makes the fashion world tick.
View the entire collection here: Corset Covers
Posted: September 2, 2016