#FridayReads: Instrumental Titles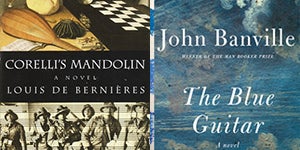 Can you read music? Well, many of our best writers make music with words, but sometimes their inspiration – "muse" if you will –  is an actual instrument and its player. This meeting of arts results in evocative and layered reading where even non-musicians can inhabit a musician's world – be it pure fiction or based on a famous player. The following books are tuned for discovery (or rediscovery) and should lead many readers to seek musical accompaniment to their pages.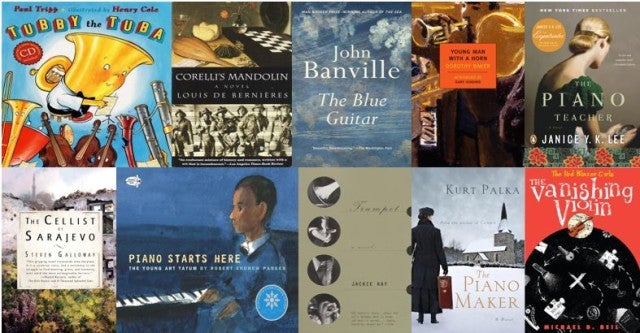 FEATURED TITLES
THE BLUE GUITAR by John Banville
From the Man Booker Prize-winning author of THE SEA, a new novel about artistic creation and the ways in which we learn to possess one another—and hold on to ourselves. Equally self-aggrandizing and self-deprecating, Oliver Otway Orme is a painter of some renown and a petty thief (who steals only for pleasure) who has never been caught—until now.
THE PIANO TEACHER by Janice Y. K. Lee
"A rare and exquisite story…Transports you out of time, out of place, into a world you can feel on your very skin." —Elizabeth Gilbert
The debut novel from the author of THE EXPATRIATES is a tale of love and betrayal set in war-torn Hong Kong, written in the sweeping tradition of THE ENGLISH PATIENT.
The suspenseful, emotionally resonant, and utterly compelling story of what brings an enigmatic French woman to a small Canadian town in the 1930s, a woman who has found depths of strength in dark times and comes to discover sanctuary at last.
TRUMPET by Jackie Kay
In her starkly beautiful and wholly unexpected tale, Jackie Kay delves into the most intimate workings of the human heart and mind and offers a triumphant tale of loving deception and lasting devotion. The death of legendary jazz trumpeter Joss Moody exposes an extraordinary secret, one that enrages his adopted son, Colman, leading him to collude with a tabloid journalist.
YOUNG MAN WITH A HORN by Dorothy Baker
Dorothy Baker's YOUNG MAN WITH A HORN is widely regarded as the first jazz novel, and it pulses with the music that defined an era. Baker took her inspiration from the artistry – though not the life – of legendary horn player Bix Beiderbecke, and the novel went on to be adapted into a successful movie starring Kirk Douglas, Lauren Bacall, and Doris Day.
CORELLI'S MANDOLIN by Louis de Bernieres
Extravagant, inventive, emotionally sweeping, CORELLI'S MANDOLIN is the story of a timeless place that one day wakes up to find itself in the jaws of history. The place is the Greek island of Cephallonia, where gods once dabbled in the affairs of men and the local saint periodically rises from his sarcophagus to cure the mad. Then the tide of World War II rolls onto the island's shores in the form of the conquering Italian army.
THE CELLIST OF SARAJEVO by Stephen Galloway
A novel of great intensity and power, and inspired by a true story, THE CELLIST OF SARAJEVO poignantly explores how war can change one's definition of humanity, the effect of music on our emotional endurance, and how a romance with the rituals of daily life can itself be a form of resistance.
FOR YOUNGER READERS
THE BLAZER GIRLS: THE VANISHING VIOLIN by Michael D. Beil
Ages 8 to 12
Bowstrings and betrayal, crushes and codes abound in this middle-grade mystery. "With wit, cunning, snappy dialogue and superior math skills, The Red Blazer Girls represent the best of girl-detectives while still feeling relatable and real. Nancy Drew would be right at home with this group." – Huffington Post's 15 Greatest Kid Detectives List
THE PIANO STARTS HERE: THE YOUNG ART TATUM written and illustrated by Robert A. Parker
Ages 4 to 8
Regardless of whether they've heard of jazz or Art Tatum, young readers will appreciate how Parker uses simple, lyrical storytelling and colorful, energetic ink-and-wash illustrations to show the world as young Art Tatum might have seen it.
TUBBY THE TUBA by Paul Tripp, Henry Cole 
Ages 4 to 8
All day long, Tubby plays oompah, oompah with his orchestra, but what he really wants is to "dance with the pretty little tune." A resourceful bullfrog shows Tubby that everyone has the right to play his own melody. When the recording of Tubby the Tuba was first released, more than 70 years ago, it met with instant success. Reimagined by Henry Cole, this stunning picture book comes complete with a CD of Tripp's performance with full orchestration.
For more on these and other titles visit the edelweiss collection: Instrumental Titles
Posted: July 14, 2016