#FridayReads: Martin Luther King, Jr.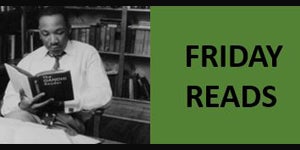 On Monday, January 16th we honor Martin Luther King Jr. who was born on January 15, 1929 in Atlanta, Georgia. The holiday celebrates the life and legacy of a man who brought hope and healing to America. It's a time to commemorate the timeless values he exemplified – courage, truth, justice, compassion, dignity, humility and service – as well as the forgiveness and nonviolence that empowered his leadership. It's especially important for the young to learn about Dr. King's character and contributions. We recommend the books herein for education and inspiration.
Visit The King Center's site here for more information on this year's commemoration.
FEATURED TITLES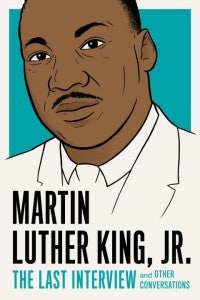 MARTIN LUTHER KING, JR.: THE LAST INTERVIEW AND OTHER CONVERSATIONS by Martin Luther King, Jr.
As the Black Lives Matter movement gains momentum, and books like Ta-Nehisi Coates's Between the World and Me and Claudia Rankine's Citizen swing national attention toward the racism and violence that continue to poison our communities, it's as urgent now as ever to celebrate Martin Luther King, Jr., whose insistence on equality and peace defined the Civil Rights Movement and forever changed the course of American history.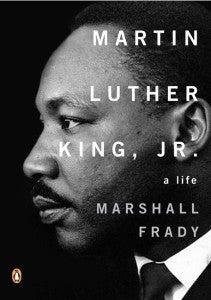 MARTIN LUTHER KING, JR.: A LIFE by Marshall Frady
Marshall Frady, the reporter who became the unofficial chronicler of the civil rights movement, here re-creates the life and turbulent times of its inspirational leader. Deftly interweaving the story of King's quest with a history of the African American struggle for equality, Frady offers fascinating insights into his subject's magnetic character and the complexities of King's relationships with other civil rights leaders, the Kennedy and Johnson administrations, and the FBI's J. Edgar Hoover.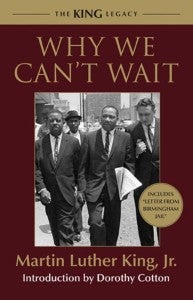 WHY WE CAN'T WAIT  by Dr. Martin Luther King, Jr.
Often applauded as Dr. Martin Luther King, Jr.'s most incisive and eloquent book, Why We Can't Wait recounts the Birmingham campaign in vivid detail, while underscoring why 1963 was such a crucial year for the civil rights movement.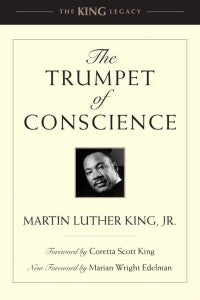 THE TRUMPET OF CONSCIENCE by Dr. Martin Luther King, Jr.
In November and December 1967, Dr. Martin Luther King, Jr., delivered five lectures for the renowned Massey Lecture Series of the Canadian Broadcasting Corporation. Immediately released under the title Conscience for Change after King's assassination, it was republished as The Trumpet of Conscience. Each oration speaks prophetically to today's perils, addressing issues of equality, conscience and war, the mobilization of young people, and nonviolence.
FOR YOUNGER READERS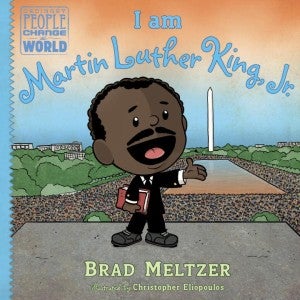 I AM MARTIN LUTHER KING, JR. by Brad Meltzer, Christopher Eliopoulos; Ages 5 to 8
Even as a child, Martin Luther King, Jr. was shocked by the terrible and unfair way African-American people were treated. When he grew up, he decided to do something about it—peacefully, with powerful words. He helped gather people together for nonviolent protests and marches, and he always spoke up about loving other human beings and doing what's right.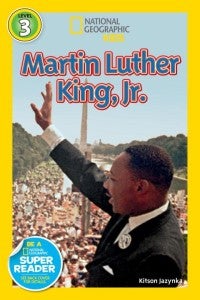 NATIONAL GEOGRAPHIC READERS: MARTIN LUTHER KING, JR. by Kitson Jazynka; Ages 5 to 8
National Geographic Readers are educational, high-interest, and comprehensive for children. In this title, readers will learn about the fascinating life and legacy civil rights leader Dr. Martin Luther King, Jr.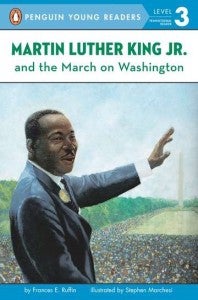 MARTIN LUTHER KING, JR. AND THE MARCH ON WASHINGTON by Frances Ruffin, Stephen Marchesi; Ages 6 to 8
On August 28, 1963, more than 250,000 people came to the nation's capital. They came by plane, by bus, by car–even on roller-skates–to speak out against segregation and to demand equal rights for everyone. They also came to hear the words of a very special leader, Martin Luther King, Jr. Told with a wonderful immediacy, this book captures the spirit of this landmark day in American history and brings Dr. King's "I Have a Dream" speech to vivid life for young children.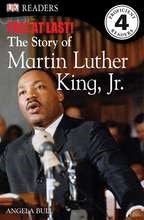 FREE AT LAST! by Angela Bull; Ages 8 to 12
Free at Last! is a biography of slain civil rights leader Martin Luther King, Jr., who encouraged nonviolent protest to fulfill his dream of an America where people would be judged by the content of their character, not by the color of their skin.
For more on these and other titles about Martin Luther King, Jr. visit MLK, JR. TITLES
Posted: January 12, 2017