From Page to Screen: Watch the Movie Trailer for This Summer's WHERE THE CRAWDADS SING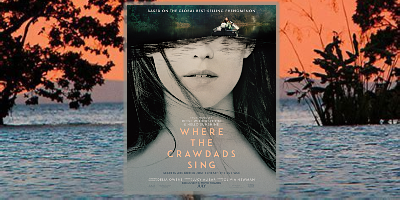 WHERE THE CRAWDADS SING, the #1 New York Times bestselling book by Delia Owens that has sold more than 12 million copies since it was first published by Putnam in August 2018, has been adapted into a major motion picture, coming to theaters nationwide on July 15. Two movie tie-in editions of the book are being published by Putnam on June 28.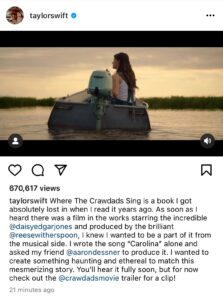 This week Sony Pictures released the first trailer for WHERE THE CRAWDADS SING, starring Daisy Edgar-Jones and featuring a new song by Taylor Swift, who shared on Instagram: "Where The Crawdads Sing is a book I got absolutely lost in when I read it years ago. As soon as I heard there was a film in the works starring the incredible @daisyedgarjones and produced by the brilliant @reesewitherspoon, I knew I wanted to be a part of it from the musical side. I wrote the song 'Carolina' alone and asked my friend @aarondessner to produce it. I wanted to create something haunting and ethereal to match this mesmerizing story. You'll hear it fully soon, but for now check out the @crawdadsmovie trailer for a clip!" The trailer was viewed 23.4 million times in the first 24 hours after release.
Daisy Edgar-Jones and Delia Owens also shared the trailer on their Instagram accounts, each quoting a key line from the book and film: "Way up yonder where the crawdads sing, the marsh knows one thing … Every creature does what it must to survive."
To watch the WHERE THE CRAWDADS SING trailer, click on the play arrow in the video screen below:
Posted: March 24, 2022