Future RHUK Author Maria Ressa 2021 Nobel Peace Prize Co-Winner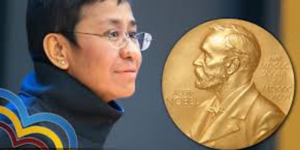 Maria Ressa, the co-recipient of the 2021 Nobel Peace Prize, is a Penguin Random House UK author. Next April, Ebury Publishing's WH Allen imprint will publish her "How To Stand Up To A Dictator."
The Nobel Committee cited Ms. Ressa as a "fearless defender of freedom of expression." Raised as an American, she is the first Filipino Nobel laureate.
According to her publisher, Ressa's book will relate "her full story, from migrating as a child to the U.S. and dealing with her adaptation, to her heady days as a frontline investigative reporter, to her return to the Philippines, where she started her own news company, Rappler. Ressa is internationally recognized as an uncompromising fighter for truth, standing up to Facebook, and to her country's President, Rodrigo Duarte."
Ressa is working with her editors to finalize "How To Up Stand To A Dictator" for its Spring 2022 publication. Amal Clooney is contributing an Introduction.
Maria Ressa joins a large, amazing group of our authors who have previously been awarded a Nobel Peace Prize. They include Nadia Murad, Barack Obama, Al Gore, Wangari Maathai, Jimmy Carter, Kofi Annan, Elie Wiesel, Desmond Tutu, Andrei Sakharov, and Henry Kissinger.
In all, more than 80 Penguin Random House authors, from across our global publishers at Penguin Random House and its predecessor companies, are Nobel Prize winners.
Posted: October 11, 2021