Gabby Rivera and Meryl Wilsner Featured on LGBTQ Fiction Panel. Register via Eventbrite (5/28)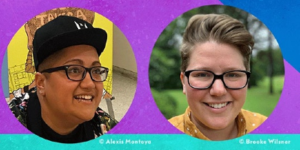 Gabby Rivera, author of JULIET TAKES A BREATH (Dial Books for Young Readers), and Meryl Wilsner, author of SOMETHNIG TO TALK ABOUT (Berkley), are featured on a "Read with Pride: Celebrating LGBTQ Fiction" panel, moderated by Michelle Hart, assistant books editor at Oprah Magazine. Register via Eventbrite, for this virtual event, taking place on Thursday, May 28, at 6:00pm (ET).
In Rivera's JULIET TAKES A BREATH, with a summer bursting with queer brown dance parties, a sexy fling with a motorcycling librarian, and intense explorations of race and identity, Juliet learns what it means to come out–to the world, to her family, to herself.
Gabby Rivera is a Bronx-born queer Puerto Rican on a mission to create the wildest, most fun stories ever. She's the first Latina to write for Marvel comics, penning the solo series AMERICA about America Chavez, a portal-punching queer Latina powerhouse. In 2017, Gabby was named one of the top comic creators by the SyFy network, and one of NBC's #Pride30 Innovators. Gabby now makes magic on both coasts, currently residing in California. She writes for all the sweet baby queers and her mom, and hosts Joy Revolution, the podcast that brings together her favorite revolutionary humans to honor joy in a chaotic world.
In Wilsner's SOMETHING TO TALK ABOUT, a showrunner and her assistant give the world something to talk about when they accidentally fuel a ridiculous rumor in this debut romance novel.
Meryl Wilsner writes stories about queer women falling in love. Born in Michigan, Meryl lived in Portland, Oregon and Jackson, Mississippi before recently returning to the Mitten State. Some of Meryl's favorite things include: all four seasons, button down shirts, the way giraffes run, and their wife.
!! As a reminder, if you are a PRH employee posting to a personal or other non-PRH account, you must include the hashtag #TeamPRH !! 
Posted: May 27, 2020