Gabrielle Hamilton In Virtual Conversation with Michael Cunningham, Tickets via Eventbrite (5/27)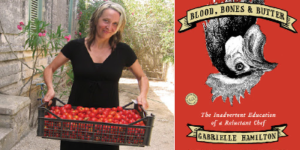 Gabrielle Hamilton, author of BLOOD BONES & BUTTER: The Inadvertent Education of a Reluctant Chef (Random House), will be in conversation with Michael Cunningham at a virtual event hosted by McNally Jackson, with tickets available via eventbrite (admission includes a copy of BLOOD BONES & BUTTER) on Wednesday, May 27 at 7:00pm.
Before Gabrielle Hamilton opened her acclaimed New York restaurant Prune, she spent twenty hard-living years trying to find purpose and meaning in her life. BLOOD BONES & BUTTER, a New York Times bestseller, follows an unconventional journey through the many kitchens Hamilton has inhabited through the years: the rural kitchen of her childhood, where her adored mother stood over the six-burner with an oily wooden spoon in hand; the kitchens of France, Greece, and Turkey, where she was often fed by complete strangers and learned the essence of hospitality; Hamilton's own kitchen at Prune, with its many unexpected challenges; and the kitchen of her Italian mother-in-law, who serves as the link between Hamilton's idyllic past and her own future family.
Hamilton received an MFA in fiction writing from the University of Michigan, and her work has appeared in The New Yorker, The New York Times, GQ, Bon Appétit, Saveur, House Beautiful, and Food & Wine. She has also authored the 8-week Chef column in The New York Times, and her work has been anthologized in eight volumes of Best Food Writing.
!! As a reminder, if you are a PRH employee posting to a personal or other non-PRH account, you must include the hashtag #TeamPRH !! 
Posted: May 26, 2020