Galen Guengerich Discusses His Book THE WAY OF GRATITUDE (5/31)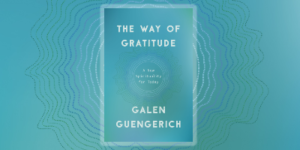 Galen Guengerich, author of THE WAY OF GRATITUDE: A New Spirituality for Today (Random House) will be in conversation with Jacquelin Novogratz, in a virtual event hosted by All Souls Churches, via Facebook on Sunday, May 31 at 3:00pm (ET).
Guengerich, the charismatic leader of one of the nation's most prominent Unitarian Universalist congregations, All Souls in New York City, shares with readers his wisdom on how to lead a purposeful and joyful life through the practice of gratitude. When Guengerich was in his midtwenties, he left the Conservative Mennonite Church, the faith of his upbringing. The prospect of venturing out on his own was daunting, but he needed to find the way of life that was right for him.
!! As a reminder, if you are a PRH employee posting to a personal or other non-PRH account, you must include the hashtag #TeamPRH !! 
Posted: May 28, 2020