#GiveaBook 2016 is Here: Giving Readers the Power to Help their Local Communities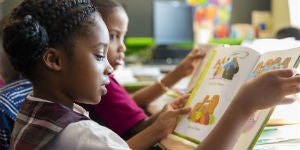 We are thrilled to announce the launch of this year's #GiveaBook Giving Tuesday campaign with a new framework that gives readers across the country the power to give back and donate Penguin Random House books to students and educators in their local communities.
We have donated more than 85,000 books to children in need across the country through our #GiveaBook holiday season campaign since its inception in 2014. This year, we are donating an additional 50,000 books to First Book, a nonprofit social enterprise that provides new books and educational resources to children from low-income families.
We're giving readers the chance to claim 5 of these 50,000 books for students in their home states. To claim yours and support your community visitwww.penguinrandomhouse.com/giveabook, complete the form, and Penguin Random House and First Book will make 5 books available to students and educators near you.
Tomorrow on Giving Tuesday, our Penguin Random House colleagues in New York, Maryland, Indiana and California will celebrate the campaign kickoff by distributing more than 1,500 free books as gifts to readers in their home towns. Be sure to snap a picture and share using the hashtag #Giveabook to spread the word.
Thank you for joining us in celebrating the positive power of books and reading this holiday season, and helping to create our next generation of readers. Stay tuned to Igloo to learn more about the campaign and for shareable social media assets to hep spread the word.
Visit www.penguinrandomhouse.com/giveabook to #GiveaBook and give back.
Posted: November 28, 2016