Giving Back: Students Shine at P.S. 3 Poetry Reading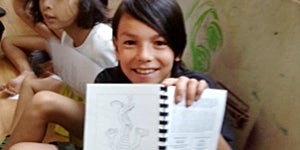 Two fifth grade classes at New York's P.S. 3 Charrette School in Greenwich Village, our downtown Read-Ahead school, last month presented the P.S. 3 Poetry Reading to celebrate the completion of THE COMFORT OF WORDS, a collection of poems and illustrations from a number of the school's students.  Coordinated and sponsored by Penguin Random House, this special collection recognized 62 students who came together and wrote hundreds of poems during National Poetry Month. For most students, it was their first published work and more than 30 parents and teachers beamed with pride while listening to their sons and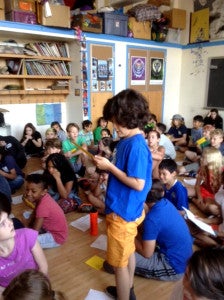 daughters recite their own poetry as well as share their many illustrations and artwork that accompany the poems.
With the active participation of P.S. 3 teachers Andrea Franks and Lindsay Tomao, along with Principal Lisa Siegman and Assistant Principal Regina Chiou, this poetry writing program took place over five classroom sessions and provided additional support to Penguin Random House's existing P.S. 3 partnership with Read-Ahead and employee volunteer reading mentors.  The writing exercises were based on odes, places, sketches, haikus, rhymes and artwork, among other topics.  For example, after a discussion about color, each student chose a favorite color and wrote an ode dedicated to and in celebration of their chosen hue.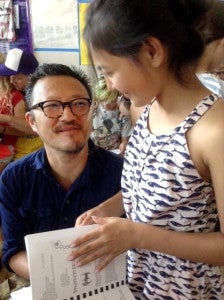 As part of our mission to nurture the next generation of writers and readers, Penguin Random House supports this program through the Read-Ahead partnership – providing employees an opportunity to give back to the community in which they work. Penguin Random House has over 100 employee volunteer mentors and our partnership has evolved to include: author and illustrator visits, poetry workshops, a parent-teacher book club, book donations and various student-related events throughout the school year.
To view this impressive poetry collection, click here.
Posted: July 13, 2016