Glennon Doyle's Memoir UNTAMED to be Adapted for TV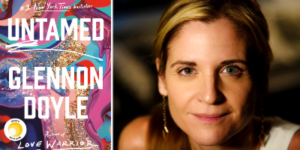 Glennon Doyle's #1 New York Times bestselling memoir UNTAMED (The Dial Press) will be adapted for television by J.J. Abrams' Bad Robot production company, it was reported by Deadline. The project will be produced in association with Warner Bros. Television. Jessie Nelson will be an executive producer along with Doyle and Ben Stephenson, Bad Robot's Head of Television.
Doyle commented, "UNTAMED sold over one million copies worldwide in fewer than 20 weeks and ignited a movement because women are in a collective moment of reckoning: We are looking at existing models of marriage, parenthood, religion, business, sexuality, and politics – and deciding that it's time to let the old burn and imagine truer, more beautiful lives for ourselves, and a more equitable world for all of us. I can't imagine a more important time or more perfect partners than Jessie Nelson and Bad Robot to help bring my story, our collective story, to television."
Soulful and uproarious, forceful and tender, UNTAMED is both an intimate memoir and a galvanizing wake-up call. It is the story of how one woman learned that a responsible mother is not one who slowly dies for her children, but one who shows them how to fully live. It is the story of navigating divorce, forming a new blended family, and discovering that the brokenness or wholeness of a family depends not on its structure but on each member's ability to bring her full self to the table.
Doyle is also the author of the #1 New York Times bestseller Love Warrior, an Oprah's Book Club selection, as well as the New York Times bestseller Carry On, Warrior. An activist, speaker, and thought leader, she is also the founder and president of Together Rising, an all-women led nonprofit organization that has revolutionized grassroots philanthropy—raising over $20 million for women, families, and children in crisis, with a most frequent donation of just $25. Glennon was named among OWN Network's SuperSoul 100 inaugural group as one of 100 "awakened leaders who are using their voices and talent to elevate humanity." She lives in Florida with her wife and three children.
Glennon Doyle photo: © Scott Sherratt
Posted: September 4, 2020