Gothic Pajama Party to Celebrate Renée Ahdieh's THE DAMNED with Sabaa Tahir via Crowdcast (7/7)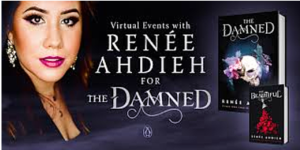 Putnam Books for Young Readers is celebrating the release of Renée Ahdieh's latest book, THE DAMNED, with a Gothic Pajama Party. Renée will be in conversation with fellow Penguin Young Readers author Sabaa Tahir in partnership with Fountain Bookstore in Richmond, VA via Crowdcast on Tuesday, July 7 at 7:00 pm (ET).
Sabaa and Renée will play classic games like "truth or dare" with plenty of time to answer questions from audience members. Everyone is encouraged to wear their PJs!
THE DAMNED is the second installment of Ahdieh's sumptuous and romantic series, The Beautiful. Forces hiding in the shadows have been patiently waiting for this moment. And just as Bastien and Celine begin to uncover the danger around them, they learn their love could tear them apart.
!! As a reminder, if you are posting to a personal or other non-PRH account you must include the hashtag #TeamPRH !!
Posted: July 5, 2020