GRAMMY® Love: Obama's "A Promised Land" Best Spoken Word Nominee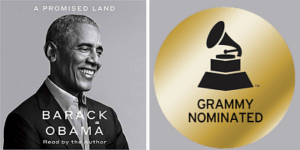 Can a two-term U.S. President be a three-time GRAMMY® winner?
Barack Obama's "A Promised Land," one of 2020 and 2021's biggest-selling audios — and of course also last year's biggest-selling hardcover and e-book — has been bestowed with a major new touchstone achievement: a nomination voted by members of the Recording Academy®, announced November 23, as one of the five nominees for 2021 " Best Spoken Word Album" GRAMMY®.
Thus, Penguin Random House's singular GRAMMY® tradition continues.
Mr. Obama previously won in the category for the Random House Audio productions of "Dreams From My Father" which he read from his first memoir, and "The Audacity of Hope," his second.
This year's winner will be revealed at the GRAMMY Awards Premiere Ceremony® to be live streamed in Los Angeles Monday, January 31, just ahead of the CBS-TV GRAMMY Awards® broadcast that evening.
"A Promised Land," read and written by the former President, has been a #1 New York Times Audio Bestseller in its Random House Audio edition, as well as a #1 bestselling Crown hardcover and e-book. Produced by our GRAMMY®-decorated colleague Dan Zitt and Scott Cresswell, the production has received much critical praise. "Obama, a master orator, is skilled at keeping the listener's attention," said the New York Times Book Review. AudioFile Magazine observed, "President Obama's distinctively deliberate delivery, angular cadence, and love of words are all fully on display…"
Penguin Random House Audio has a glorious history with the GRAMMY®, including 17 wins and 47 additional nominations. Even more humbling: its productions have won this GRAMMY® Award 5 out of the past 7 years: "Blowout," read and written by Rachel Maddow (2021); "Becoming," read and written by Michelle Obama (2020); "The Princess Diarist," read and written by Carrie Fisher (2018); "In Such Good Company," read and written by Carol Burnett (2017); and "Diary of a Mad Diva," read and written by Joan Rivers (2015).
Full-throated congratulations to Mr. Obama, the production team, and our entire Penguin Random House Audio Group.
Posted: November 23, 2021