Grammy-Winning Singer/Songwriter Brandi Carlile Narrates Audiobook of Her Memoir BROKEN HORSES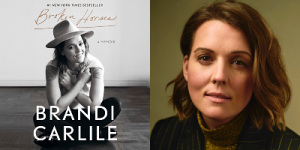 Six-time Grammy Award–winning singer, songwriter, performer, and producer Brandi Carlile narrates the audiobook edition of her memoir, BROKEN HORSES, released by Random House Audio today, Tuesday, April 20. Carlile also sings more than 30 songs, recorded exclusively for the audiobook, including 23 of her own compositions as well as covers of songs by artists who have inspired her, such as Elton John, Dolly Parton, and Leonard Cohen.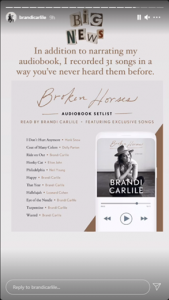 "I've always loved telling stories from the stage during my shows, which turned out to be good practice for writing BROKEN HORSES and narrating the audiobook," says Carlile. "Revisiting the stories behind many of those songs and recording them, just me and my guitar or a piano, made me fall in love with them all over again."
In BROKEN HORSES, Carlile describes her impoverished childhood in a dysfunctional but loving family, her first break opening for Dave Matthews Band, and many sleepless tours over fifteen years and six studio albums with long-time collaborators Phil and Tim Hanseroth, all while raising two children with her wife, Catherine Carlile, along the way. This hard-won success has led her to collaborations with personal heroes like Elton John, Dolly Parton, Mavis Staples, Pearl Jam, Tanya Tucker, and Joni Mitchell, as well as her peers in the supergroup The Highwomen, and ultimately to the Grammy stage, where she converted millions of viewers into instant fans.
Carlile will appear on Late Night with Seth Meyers tonight to promote the audiobook. Crown publishes the hardcover and e-book editions.
Posted: April 20, 2021