Grisham and King Online Conversation Draws Thousands, Raises Funds for Binc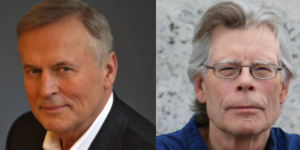 Bestselling authors John Grisham and Stephen King presented their "one night only" online conversation last night, April 29, live streaming to King's You Tube channel from their respective homes in Virginia and Florida via Zoom, to promote their new books, chat informally, and raise money for Binc (the Book Industry Foundation).  The event was a success from every perspective, with more than 7,200 RSVPs making it the biggest Penguin Random House-centric virtual event to date, with nearly 5,000 live viewers (many posting live comments, such as "Hail to the chiefs!"); and $44,000 was raised for Binc.  Donations are still being accepted here.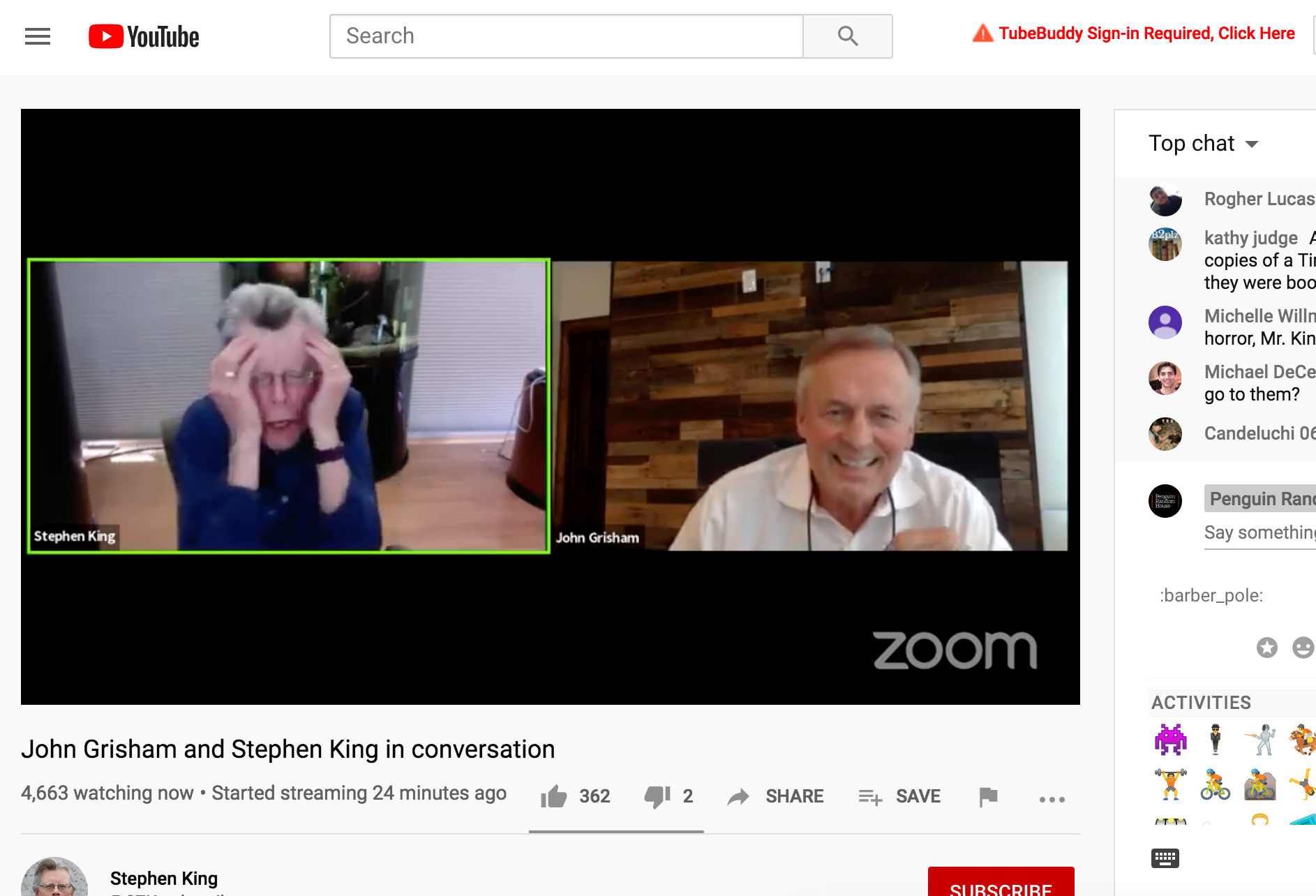 There was a natural chemistry between the two longtime friends, as conversation topics ranged from their new books to the importance of supporting local bookstores during the coronavirus, novel writing routines, a possible literary collaboration, what books they're currently reading, and missing baseball.
Of his 34th novel, CAMINO WINDS, published on April 28, in hardcover and eBook by Doubleday, and as a Random House Audio, Grisham said, "It's a bit of a sequel (to CAMINO ISLAND), a murder mystery set in the world of books, in the midst of a hurricane … I just wanted to get away from writing about the law."
Grisham shared that, starting every day at 7:00 a.m., he writes "about a thousand words … anything more and my mind turns to mush."
King asked Grisham if he ever wrote himself into "a blind alley," and Grisham responded quickly: "No.  I don't write the first scene until I write the last scene.  So I always know where I'm going."
When an audience member posed a question about the possibility of a future book collaboration between the two authors, King joked that they could call it "Vampire Legal Aid Society."
What books are they currently reading?  MASKED PREY by John Sandford for King.  Grisham is tackling "a literary challenge," reading all six novels written by Walker Percy.
Grisham asked King, "Here it is April, how are you handling life without baseball?"  A lifelong Boston Red Sox fan, King admitted, "I'm missing a big part of my life.  Baseball is important to me. I like to watch it.  I like to talk about it …" Grisham,  a lifelong St. Louis Cardinals fan, is also feeling a void without baseball. He built a Little League park around the corner from his house 25 years ago, and said, "On a warm spring day like today, when a lot of kids should be playing, the ball park is empty … without baseball, there's a hole in a lot of people's lives."
In order to get through the pandemic, both authors stressed the importance of books. Grisham encouraged everyone to "buy books and support your local bookstores – they are the lifeblood of America."
A video of the Grisham and King event can be viewed below:
Posted: April 30, 2020