HAMNET by Maggie O'Farrell Wins the 2020 Women's Prize for Fiction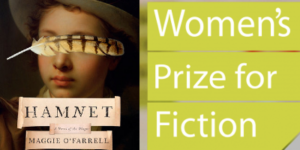 Maggie O'Farrell has won this year's Women's Prize for Fiction for her latest novel, HAMNET, published by Alfred A. Knopf in the U.S. , it was announced during a live digital ceremony on Wednesday, September 9. This annual award, now in its 25th year, celebrates excellence, originality and accessibility in writing by women throughout the world.
Knopf SVP & Editorial Director Jordan Pavlin said, "I was thrilled by this news. HAMNET is a book deserving of every accolade it has captured, one that has captivated readers at Knopf and around the world. It feels uncannily relevant to the moment we are all living through, a novel that looks headlong into the most inconsolable darkness and loss and manages, somehow, also to be a profound celebration of love."
Martha Lane Fox, chair of the Women's Prize judges, said their decision was "unanimous" and that HAMNET was "an outstanding novel that moved everyone so deeply … while set long ago, like all truly great novels expresses something profound about the human experience that seems both extraordinarily current and at the same time, enduring."
HAMNET, Ms. O'Farrell's eighth novel, is a luminous portrait of a marriage, a shattering evocation of a family ravaged by grief and loss, and a tender and unforgettable re-imagining of a boy whose life has been all but forgotten, and whose name was given to one of the most celebrated Shakespeare plays of all time.
Ms. O'Farrell received £30,000 (about $39,070) and a Bessie, a limited edition bronze figurine as the award winner. On the broadcast she said that she was so delighted by her win that she wanted to "run into the garden and howl at the moon." She told The Gaurdian, "I keep thinking it must be some kind of elaborate prank. There wasn't really any particle of me that thought it would happen. Being on the shortlist was kind of enough and it never occurred to me they would choose my book. You've got these huge literary goddesses Mantel and Evaristo on the shortlist, they're all such fantastic works telling such diverse stories, from different times and divergent places and perspective."
Ms. O'Farrell also took part in an audience Q&A alongside judge Paula Hawkins, during which she said that the prize has "achieved so much" during its 25-year history, and that prizes "expand our choices, and suggest books we might not otherwise have set up." She added that she would consider writing in the same historical period again, as it "took a while to say goodbye" to her characters.
Congratulations to Ms. O'Farrell and everyone at Knopf.
Posted: September 10, 2020