Hank Green to Launch A BEAUTIFULLY FOOLISH ENDEAVOR with John Green via YouTube (7/7)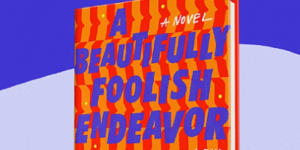 Join #1 New York Times bestselling author Hank Green for the virtual launch of his new novel, A BEAUTIFULLY FOOLISH ENDEAVOR (Dutton), with his brother, #1 New York Times bestselling author John Green, on their popular Vlogbrothers YouTube channel, on Tuesday, July 7 at 7:00 pm (ET). To register for this free YouTube event, click here.
A BEAUTIFULLY FOOLISH ENDEAVOR is the bold and brilliant follow-up to An Absolutely Remarkable Thing. The novel is a fast-paced adventure that is also a biting social commentary, asking hard, urgent questions about the way we live, our freedoms, our future, and how we handle the unknown.
Hank Green is the #1 New York Times bestselling author of An Absolutely Remarkable Thing. He is also the CEO of Complexly, a production company that creates educational content, including Crash Course and SciShow, prompting The Washington Post to name him "one of America's most popular science teachers." Complexly's videos have been viewed more than two billion times on YouTube. Hank and his brother, John, are also raising money to dramatically and systematically improve maternal health care in Sierra Leone, where, if trends continue, one in seventeen women will die in childbirth.
John Green is the award-winning, #1 bestselling author of Looking for Alaska, An Abundance of Katherines, Paper Towns, Will Grayson, Will Grayson (with David Levithan), The Fault in Our Stars, and Turtles All the Way Down. His many accolades include the Printz Medal, a Printz Honor, and the Edgar Award.
!! As a reminder, if you are posting to a personal or other non-PRH account you must include the hashtag #TeamPRH !!
Posted: July 5, 2020