Hank Green to Launch His Debut Novel at NYC's Town Hall, with Special Guest John Green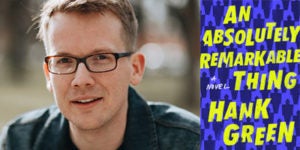 Dutton author Hank Green will launch his debut novel, AN ABSOLUTELY REMARKABLE THING, at Town Hall in Manhattan on the book's publication day, September 25, at 7:00 p.m. Tickets are still available, but going fast! Tickets can be purchased via Ticketmaster by clicking here. Each ticket includes a pre-signed copy of AN ABSOLUTELY REMARKABLE THING, a sweeping, cinematic tale about a young woman who becomes an overnight celebrity before realizing she's part of something bigger, and stranger, than anyone could have possibly imagined.
The Town Hall show will feature Hank's brother, John Green, presenting a multi-media smorgasbord, with elements of Hank and John's Vlogbrothers flair, insight into Hank's new book, and much, much more.
After launching in NYC, Hank will hit the road on his book tour across the country.
Posted: September 18, 2018