Hank Green's Debut Novel: "A New Way to Talk About Hard Things"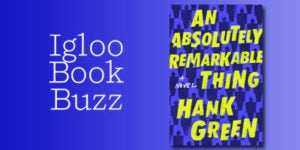 Prepare to be swept away by the adventures of April May in Hank Green's AN ABSOLUTELY REMARKABLE THING , an engaging, cinematic tale about a young woman who becomes an overnight celebrity before realizing she's part of something bigger, and stranger, than anyone could have possibly imagined. This week's Igloo Book Buzz, published by Dutton today, September 25, grapples with big themes, including how the social internet is changing fame, rhetoric, and radicalization; how our culture deals with fear and uncertainty; and how vilification and adoration spring for the same dehumanization that follows a life in the public eye.
"I wanted a new way to talk about hard things," said Hank Green. "I write videos on complicated ideas for a living, but there were a lot of things I just couldn't get at through my current frame. I created these people and this story because I want it to entertain, but also to strike deeper at the very weird problems society has now."
Dutton Executive Editor Maya Ziv: "I have been a Hank Green fan for years, but nothing prepared me for the experience of reading AN ABSOLUTELY REMARKABLE THING. This is truly a novel of now, exploring themes of fame, overnight internet sensations, the news cycle and a culture of fear, all centered around one remarkable young woman, April May. But before I make the read sound too serious, it is compulsively readable and shows humanity working together like never before. Plus, to quote Hank, 'and there are giant robots!' Working with Hank on his debut has been one of the highlights of my career, and I cannot wait for readers to finally meet April May."
Here is a sampling of praise for Hank Green and AN ABSOLUTELY REMARKABLE THING:
"With this comic story about the ugly side of Internet fame, Green gives his brother John (THE FAULT IN OUR STARS) a run for his money." —People
"Existential questions born of online stardom figure prominently in Mr. Green's debut novel." —The Wall Street Journal
"AN ABSOLUTELY REMARKABLE THING is a thrilling journey that takes a hard look at the power of fame and our willingness to separate a person from the brand. Green manages to blend humor, mystery and science fiction in his fast-paced debut novel." —Associated Press
"Led by an earnestly flawed, bisexual heroine with direction and commitment issues, coupled with an abundant generosity of spirit, this read is timely and sorely needed. Highly recommended." —Library Journal(starred review), Fall 2018 Best Debut Novels
"Green makes an entertaining book debut in this fast-paced, witty first contact novel…At once funny, exciting, and a tad terrifying, this exploration of aliens and social media culture is bound to have wide appeal to readers interested in either theme." —Booklist(starred review)
The book's launch event is tonight at Town Hall in NYC, with Hank and his brother John Green presenting a multi-media smorgasbord, with elements of Hank and John's Vlogbrothers flair, insight into Hank's new book, and much, much more. After launching in NYC, Hank will hit the road on his book tour across the country.
In addition to being the author of AN ABSOLUTELY REMARKABLE THING and co-creator of Vlogbrothers, Hank Green is CEO of Complexly, a production company that creates educational content, including Crash Course and SciShow, prompting The Washington Post to name him "one of America's most popular science teachers." Complexly's videos have been viewed more than two billion times on YouTube. Green cofounded a number of other small businesses, including DFTBA.com, which helps online creators make money by selling cool stuff to their communities; and VidCon, the world's largest conference for the online video community. In 2017, VidCon drew more than forty thousand attendees across three events in Anaheim, Amsterdam, and Australia. Hank and his brother, John, also started the Project for Awesome, which last year raised more than two million dollars for charities, including Save the Children and Partners in Health.
Posted: September 25, 2018