Harrison and Katsu Featured at Virtual Horror Fiction Event via Zoom (7/16)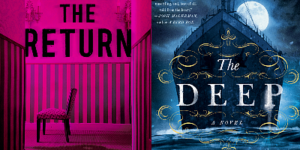 Rachel Harrison, author of THE RETURN (Berkley), and Alma Katsu, author of THE DEEP (Putnam), are among the authors that will be featured at the Summer Reading Spotlight: 2020 Horror virtual event hosted by the Westport Library via Zoom on Thursday, July 16 at 7:00 pm (ET). The participants will discuss their experiences releasing horror titles in 2020 and why horror fiction has always been a relevant reflection of the times.
In Harrison's THE RETURN, a group of friends reunite after one of them has returned from a mysterious two-year disappearance. An edgy, haunting debut novel.
Katsu's THE DEEP is an eerie, psychological twist on one of the world's most renowned tragedies, the sinking of the Titanic and the ill-fated sail of its sister ship, the Britannic. Brilliantly combining the supernatural with the height of historical disaster, The Deep is an exploration of love and destiny, desire and innocence, and, above all, a quest to understand how our choices can lead us inexorably toward our doom.
Rachel Harrison was born and raised in the weird state of New Jersey. She received her bachelor's in Writing for Film & Television from Emerson College. After graduating, she worked on TV game shows, in publishing, and for a big bank. She lives in Rochester, NY with her husband and their cat/overlord. This is her first novel.
Alma Katsu is the author of The Deep, The Hunger, The Taker, The Reckoning, and The Descent. She has been a signature reviewer for Publishers Weekly and a contributor to The Huffington Post. She is a graduate of the master's writing program at the Johns Hopkins University and received her bachelor's degree from Brandeis University. Prior to the publication of her first novel, Katsu had a long career as a senior intelligence analyst for several U.S. agencies. She lives outside of Washington, D.C., with her husband.
!! As a reminder, if you are posting to a personal or other non-PRH account you must include the hashtag #TeamPRH !!
Posted: July 15, 2020