Harvey Araton to Talk about OUR LAST SEASON: A Writer, A Fan, A Friendship via Zoom (10/28)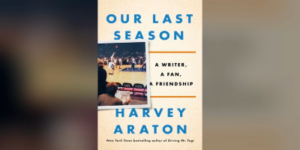 Harvey Araton, most recently the author of OUR LAST SEASON: A Writer, A Fan, A Friendship (Penguin Press), will be in conversation with New York Knicks' lead announcer Mike Breen and broadcast journalist Budd Mishkin at a virtual event hosted by [words] bookstore via Zoom on Wednesday, October 28 at 8:00 pm (ET).
OUR LAST SEASON is the moving story of a bond between sportswriter and fan that was forged in a shared love of basketball and grew over several decades into an extraordinary friendship. Harvey Araton is one of New York's–and the nation's–best-known sports journalists, having covered thousands of New York Knicks games over the course of a long and distinguished career. But the person at the heart of OUR LAST SEASON, Michelle Musler, is largely anonymous–except, that is, to the players, coaches, and writers who have passed through Madison Square Garden, where she held season tickets behind the Knicks bench for 45 years. In that time, as she juggled a successful career as a corporate executive and single parenthood of five children, she missed only a handful of home games. The Garden was her second home–and the place where an extraordinary friendship between fan and sportswriter was forged.
That relationship soon grew into something much bigger than basketball, with Michelle serving as a cherished mentor and friend to Harvey as he weathered life's inevitable storms: illness, aging, and professional challenges and transitions. During the 2017-18 NBA season, as Michelle faces serious illness that prevents her from attending more than a few Knicks games, Harvey finally has the chance to give back to Michelle everything she has given him: reminders of all she's accomplished, the blessings she's enjoyed, and the devoted friend she has been to him. At its core, OUR LAST SEASON is a book for all of us, offering a poignant and inspiring message about how to live with passion, commitment, and optimism.
Harvey Araton is a longtime New York City sports journalist who worked for 25 years at The New York Times, to which he still contributes. He is the author or co-author of seven books, most recently Driving Mr. Yogi, which was a New York Times bestseller. His book, When the Garden Was Eden, was made into an ESPN 30 for 30 documentary, which Araton co-produced. In 2017, he was inducted into the media wing of the Naismith Basketball Hall of Fame. He lives in Montclair, New Jersey.
!! As a reminder, if you are posting to a personal or other non-PRH account you must include the hashtag #TeamPRH !!
Posted: October 26, 2020