Having the Courage to Be True to Yourself, Stand Up and Empower Others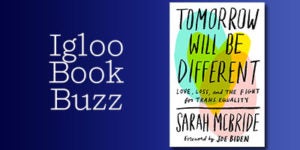 Our new Igloo Book Buzz selection is Sarah McBride's TOMORROW WILL BE DIFFERENT: Love, Loss and the Fight for Trans Equality, published on March 6 by Crown Archetype.  Before she became the first transgender person to speak at a national political convention in 2016 at the age of twenty-six, Sarah McBride struggled with the decision to come out—not just to her family but to the students of American University, where she was serving as student body president.  Informative, heartbreaking, and profoundly empowering, TOMORROW WILL BE DIFFERENT is McBride's story of love, loss and a powerful entry point into the LGBTQ community's battle for equal rights and what it means to be openly transgender. 
In the following interview, McBride and her editor, Jen Schuster, Executive Editor, Crown, discuss what was involved in the creation of this book and how they hope the personal experiences shared will resonate with readers.
How did you first become aware of Sarah and the stories she wanted to tell?
JS: I was first introduced to Sarah when she made her powerful speech at the Democratic National Convention in 2016 – the first openly transgender person to speak at a national convention. But I really became aware of her remarkable story when her agent, Katie Zanecchia, called to tell me about her new client. When the proposal arrived, I immediately fell in love with Sarah's fearless voice as she wrote candidly about her experiences as a young trans person and her evolution to becoming the fierce activist she is today. And Sarah also wrote so affectingly about the love of her husband Andy and her tragic loss when he passed away, just four days after they were married. Sarah channeled this devastation into her work, determined to continue Andy's life mission as much as her own. This, to me, spoke volumes about Sarah's character.
LGBTQ rights have been heavily debatedduring the last several years, and particularly during the campaign cycle. As the national press secretary for the Human Rights Campaign, Sarah is in the epicenter of the national fight for trans equality. She is a natural and effective storyteller who can brilliantly weave together her own experiences with insights into the legislative process. In the book, she's able to contextualize the key issues in a way that will change minds and open hearts.
What were the most challenging and rewarding aspects of writing TOMORROW WILL BE DIFFERENT?
SM: In many ways the most challenging and rewarding parts are one in the same. Writing TOMORROW WILL BE DIFFERENT was a deeply emotional experience for me. Re-living some of the most difficult moments of my life, particularly the passing of my husband Andy, was exceptionally difficult, but I also felt blessed to have the time and opportunity to dive back into my positive memories with him. It was healing to pull out the memories that bring a smile to my face, rather than a tear to my eye, and to remember all of those experiences that had, unfortunately, been so consumed in my mind by his later battle with cancer. In many ways, writing this book was the grieving process that I never let myself have after Andy passed because I jumped so quickly back into our advocacy work.
This book also came at an important time in my own advocacy work and evolution as an activist. I started writing this shortly after Donald Trump's election and during the first few months of his administration and, in writing the book then and drawing lessons from my experiences through the previous six years, I was able to rekindle my hope. I was reminded of all of the progress I've been able to see and was re-convinced of the goodness of people and the simple fact that change remains possible. During the last month of Andy's life, my brother, a radiation oncologist who has seen far too many people pass away, told me, "This is going to be difficult, but look around you and take stock in acts of amazing grace that you see." It was sage advice that helped me find light in that darkness. But I had never universalized that perspective in my life after Andy's death. So as I was writing this book and remembering those lessons while simultaneously seeing unprecedented marches, protesters filling airports to protect refugees, and diverse voices finally being heard, I thought to myself "amazing grace."
In many ways, that amazing grace is the story of the last year. In the end, hope only makes sense in the face of hardship. It took writing this book for me to fully realize that and to find the light once again.
What was most inspiring about helping to bring TOMORROW WILL BE DIFFERENT to publication?
JS: Sarah came into the office to meet with us about a week before the 2016 presidential election.  To say it was an intense time would be an understatement. We were all keenly aware of how important Sarah's story and message were, but when the poll results began coming in on election day, it felt all the more dire. The agent held the auction the day after the election – a gloomy, difficult day in the office. With a decidedly anti-LGBTQ administration about to take power, I knew it was more important than ever to give a platform to voices from that community, to ensure that their stories, issues, and messages would never be censored. Sarah is poised for incredible things in her career as an activist and, perhaps, as a future politician. Helping to bring her book to market has been one of the greatest honors of my career in publishing.
How do you hope readers will embrace your book and the experiences you share?
SM: In the book, I talk a great deal about the power of vulnerability. I think in just laying it all out on the table, in saying this is who I am, this is what I fear, these are my dreams, we are actually able to bridge significant divides. Those shared hopes and dreams transcend ideology, gender, race, religion, sexual orientation and geography. That vulnerability unlocks empathy which leads to passion. My earnest hope in being as vulnerable as I'm being in this book is that readers will be able to find a greater degree of empathy and passion for transgender people and our basic equality. And then empowered with the knowledge about the challenges facing the transgender community that I include in the book, I hope readers will feel a renewed sense of urgency and confidence in joining the growing alliance of allies we have standing with us to open hearts, change minds, and move equality forward in every corner of this country.
Posted: March 7, 2018