HBO Max to Develop Film Adaptation of Camille Perri's Novel WHEN KATIE MET CASSIDY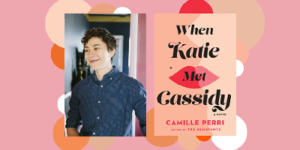 Camille Perri's romantic comedy novel, WHEN KATIE MET CASSIDY (Putnam), is coming to the small screen. HBO Max, under its Warner Max movie label, will develop a film adaptation of Perri's novel, which the author will adapt into a screenplay. Ben Pugh and Charlie Morrison will produce for 42, the Los Angeles- and London-based management and production company. Claudia Shin will executive produce.
"I'm thrilled to be working with 42 and HBO Max to bring this celebratory queer love story to a mainstream audience," said Perri. "At a time when popular culture has begun to embrace women taking charge of their sexuality and gender roles, I envision this film capturing the hearts and minds of straight and queer viewers alike."
WHEN KATIE MET CASSIDY features Katie Daniels, a twenty-eight-year-old Kentucky transplant with a strong set of traditional values. After she has been dumped by her fiancé, she finds herself seated across a negotiating table from native New Yorker Cassidy Price, a sexy, self-assured woman wearing a man's suit. While at first Katie doesn't know what to think, a chance meeting later that night leads them both to the Metropolis, a dimly lit lesbian dive bar that serves as Cassidy's second home. In Katie, Cassidy finds a chance to open her heart in new ways. Soon their undeniable chemistry will push each woman to confront what she thinks she deserves–and what it is she truly wants.
Perri's debut novel, The Assistants, published by Putnam in 2017, tackled the subject of wealth inequality and corporate greed. She has worked as a books editor for Cosmopolitan and Esquire. She has also been a ghostwriter of young adult novels and a reference librarian. Perri holds a bachelor of arts degree from New York University and a master of library science degree from Queens College.
Posted: July 10, 2020