HBO to Turn Brit Bennett's #1 NYT Bestseller THE VANISHING HALF Into a Limited Series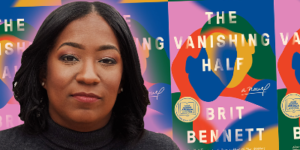 HBO was the winner of a fierce bidding battle for rights to Brit Bennett 's #1 New York Times bestselling novel, THE VANISHING HALF (Riverhead), DEADLINE reported. Bennett is slated to be executive producer of what HBO is calling a limited series.
From The New York Times-bestselling author of The Mothers (which is being developed into a feature film starring Kerry Washington), THE VANISHING HALF is a stunning novel about twin sisters, inseparable as children, who ultimately choose to live in two very different worlds, one black and one white. Intimate and epic in scope, this immersive, riveting story is perfect for adaptation to the screen.
Born and raised in Southern California, Bennett graduated from Stanford University and later earned her MFA in fiction at the University of Michigan, where she won a Hopwood Award in Graduate Short Fiction as well as the 2014 Hurston/Wright Award for College Writers. Her work is featured in The New Yorker, The New York Times Magazine, The Paris Review, and Jezebel. She was one of the National Book Foundation's 2016 5 Under 35 honorees.
Posted: June 30, 2020