Headlee, Schuster, and Sweet to Discuss Mental Health and Self Care via Zoom (4/15)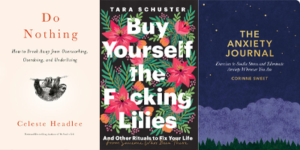 Mental Health and Self Care is the theme of this Random House "Well Enough: Make Wellness Work for You" virtual event, featuring authors Celeste Headlee, Tara Schuster, and Corinne Sweet, moderated by writer and lecturer Rachel Cargle, in a Zoom Webinar on Wednesday, April 15 at 8:00pm (ET).
Headlee's DO NOTHING: How to Break Away From Overworking, Overdoing, and Underliving (Harmony) illuminates a new path ahead, seeking to institute a global shift in our thinking so we can stop sabotaging our well-being, put work aside, and start living instead of doing.
Schuster's BUY YOURSELF THE F***ING LILIES (The Dial Press) is the story of Tara's path to re-parenting herself and becoming a "ninja of self-love."This book is a candid, hysterical, practical guide to growing up (no matter where you are in life).
Sweet's THE ANXIETY JOURNAL (Rodale) helps relieve stress, increase mindfulness, and discover calm and clarity wherever you go with this beautiful guided journal. Practical and uplifting, the perfect size to carry around with you, this journal is an indispensable companion on your journey to a peaceful mind.
Posted: April 14, 2020