Hillary Clinton and Chelsea Clinton to Read and Discuss GRANDMA'S GARDENS via Crowdcast (6/24)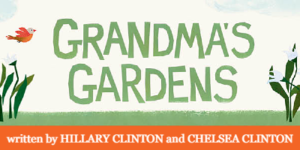 From mother-daughter team Hillary Clinton and Chelsea Clinton comes GRANDMA'S GARDENS (Philomel), a celebration of family, tradition and discovery, and an ode to mothers, grandmothers and the children they love. An Unlikely Story hosts this virtual event featuring Hillary and Chelsea, who will read from their book and be in conversation with author Jeff Kinney via Crowdcast on Wednesday, June 24 at 4:00pm (ET).
Grandma Dorothy shared her love of gardens with her daughter, Hillary, and her granddaughter, Chelsea. She taught them that gardens are magical places to learn, exciting spaces for discovery, quiet spots to spend time with family and beautiful areas to share stories and celebrate special occasions. But most of all, she taught them that in her gardens, her love grew and blossomed.
Hillary Clinton is the first woman in US history to become the presidential nominee of a major political party, in 2016. She served as the sixty-seventh secretary of state–from January 21, 2009, until February 1, 2013–after nearly four decades in public service advocating on behalf of children and families as an attorney, first lady and senator. She is also the author of It Takes a Village, What Happened, Hard Choices and Living History.
Chelsea Clinton is the author of the #1 New York Times bestseller She Persisted: 13 American Women Who Changed the World; She Persisted Around the World: 13 Women Who Changed History; Don't Let Them Disappear: 12 Endangered Species Across the Globe; It's Your World: Get Informed, Get Inspired & Get Going!; Start Now!: You Can Make a Difference; with Hillary Clinton, Grandma's Gardens and The Book of Gutsy Women; and, with Devi Sridhar, Governing Global Health: Who Runs the World and Why? She is also the Vice Chair of the Clinton Foundation, where she works on many initiatives, including those that help empower the next generation of leaders.
!! As a reminder, if you are a PRH employee posting to a personal or other non-PRH account, you must include the hashtag #TeamPRH !! 
Posted: June 23, 2020