Hillary Clinton Joins Dutton Author Stephanie Schriock to Virtually Launch RUN TO WIN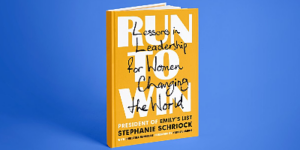 This week Hillary Rodham Clinton joined Dutton author and EMILY's List president Stephanie Schriock for a Politics & Prose virtual event to launch Schriock's new book, RUN TO WIN: Lessons in Leadership for Women Changing the World. In a discussion moderated by Politics & Prose owner Lissa Muscatine, the two shared their own experiences of moving into leadership roles and why we need more women in elected office and in leadership roles more broadly.
Women often feel unqualified to take the next jump in their career, and a central focus of RUN TO WIN is showing women that they are already qualified—it just takes the right tools to get you there. Schriock faced these fears when considering whether to take over from Ellen Malcom as president of EMILY's List. At first, she didn't feel like she could fill those shoes, but she realized—a key lesson in the book—that when there are big shoes to fill, you need to bring your own pair: make the job your own, do it the way only you can do.
Secretary Clinton shared that she that originally did not see herself transitioning from being First Lady to running for the US Senate and consistently rejected the approaches of those trying to convince her she should. This changed at an event Clinton attended to help promote a documentary about women in sports. The young woman athlete who introduced Clinton at the podium leaned in and whispered "Dare to compete, Mrs. Clinton. Dare to compete." It had a bigger impact on Clinton than all the political research she'd been shown. Suddenly she was asking herself whether it was her own fear preventing her from running.
The final event question was a poignant one: "How do you stay hopeful?"
Schriock pointed to the gains being made by women everywhere:"For all of the Stacey Abrams out there, there isn't just one. Look in your own communities, look in your own states, and you are going to see women and particularly women of color who have stepped up in the leadership level, they are my hope."
Secretary Clinton responded, "Amen."
RUN TO WIN has been getting fantastic media attention. Glamour published the moving foreword from Vice President-elect Kamala Harris. Schriock will soon sit down with Amy Walter for WNYC's The Takeaway. Medium's GEN talked to Schriock about why she wrote the book, turning a loss into a win, and being on the frontlines of change. RUN TO WIN will also be featured in InStyle's February issue as well as the Ms. Magazine Winter issue, and the book has been recommended by the San Francisco Chronicle's Datebook, Marie Claire, Cosmopolitan and Working Mothers, with plenty more to come.
Posted: January 14, 2021