Hogarth Acquires Two Books by Intl Booker-Winning Author Han Kang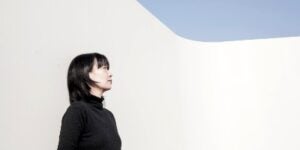 Hogarth, an imprint of Random House, will be publishing two new books from the International Booker Prize winner, Han Kang. Parisa Ebrahimi at Hogarth acquired North American rights to the books from agent Laurence Laluyaux at Rogers, Coleridge and White, and Hamish Hamilton Publishing Director, Simon Prosser bought British and Commonwealth volume rights; translation rights to WE DO NOT PART have been sold by RCW in 17 territories so far.
The first book, GREEK LESSONS was published in Korea in 2011, and was Han Kang's follow-up to her internationally acclaimed novel THE VEGETARIAN, the first of her works to be translated into English. It tells the interwoven stories of a Greek instructor who is losing his sight and a woman who refuses to speak. Uniquely involving, tender and thoughtful, it explores the depths and limits of human connection. Hogarth will publish GREEK LESSONS in April 2023, in a translation by Deborah Smith.
The second book, WE DO NOT PART was published in Korea is September 2021, and was Han Kang's first full-length novel in five years since HUMAN ACTS. Like HUMAN ACTS it has its heart a tragic human event – in this case the massacre of civilians in 1948 on Jeju Island – a place to which the protagonist of this novel journeys in the present, progressively haunted by the spirits of the past. Han Kang has described it as "a novel about the Jeju uprising, a passage from death to life, and deep love." Hogarth plans to publish WE DO NOT PART in April 2024, in a translation by Emily Won, simultaneously with Hamish Hamilton in the UK.
Han Kang comments, "It gives me deep joy that We Do Not Part, my first new novel in five years since The White Book, and Greek Lessons, an earlier novel that remains close to my heart, are to set sail with Hamish Hamilton and Hogarth. I very much look forward to the publication of these two titles."
Posted: May 17, 2022