Hogarth Author Eimear McBride Wins James Tait Black Prize for THE LESSER BOHEMIANS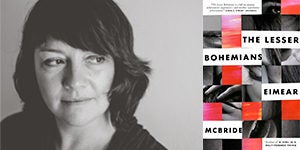 THE LESSER BOHEMIANS by Eimear McBride has won the James Tait Black Prize, Great Britain's oldest literary award.  The winners of the prizes were unveiled at the Edinburgh International Book Festival on Monday, August 14, when the honor for biography was also announced.  
Published by Hogarth, Ms. McBride's second novel is a captivating story of passion and innocence, joy and discovery set against the vibrant atmosphere of 1990s London over the course of a single year.  More than 400 titles were submitted for the 2017 James Tait Black prizes, with a shortlist chosen by University of Edinburgh academics and postgraduate students.  Fiction judge Dr. Alex Lawrie described THE LESSER BOHEMIANS as being "full of wit, energy and nerve, an extraordinary rendering of a young woman's consciousness as she eagerly embarks on a new life in London."
Congratulations to Ms. McBride, her editor, publisher and everyone at Hogarth as well as the Crown Publishing Group.
The James Tait Black Awards were founded in 1919 by Janet Coats, the widow of publisher James Tait Black, to commemorate her husband's love of good books.
Ms. McBride's debut novel A GIRL IS A HALF-FORMED THING won the 2013 Goldsmiths Prize and the Baileys Women's Prize for Fiction 2014.
Posted: August 14, 2017