Hogarth's Alexis Washam on What Makes Sally Rooney's NORMAL PEOPLE Contemporary and Timeless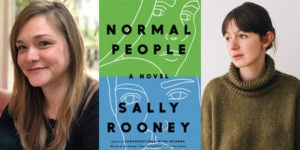 Sally Rooney's NORMAL PEOPLE, published by Hogarth, winner of the Costa Novel Award, a finalist for the Man Booker Prize, and acclaimed by reviewers and readers alike, explores the subtleties of class, the electricity of first love, and the complex entanglements of family and friendship. "Arguably the buzziest novel of the season, Sally Rooney's elegant sophomore effort . . . is a worthy successor to Conversations with Friends. Here, again, she unflinchingly explores class dynamics and young love with wit and nuance."—The Wall Street Journal, "12 Best Books of Spring" "Remarkably precise — she captures meticulously the way a generation raised on social data thinks and talks."—New York Review of Books
In this "Three Questions for an Editor" Igloo interview, Hogarth Editorial Director Alexis Washam shares insights into what initially drew her to Rooney's writing, the process of working with the author on NORMAL PEOPLE, and why this novel is resonating with so many readers.
At what point and how did you first connect with Sally Rooney and what were your initial thoughts about her storytelling style and writing voice?
I first heard about Sally and her work when CONVERSATIONS WITH FRIENDS was on submission in the UK, and word had traveled that a competitive auction was coming together over there. Sally had placed a story in GRANTA, which I believe was her first piece of published fiction, but her debut novel was causing very early buzz. I started reading as soon as the manuscript arrived in my inbox, and was immediately hooked. For me, Sally's prose was instantly mesmerizing, exacting in its detail and unshowy in its description of people and place. She also has a natural instinct for character, and I felt like I knew precisely who Frances and Bobbi were a few pages in. She was also very funny, which is hard to pull off in literary fiction!
I remember stopping my publisher in the hallway to say I thought I had something genuinely exciting on submission, but I was afraid to raise expectations until I read further. Lucky for me, I only found myself more impressed as the novel developed. Not only did Sally flawlessly capture her young narrator Frances' interior life, she was able to broaden the perspective over the course of the story and offer a nuanced portrayal of an older couple's marriage and its attendant complications and insecurities. Many people talk about Sally's use of technology in her books, but to me those elements were simply in service of giving her better access to the inner workings of her characters' minds, illustrating the distance between who they wanted to be and who they actually were. The result felt like a classic psychological realist novel to me, in the style of George Eliot or Edith Wharton (which were not helpful comps, unfortunately!). After finishing the book overnight, I made a preemptive offer, and after a lovely phone conversation with Sally, the offer was miraculously accepted. I could hardly believe my good fortune.
How would you describe the editor/author process while working with her on NORMAL PEOPLE?
Sally Rooney is one of those writers who makes my job almost too easy. From the time I read the first draft, NORMAL PEOPLE was unnervingly near-perfect – once again Sally had a shrewd intuition for her characters' complexities, and in this new book I was especially impressed by the way she structured the story. By shifting slightly forward in time between each chapter, she is able to focus on the exact moments that represent a turning point or a subtle shift in Connell and Marianne's relationship – those moments that are fairly obvious while they are happening, as well as those whose significance will only become clear after the passage of weeks or years. I worked in conjunction with Sally's agent and her UK editor, Mitzi Angel, to offer some notes about the specifics of some relationships and questions about character motivation, which Sally knew exactly how to handle. As for the line-by-line level of her writing, it is naturally so clear and precise that it required very little meddling from me.
Why do you think NORMAL PEOPLE and its characters resonate so strongly with readers?
There are few things as universal as the story of a first love; it's an experience that just about anyone, anywhere can relate to. Marianne and Connell's lives are shaped by the social codes that surround them – from the cliques at their small town Irish high school to the more sophisticated intellectual cosmopolitanism of Trinity College in Dublin – as well as their class differences, family backgrounds and personal aspirations. However, what NORMAL PEOPLE illustrates so beautifully is how their lives are also shaped, indelibly, by each other, as they grow and adapt to the changing world around them. While this is very much a contemporary novel, there's something about NORMAL PEOPLE that also feels timeless. Anyone who had a close relationship in their youth can remember the intensity of emotion that comes along with it: to be obsessed with a person, to test your boundaries against them, to feel the anguish of a minor miscommunication, or be absolutely convinced that the feeling of a moment will last forever. In NORMAL PEOPLE, Sally captures those highs and lows with remarkable precision and profound insight. I think it's a book that everyone can find something of themselves in.
Posted: April 16, 2019